The Mail Birds Of Ottawa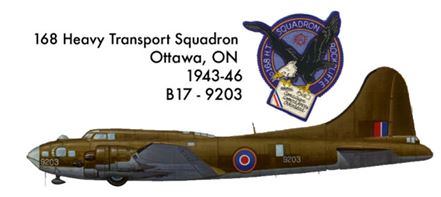 B17 #9203 from Ottawa's Rockcliffe 168 Squadron and the insignia crest patch worn by crew during World War 2 (Patch image CC-SY, photo courtesy Andrew King, "Ottawa Rewind")
The thunderous sounds of radial engines, chirping tires and the activity of a bustling airport have been replaced by a museum and the chirping of birds at Rockcliffe, but some remnants of this important World War Two airport are still to be found. In October of 1943 Rockcliffe airport became the site of 168 Heavy Transport Squadron which was formed to handle the large quantities of mail that needed to be delivered to personnel serving in the European and North African campaigns. Rockcliffe became the site of a bustling hub for mail from across Canada that needed to be delivered to the troops and service personnel overseas. Love letters, family correspondence, birthday and holiday gifts as well as freight were all transported to the men and women far from home, boosting morale and keeping them connected to loved ones back home.
From the time of its creation in 1943 until it was disbanded in 1946, 168 Squadron aircrew flying out of Rockliffe had delivered almost ten million letters and 2.5 million pounds of freight across the Atlantic to the European and North African theatres of war.
When the RCAF Rockcliffe mail service began, 168 Squadron was handed six well-worn, ex-United States Air Force training B17 bombers. These tired, old, used training planes were stripped of armour and modified to carry mail instead of bombs. The old USAF markings were painted over with new Royal Canadian Air Force paint schemes and the B-17s were loaded with letters from families, wives and sweethearts from across the country. The mighty Flying Fortresses carried their important morale-boosting cargo across the Atlantic to the war raging in Europe and North Africa and to recipients eagerly awaiting in the field.
After unloading, the planes would head back to Rockcliffe with return mail for distribution across Canada. These Air Mail Birds made Rockcliffe a busy airport. With B17s coming and going, week after week, through sleet and snow, the mail got delivered. After each successful mail mission, a mail bag "kill" was painted on the side of the fuselage.
However this mail run was not without danger, and tragically one day in December 1944 one of the B17s and its crew from Rockcliffe met an untimely end, just days away from Christmas….
Christmas Tragedy: B17-9203
Having delivered a load of Christmas mail to the troops in North Africa through an air base in Morocco, B17-9203 from Rockcliffe loaded up with return Christmas mail on December 15 1944. Pilot Horace Hillcoat and his crew of eight prepared the B17 to return home for the holidays with their precious Christmas cargo. Throttling up the four radial engines, Hillcoat lifted the mail-laden B17 into the Moroccan skies, heading for the Azores, then over to Newfoundland en route to its destination at Rockcliffe. After leaving the African shoreline, B17-9203 and its crew were never heard from again. A search and rescue mission scoured the area of the ocean where the plane could have disappeared, but no signs of wreckage, survivors or debris were ever found. There were no distress calls or radio contact before the plane suddenly disappeared. B17-9203 had simply vanished. Hillcoat and the crew were classified as "Missing".
Was Hillcoat and his crew ambushed by attacking German Luftwaffe aircraft? Did the well-used B17 suffer a mechanical malfunction resulting in an unsuccessful ditching in the Atlantic? B17-9203 was never found and with the crew deemed missing, they joined the hundreds of other missing aircrew from World War Two that are commemorated on the Commonwealth Aircrew Memorial on Sussex Drive in Ottawa.
Happy Christmas: This story has a happy ending…another perilous B17 mission to Rockcliffe
On a cold November day in 1944, mere weeks before the disappearance of Horace Hillcoat and his B17, another B17 had a close Christmas call.
The pilot of a Rockcliffe B17, Flight Lieutenant Clark Ready, lifted his plane full of Christmas mail and presents from Canadian troops in Europe from a stopover in Stephenville, Newfoundland as he and the crew began the last leg of their journey home to Rockcliffe. There had been no incident during the long trip across the Atlantic, but now Ready suddenly found that his landing gear was malfunctioning after takeoff. Without functioning landing gear, Ready and his crew had to choose between bailing out or making a controlled, wheels-up crash landing.
Knowing the importance of his Christmas cargo, Ready made a swift decision as he approached Rockliffe. Circling, Ready burned off as much excess fuel as possible, then ordered the crew to brace themselves for a landing without any landing gear down. Ready piloted the mighty B17 down to the runway, screeching the aluminum fuselage across the icy ground. In a flurry of snow, grinding metal, and bending propellors, the B17 came a stop with all crew and cargo safe and sound. Merry Christmas. Ready was later commended for his bravery and for a decision that saved the aircraft, the crew and all Christmas mail aboard.
Farewell to The Fortress
After 240 flights from Rockcliffe to the war overseas, the old, hand-me-down B17s were replaced in August of 1944 by newer, more reliable and sturdy Consolidated B24 Liberator bombers. Mail continued to flow from moms to sons and sons to sweethearts throughout the remainder of the war, and these B24s, sporting shiny new polished aluminum finishes, completed an additional 332 mail missions, remaining in service until 168 Squadron was disbanded at Rockcliffe in April 1946.
– Andrew King, "Ottawa Rewind"
---