Logistics Service Advisor
Due to its size, structure, and complexity, managing the Logistics Service is challenging. As such, in order to ensure unity of effort across the Occupations and Environments, the Logistics Service requires the right governance framework and processes in order to ensure the successful production, development and sustainment of highly trained and motivated Logisticians. Effective Branch Governance is dependent upon key committees, councils and advisers, all operating with the view to achieve the Branch vision which is:
A Logistics Service that delivers world class sustainment to achieve operational and institutional excellence
Originally published in March 2010, the Logistics Service Governance Framework defines the relationships between senior leadership and advisers, with respect to the various councils, committees and working groups and their mandates.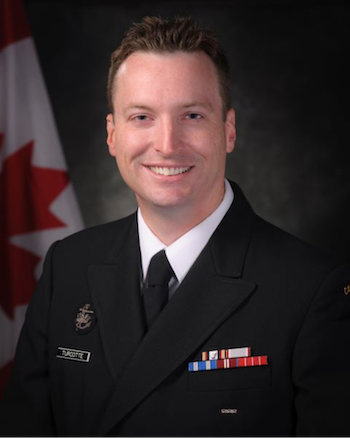 Captain Navy Francis Turcotte was born in Victoriaville, Québec. He enrolled in the Regular Force in 2002 under the Direct Entry Officer program after graduating from Université du Québec in Trois-Rivières.
Following his initial training, Captain Navy Turcotte deployed as the logistics operations officer for Op NARWHAL 04, a major joint and combined exercise on Baffin Island, in the Arctic. He was posted to HMCS VILLE DE QUEBEC participating in NATO Standing Naval Force Atlantic in 2004 and Op UNISON, responding to hurricane Katrina in 2005. In 2006 he was assigned to the NATO Response Force as the logistics operation officer in support of 67 warships in Wilhelmshaven, Germany. From 2007-2009 he was the logistics officer of HMCS VILLE DE QUÉBEC. During which, the ship deployed with the Standing NATO Maritime Group 1 under Op SEXTANT and was diverted on short notice for anti-piracy escort missions under Op ALTAIR with the United Nations World Food Program, delivering aid to Somalia. In 2012, he was the logistics officer of HMCS IROQUOIS, the East Coast Command ship. On IROQUOIS, he participated in Op CARIBBE, a multinational campaign against organized crime in the Caribbean Sea. In 2018, he returned to sea with UNITAS, a US led multinational maritime exercise conducted in the Latin America. He served as the US Southern Command Task Force logistics officer onboard the amphibious landing ship USS GUNSTON HALL.
While ashore, Captain Navy Turcotte served as logistics course director and divisional commander at the Canadian Forces Logistics Training Centre (CFLTC), executive officer of Base Halifax Administration, occupation manager for naval logistics officers, and director of naval logistics supply chain management at the Royal Canadian Navy HQ. From 2017-2019 Captain Navy Turcotte commanded CFLTC at Canadian Forces Base Borden. He was appointed the Royal Canadian Logistics Service Advisor and Integrator in July 2020.
Captain Navy Turcotte is a graduate of the 2014 Canadian Forces College (CFC) Joint and Command Staff Program and the 2020 CFC National Security Programme. He has a Master's in business administration from the University of Liverpool in England, a Master's in defense studies from the Royal Military College of Canada, and a Professional Logistician designation. He is currently completing a Master's in public administration. He is supported by his wife and two children.
Read the full framework here.
---