WO GUYLAINE BILODEAU – HRA 00375-01 – LAND FORCES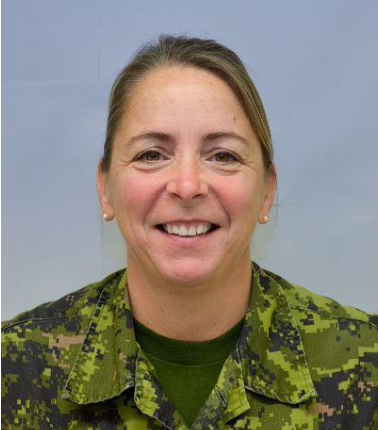 1. AFTER OVER 31 YEARS OF SERVICE, WARRANT OFFICER GUYLAINE BILODEAU WILL RETIRE FROM THE CANADIAN ARMED FORCES ON JULY 31, 2021.
2. BORN IN QUEBEC, WO BILODEAU ENROLLED IN THE RESERVE FORCE, DISTRICT HQ NO 3 (TODAY HQ 35 CBG), MARCH 16, 1989 AS ADMINISTRATIVE CLERK, R831. SHE DID HER BASIC TRAINING WITH THE 55E CIE MED IN ST-MALO AND VALCARTIER, SHE RELEASE IN DECEMBER OF THE SAME YEAR.
3. ON MARCH 1, 91 SHE RE-ENROL AT DISTRICT NO 3 HQ, AND AT THE HEADQUARTERS IN QUEBEC AND ONTARIO. SHE THEN WORK AT EASTERN SECTOR HQ IN MONTREAL AS A STANDARDS AND ARCHIVES CLERK, DURING THIS PERIOD SHE DID HER QL4 ADMINISTRATIVE CLERK IN FARNHAM. SHE THEN RETURN TO DISTRICT 3 AT THE END OF THIS SAME YEAR, WHERE SHE WORK ON DIFFERENT DUTIES WITH HER UNIT.
FROM NOV 1992 TO JAN 1995 SHE OBTAIN VARIOUS JOBS IN CLASS C AND B, THEREFORE L'EC R22ER, 5 GBMC, MHRC VALCARTIER. FROM MAY TO NOV 95 SHE DID HER FIRST MISSION WITH THE 3E R22ER FOR OP CAVALIER IN BOSNIA-HERZEGOVINA. ON HER RETURN SHE TOOK THE POSITION OF DEPLOYMENT CLERK FOR OP ALLIANCE AT CFB VALCARTIER. IN NOV 1997, SHE WENT ON A 6 MONTH LEAVE FOR THE BIRTH OF HER DAUGHTER.
APRIL 98 UNTIL 2006 SHE WORK AT 35 GBC HQ, CONTROLLER SECTION. APR 2001 PROMOTED TO MCPL, DEC 2004 PROMOTED TO SGT.
AUGUST 2006 TO JUNE 2009, TRANSFER WITH HER SPOUSE TO OTTAWA, SHE ACCEPTED THE POSITION OF SUPERVISOR IN THE RESERVE RELEASES SECTION AT DMPAP / RPPO RES FOR THE NEW RESERVE PENSION SYSTEM.
DURING THIS PERIOD SHE PARTICIPATED IN THE NIMEGUE WALK IN HOLLAND WITH THE RCN OTTAWA TEAM.
4. JUNE 2009, SHE TRANSFERRED WITH REGULAR FORCE AND TRANSFERRED TO LFQA AT RELEASES SECTION RESERVE, THEN WORK IN THE BOR OF HQ 2 DIV CA, APR 2012 SUPERVISOR OF INVOICES AT 5 GSS.
JULY 2015, TRANSFERRED TO 6E R22ER, ST-HYACINTHE, AS CHIEF CLERK.
JULY 2017, TRANSFERRED TO 35 CBG HQ AS CHIEF HR ADMINISTRATOR OF THE UNIT, SHE WAS PROMOTED WO ON JULY 03 2017, IT IS A RETURN TO HOME AS SHE SAYS, BECAUSE IT AS ALREADY BEEN 31 YEARS SINCE SHE ENROLLED WITH THIS UNIT AND HES CAREER WILL END HERE WHERE IT ALL STARTED.
AFTER HER RETIREMENT FROM THE CAF IN JULY 2021, WO BILODEAU WILL REMAIN IN BEAUCE REGION WITH HES SPOUSE FABIEN AND THEIR 3 DOGS. THEY PLAN TO TRAVEL, CONTINUE TO TAKE CARE OF THEIR MAPLE FARMS AND ENJOY THE GOOD TIME WITH THE FAMILY.
5. A DEPARTURE IN DIGNITY WILL TAKE PLACE ON JULY 23, FOR THE MOMENT TAKING ACCOUNT OF THE CURRENT SITUATION, THE DETAILS WILL BE TRANSMITTED TO YOU LATER. ALL STORIES, ANECDOTES AND BEST WISHES CAN BE SENT TO RICHARD.JARRY@FORCES.GC.CA
1. APRÈS PLUS DE 31 ANS DE SERVICE, L'ADJUDANT GUYLAINE BILODEAU PRENDRA SA RETRAITE DES FORCES ARMÉES CANADIENNES, LE 31 JUIL 2021.
2. NÉ À QUÉBEC, L'ADJ BILODEAU S'ENRÔLE DANS LA FORCE DE RÉSERVE, AU QG DISTRICT NO 3 (AUJOURD'HUI LE QG 35 GBC), LE 16 MARS 1989 COMME COMMIS D'ADMINISTRATION, R831. SA FORMATION DE BASE SE FERA AVEC LE 55E CIE MED À ST-MALO ET VALCARTIER, ELLE LIBÈRA EN DÉCEMBRE DE LA MEME ANNÉE.
3. LE 1ER MARS 91 ELLE SE RÉENROLE TOUJOURS AU QG DISTRICT NO 3, L'ADJ SERT PLUS PARTICULIÈREMENT DANS LES QUARTIERS GÉNÉRAUX AU QUÉBEC ET EN ONTARIO. L'ADJ TRAVAILLERA AU QG DU SECTEUR DE L'EST À MONTREAL COMME COMMIS AUX NORMES ET AUX ARCHIVES, PENDANT CETTE PÉRIODE ELLE FERA SON NQ4 COMMIS D'ADMINISTRATION À FARNHAM. ELLE REVIENDRA AU DISTRICT 3 À LA FIN DE CETTE MEME ANNÉE, OÙ ELLE OCCUPERA DIFFÉRENTES TACHES AVEC SON UNITÉ.
DE NOV 1992 À JAN 1995 ELLE OBTIENDRA DIFFÉRENTS EMPLOIS EN CLASSE C ET B, DONC L'EC R22ER, 5 GBMC, CRHM VALCARTIER. DE MAI À NOV 95 ELLE FAIT SA PREMIÈRE MISSION AVEC LE 3E R22ER POUR L'OP CAVALIER EN BOSNIE- HERZÉGOVINE. LORS DE SON RETOUR ELLE OCCUPERA LE POSTE DE COMMIS AU DÉPLOIEMENT POUR OP ALLIANCE SUR LA BASE DE VALCARTIER. NOV 1997, ELLE PREND UNE PAUSE DE 6 MOIS POUR LA NAISSANCE DE SA FILLE.
AVRIL 98 JUSQU'EN 2006, ELLE TRAVAILLERA AU QG 35 GBC, A LA SECTION DU CONTROLEUR. AVR 2001 PROMU AU GRADE DE CPLC, DÉC 2004 PROMU AU GRADE DE SGT.
AOUT 2006 À JUIN 2009, MUTATION DE SON CONJOINT A OTTAWA, ELLE OCCUPERA LE POSTE DE SUPERVISEUR À LA SECTION DES LIBÉRATIONS DE LA RÉSERVE AU DMPAP/BRPL POUR LE NOUVEAU SYSTÈME DE PENSION DE LA RÉSERVE.
C'EST PENDANT CETTE PÉRIODE QU'ELLE PARTICIPERA À LA MARCHE NIMEGUE EN HOLLANDE AVEC L'EQUIPE DU RCN OTTAWA.
4. JUIN 2009, ELLE TRANSFERT AVEC LA FORCE RÉGULIÈRE ET SERA MUTÉ AU SQFT AUX LIBÉRATIONS DE LA RÉSERVE, PAR LA SUITE, TRAVAILLERA À LA SALLE DES RAPPORTS DU QG 2 DIV CA, AVR 2012 SUPERVISEUR DES FACTURES AU 5 GSS.
JUIL 2015, MUTÉ AU 6E R22ER, ST-HYACINTHE, COMME COMMIS-CHEF.
JUIL 2017, MUTÉ AU QG 35 GBC COMME ADMINISTRATEUR EN CHEF RH DE L'UNITÉ, ELLE EST PROMU AU GRADE D'ADJ LE 03 JUIL 2017, C'EST UN RETOUR AU BERCAIL COMME ELLE DIT, CAR VOILA DÉJÀ 31 ANS ELLE S'ENROLAIT AVEC CETTE UNITÉ ET C'EST ICI QUE SA CARRIERE SE TERMINERA.
APRÈS SA RETRAITE DES FAC EN JUIL 2021, L'ADJ BILODEAU DEMEURERA EN BEAUCE AVEC SON CONJOINT FABIEN ET LEUR 3 CHIENS. ILS PRÉVOIENT VOYAGER, CONTINUER DE S'OCCUPER DE LEUR ERABLIÈRE ET PROFITER DU BON TEMPS EN FAMILLE.
5. UN DÉPART DANS LA DIGNITÉ AURA LIEU LE 23 JUIL, POUR LE MOMENT COMPTE TENU DE LA SITUATION ACTUELLE, LES DÉTAILS VOUS SERONT TRANSMIS ULTÉRIEUREMENT. TOUS LES RÉCITS, ANECDOTES ET MEILLEURS VOEUX PEUVENT ÊTRE ENVOYÉS A RICHARD.JARRY@FORCES.GC.CA
---