WARRANT OFFICER TERRI-LYNN CONNICK, CD, 00164, COOK (LAND)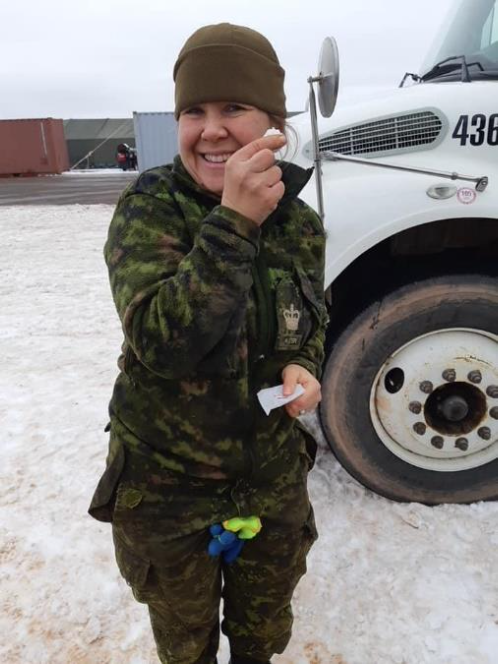 WARRANT OFFICER (WO) TERRI-LYNN CONNICK ENROLLED IN THE REGULAR FORCE ON 22 MARCH 2000 AND COMPLETED BASIC TRAINING AT THE CANADIAN FORCES LEADERSHIP AND RECRUIT SCHOOL. SHE IMMEDIATELY WENT ON TO COMPLETE HER COOK TRAINING AT THE LOGISTICS TRAINING CENTRE IN BORDEN. UPON COMPLETION OF HER TRAINING, TERRI-LYNN WAS POSTED TO PETAWAWA WHERE SHE SERVED FOR 15 YEARS FROM THE RANK OF PRIVATE TO SERGEANT.
IN PETAWAWA, TERRI-LYNN WAS EMPLOYED AT ALMOST EVERY FIRST LINE UNIT, COOKING DELICIOUS MEALS AND SERVING MEMBERS WITH UTMOST QUALITY AND CARE. SHE SERVED AT THE 3RD BATTALION THE ROYAL CANADIAN REGIMENT, THE ROYAL CANADIAN DRAGOONS, 2 SERVICE BATTALION (FORMALLY 2 GENERAL SUPPORT BATTALION), 4TH CANADIAN DIVISION SUPPORT BASE KITCHEN, 2 COMBAT ENGINEER REGIMENT, 1ST BATTALION THE ROYAL CANADIAN REGIMENT, AND 2 FIELD AMBULANCE. IN 2005 AND IN 2010, SHE DEPLOYED TO AFGHANISTAN.
IN 2015, TERRI-LYNN WAS POSTED TO CFB GREENWOOD'S 14 AIR COMBAT SERVICE SUPPORT SQUADRON BEFORE BEING POSTED TO 5TH CANADIAN DIVISION SUPPORT BASE GAGETOWN KITCHEN IN 2016 AS THE IC OF PRODUCTION.
IN 2017, TERRI-LYNN WAS PROMOTED TO THE RANK OF WO AND POSTED TO 4 ENGINEER SUPPORT REGIMENT (4 ESR) AS THE REGIMENTAL KITCHEN OFFICER (KO) AND THE LOGISTICS TROOP WO. SHE THOROUGHLY ENJOYED HER TIME WITH THE SAPPERS AND WILL CONTINUE TO BE MISSED.
TERRI-LYNN IS RETIRING EFFECTIVE 1 MAY 2021 AT HER GORGEOUS HOME IN PEMBROKE, ON WITH HER HUSBAND, CAPT TIM CONNICK. SHE WILL BE ENJOYING TRIPS TO OTTAWA TO VISIT HER BEAUTIFUL DAUGHTER, KEIRA, AND WILL CONTINUE TO EXPAND HER HOBBY FARM. SHE ALSO PLANS ON OPENING HER OWN BUSINESS. TERRI-LYNN PARTICULARLY ENJOYED HER TIME AS THE KO AT 4 ESR AND LEFT AS AN HONORARY SAPPER. CHIMO!
TERRI-LYNN HAS REQUESTED NO DEPART WITH DIGNITY CEREMONY. ANY STORIES, MESSAGES, OR FAREWELL MESSAGES CAN BE SENT TO CAPT ALEKZANDRIA LOCKE AT ALEKZANDRIA.LOCKE@FORCES.GC.CA.
L ADJUDANT (ADJ) TERRI-LYNN CONNICK S ENROLE DANS LA FORCE REGULIERE LE 22 MARS 2000 ET ELLE EFFECTUE SON INSTRUCTION MILITAIRE DE BASE A L ECOLE DE LEADERSHIP ET DE RECRUES DES FORCES CANADIENNES. ELLE COMMENCE ENSUITE IMMEDIATEMENT SA FORMATION EN CUISINE AU CENTRE D INSTRUCTION DE LOGISTIQUE A BORDEN. AU TERME DE SA FORMATION, TERRI-LYNN EST AFFECTEE A PETAWAWA, OU ELLE SERT PENDANT 15 ANS DU GRADE DE SOLDAT AU GRADE DE SERGENT.
A PETAWAWA, TERRI-LYNN EST AFFECTEE A PRESQUE TOUTES LES UNITES DE PREMIERE LIGNE, ELLE CUISINE DE DELICIEUX REPAS ET ELLE SERT LES MILITAIRES AVEC LA PLUS GRANDE QUALITE ET LE PLUS GRAND SOIN. ELLE SERT AU 3E BATAILLON, ROYAL CANADIAN REGIMENT, AU ROYAL CANADIAN DRAGOONS, AU 2E BATAILLON DE SERVICES (ANCIENNEMENT LE 2E BATAILLON DE SOUTIEN GENERAL), A LA CUISINE DE LA BASE DE SOUTIEN DE LA 4E DIVISION DU CANADA, AU 2E REGIMENT DU GENIE DE COMBAT, AU 1ER BATAILLON, ROYAL CANADIAN REGIMENT ET A LA 2E AMBULANCE DE CAMPAGNE. EN 2005 ET EN 2010, ELLE PARTICIPE A UN DEPLOIEMENT EN AFGHANISTAN.
EN 2015, TERRI-LYNN EST AFFECTEE AU 14E ESCADRON DE SOUTIEN LOGISTIQUE DU COMBAT DE LA BFC GREENWOOD AVANT D ETRE AFFECTEE A LA CUISINE DE LA BASE DE SOUTIEN DE LA 5E DIVISION DU CANADA GAGETOWN EN 2016 EN TANT QUE RESP DE LA PRODUCTION.
EN 2017, TERRI-LYNN EST PROMUE AU GRADE D ADJ ET ELLE EST AFFECTEE AU 4E REGIMENT D APPUI DU GENIE (4 RAG) EN TANT QUE CHEF DES CUISINES DU
REGIMENT ET ADJ DE LA TROUPE DE LA LOGISTIQUE. ELLE A PROFONDEMENT AIME SON AFFECTATION AVEC LES SAPEURS ET ELLE CONTINUERA DE LAISSER UN GRAND VIDE.
TERRI-LYNN PRENDRA SA RETRAITE LE 1ER MAI 2021 A SA MAGNIFIQUE DEMEURE A PEMBROKE, EN ONT., AVEC SON MARI, LE CAPT TIM CONNICK. ELLE SE RENDRA AVEC PLAISIR A OTTAWA POUR VISITER SA MAGNIFIQUE FILLE, KEIRA, ET ELLE CONTINUERA D AGRANDIR SA FERME D AGREMENT. ELLE PREVOIT EGALEMENT OUVRIR SA PROPRE ENTREPRISE. TERRI-LYNN A BEAUCOUP AIME SON AFFECTATION A TITRE DE CHEF DE CUISINE AU 4 RAG ET ELLE QUITTE EN TANT QUE SAPEUR HONORAIRE. CHIMO!
TERRI-LYNN A DEMANDE A CE QU AUCUNE CEREMONIE DE DEPART DANS LA DIGNITE NE SOIT ORGANISEE. LES HISTOIRES, LES MESSAGES OU LES MESSAGES D ADIEU PEUVENT ETRE ENVOYES AU CAPT ALEKZANDRIA LOCKE, A L ADRESSE ALEKZANDRIA.LOCKE@FORCES.GC.CA.Connick
---