Warrant Officer Avril Vanessa Jno-Baptiste-Jones, Human Resource Administrator (HRA), CD.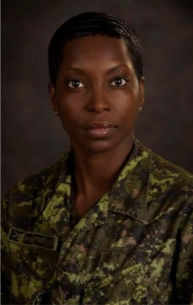 Avril Jno-Baptiste-Jones was born and raised on the lovely Nature Island of the Caribbean named Dominica and immigrated to Canada in her teens.
Warrant Officer (WO) Avril V. Jno-Baptiste-Jones joined the Canadian Armed Forces (CAF), January of 1993 as a Reservist in Winnipeg Manitoba as a Finance Clerk, she later transferred to the Regular Force in August 1997 at the rank of Private.
Her first posting was to CFB Kingston at MPSS as a cell clerk, then becoming the Sub-Cashier. She was later posted to the Canadian Army Command and Staff College at Fort Frontenac Kingston as the Student Administrator.
In December of 1998 she was deployed to Canadian Forces Station Alert as an Administrative clerk where she endured six months of below normal temperatures for the human body (Avril's perspective). However, she is proud to have been part of the "Frozen Chosen' crew; if you know Avril, she is always cold regardless the season. She has been the loyal fan of the Army issued long sleeved zip-up undershirt, 'long johns', fleece, Parka and toque.
In 2002, she was posted to then Land Force central Headquarters (LFCA HQ) in Toronto. While with the HQ she had the opportunity to deploy to Afghanistan on Op Athena in 2005. While in Afghanistan WO Jno-Baptiste-Jones was appointed to the rank of Master Corporal. On her return to Canada in August of that year she was posted to Canadian Forces Environmental Medicine Establishment (CFEME).
In June 2011, WO JB-J was posted to Ottawa at Director Military Policy and Procedures (DMPAP) as a member of the SAV team. In 2013 she was selected and was posted to Canadian Special Operations Command – JTF2 as a supporter. On promotion to her current rank in 2014 she was posted to CFS Leitrim as the Chief Clerk, a job where she quickly became a part of the Leitrim family.
In July of 2017, she was posted back to her home away from home for the second time as the 32 Canadian Brigade Group Headquarters Chief Clerk.
Avril is trading in her combat and parade boots for Louboutins and Manolos; she was sought out for an Executive Assistant Position at Barrick Gold, an opportunity she could not resist. She will begin her second career directly upon retirement from the Forces. She along with her husband Anthony will continue to reside in Milton Ontario while he continues to serve.
Avril's motto in life:
"Life is a journey not a destination."
A DWD will be held in her honour on Saturday 24th February 2018 beginning at 1800hrs at the Denison Armoury Warrant Officers and Sergeants Mess in Toronto. Congratulatory messages and antidotes can be sent to Sgt Aly Hirji at ALY.HIRJI@forces.gc.ca or MWO Anthony Jones at anthony.jones@forces.gc.ca.
Adjudant Avril Vanessa Jno-Baptiste-Jones, administratrice des ressources humaines (ARH), CD.
Avril Jno-Baptiste-Jones est née et a grandi en Dominique, île de beauté des Caraïbes. Elle a immigrée au Canada à l'adolescence.
L'adjudant (Adj) Avril V. Jno-Baptiste-Jones se joint à la Réserve des Forces armées canadiennes (FAC) à Winnipeg (Manitoba), en janvier 1993, en tant que commis aux finances. En août 1997, elle passe à la Force régulière au grade de soldat.
Sa première affectation est à la BFC Kingston en tant que commis de cellule à la SSPM, avant de devenir sous-caissière. Elle est ensuite mutée au Collège de commandement et d'état-major de l'Armée canadienne du Fort Frontenac (à Kingston), à titre d'administratrice des stagiaires.
En décembre 1998, elle est envoyée en déploiement à la Station des Forces canadiennes Alert en tant que commis d'administration, où elle subit six mois de températures anormalement basses pour le corps humain (du point de vue d'Avril).Elle est cependant fière de faire partie des « Élus du Grand Nord ». Les personnes qui connaissent Avril savent qu'elle a toujours froid, peu importe la saison. Parmi ses habits réglementaires de l'Armée, elle adore le maillot à manches longues et fermeture éclair, les caleçons longs, le chandail molletonné et la tuque.
En 2002, elle est mutée au Quartier général du Secteur du Centre de la Force terrestre (QG SCFT), alors situé à Toronto. Pendant cette affectation, elle a l'occasion de participer en 2005 à l'Op Athena, en Afghanistan. Pendant sa mission dans ce pays, l'Adj Jno-Baptiste-Jones est promue au grade de caporal-chef. De retour au Canada en août de la même année, elle est mutée au Centre de médecine environnementale des Forces canadiennes (CMEFC).
En juin 2011, l'Adj JB-J est mutée à Ottawa, à la Direction – Traitement des soldes et des comptes (DTSC) pour faire partie de l'équipe de VAEM. En 2013, elle est sélectionnée pour se joindre au Commandement des opérations spéciales du Canada – FOI 2, pour agir comme soutien. Promue à son grade actuel en 2014, elle est mutée à la SFC Leitrim en tant que commis-chef, se taillant rapidement une place au sein de la famille de Leitrim.
En juillet 2017, elle est pour une deuxième fois mutée au Quartier général du 32e Groupe-brigade du Canada, son second chez soi, à titre de commis-chef.
Avril est maintenant prête à remplacer bottes de combat et bottes de défilé par des Louboutin et des Manolo, puisqu'on l'a recrutée comme adjointe de direction chez Barrick Gold, une offre qu'elle ne pouvait refuser. Elle entamera sa deuxième carrière dès qu'elle prendra sa retraite des forces armées. Elle et son époux Anthony demeureront à Milton (Ontario) jusqu'à la fin de son service.
La devise d'Avril dans la vie est :
« La vie est un voyage, pas une destination. »
Une cérémonie de départ dans la dignité aura lieu en son honneur le samedi 24 février 2018, à compter de 18 h, au mess des adjudants et sergents du Manège militaire Denison, à Toronto. Vous pouvez envoyer vos félicitations et anecdotes au Sgt Aly Hirji (aly.hirji@forces.gc.ca) ou à l'Adjum Anthony Jones (anthony.jones@forces.gc.ca).
---