Sgt Boutet 00168 Sup Tech/Tec appro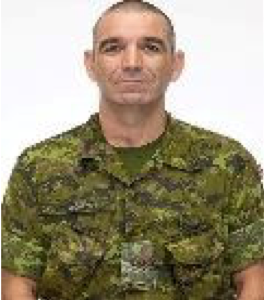 Born in Victoriaville in the Centre-du-Québec region, Sgt Richard Boutet will retire from the Canadian Armed Forces on June 22nd, 2018, after more than 29 years of dedicated service.
Richard enlisted first in the reserve on January 21st, 1989, in Drummondville with the 6e R22R. In 1990, he will spend 9 months as Base force protection in Goose Bay. Two years later, in 1992, he will be deployed for the first time In Cyprus as a Cpl. He then will be deployed in Ex-Yugoslavia in 1993.
On May 21st, 1994, he married Sophie Michel just before his transfer for the regular forces, because one month later on June 23rd, he jumped the fence and got posted to Valcartier with the 1st "Vandoos" where he was employed as infantry. He will be doing two more missions, one in Haiti in 1996 and another one in Bosnia in 1999-2000.
In 2002, Richard, then a cpl, applied for a voluntary occupational transfer (VOT) to become supply technician. He will be then posted to Kingston at the CFJSR. In 2007-08, in Kandahar, Afghanistan, he will participate in his first mission as a supply tech but his last in his career. Upon his return in 2008, he will be posted to Ottawa. In 2010, promoted to mcpl, he got posted to LESC-2, MTD as the supply of the unit. Promoted in 2014 to the rank of Sgt, and posted to the Director General Material Systems and Supply Chain (DGMSSC). In April 2018, he is back to LESC-2, MTD awaiting his retirement peacefully.
Richard will be staying in the National capital region where he will continue to support the CAF and the DND as an employee of the public sector.
Richard is still married to Sophie Michel. Together they have two children and 5 tours, Charles, 23 yo and Gabriel, 22 yo. Charles is studying to his master's degree at University of Ottawa and Gabriel is a mechanic at the Jaguar dealership in Ottawa.
A luncheon for his DWD will be held Thursday, June 14, 2018, 11:30am, at the Mill St Brew Pub, 555 Wellington St, Ottawa, Ontario. You can forward short stories, souvenirs (photos), share a joke and any congratulating messages to WO Dupuis to the address here: Dupuis WO J@ADM(Mat) QETE@Ottawa-Hull <JONATHAN.DUPUIS@forces.gc.ca>
Originaire de Victoriaville dans le Centre-du-Québec, le Sgt Richard Boutet prendra sa retraite des Forces armées canadiennes le 22 juin 2018 après plus de 29 ans de bons et loyaux services.
Richard s'est enrôlé d'abord dans la réserve des forces canadiennes le 21 janvier 1989, à Drummondville, avec le 6e R22R. En 1990, il passera 9 mois à la base de Goose
Bay en tant que protection de la force. Deux ans plus tard, en 1992, il effectuera sa première mission à Chypre en tant que cpl. Il se déploiera par la suite en Ex-Yougoslavie en 1993.
Le 21 mai 1994, il épousa Sophie Michel juste avant son départ pour la régulière puisqu'un mois après, le 23 juin suivant, il fît le saut et fût muté à Valcartier avec le 1er R22R ou il occupera le poste de fantassin. Il y effectuera deux autres missions, soit en Haïti en 1996 et en Bosnie en 1999-2000.
En 2002, Richard, au moment où il était cpl, effectue un changement de métier comme technicien en approvisionnement et il sera muté à Kingston au RTIFC. En 2007-2008 à Kandahar, Afghanistan, il effectuera sa première mission en tant que tech appro mais sa dernière mission en carrière. À son retour en 2008, il sera muté à Ottawa. En 2010, il sera promu au grade de cplc et il sera muté à CSGT-2, DMT en tant de cplc responsable de l'approvisionnement à l'unité. Il fut promu Sgt en 2014 et muté au Directeur Général Système de Matériel et Chaine d'Approvisionnement (DGSMCA). En avril 2018, il est de retour au CSGT-2, DMT en aavril 2018, il est de retour au CSGT-2, DMT en attente de sa libération prochaine.
Richard demeurera dans la région de la Capitale Nationale ou il continuera de soutenir les FAC et le MDN comme fonctionnaire.
Richard est toujours marié à Sophie Michel. Ensemble, ils ont deux enfants et 5 tours, Charles 23 ans et Gabriel 22 ans. Charles est en maitrise à l'Université d'Ottawa et Gabriel est mécanicien au concessionnaire Jaguar d'Ottawa.
Une cérémonie de départ dans la dignité aura lieu le jeudi 14 juin à 11h 30, au restaurant Mill St Brew Pub, 555 Wellington St, à Ottawa(Ontario).Veillez faire parvenir vos anecdotes, histoires, photos, messages de félicitations par courriel à l'adj Dupuis à l'adresse suivante : Dupuis
WO J@ADM(Mat) QETE@Ottawa-Hull <JONATHAN.DUPUIS@forces.gc.ca>
---