SERGEANT JASON FORTIN, CD, MSE OP 00171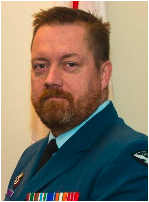 SERGEANT JASON FORTIN WILL RETIRE FROM THE CANADIAN ARMED FORCES ON OCTOBER 5, 2020 AFTER MORE THAN 23 YEARS OF GOOD AND LOYAL SERVICE.
GROWING UP IN BEAUCE, JASON ENLISTED IN QUEBEC CITY IN JUNE 1997 AS AN INFANTRYMAN AND WAS ASSIGNED TO THE 1ST BATTALION, ROYAL 22E RÉGIMENT. DURING HIS 9 YEARS AT 1R22R, HE HELD VARIOUS ROLES AS AN INFANTRY SOLDIER, LAV 3 DRIVER, COURSE ADMINISTRATOR, QUARTERMASTER, AND BATTALION TRANSPORT DRIVER.
IN 2006, SERGEANT FORTIN ACCEPTED AN OCCUPATIONAL TRANSFER TO BECOME A MOBILE SUPPORT EQUIPMENT OPERATOR. DURING HIS BRIEF STAY WITH THE 5 SERVICE BATTALION, HE OBTAINED MULTIPLE QUALIFICATIONS SUCH AS TRACTOR TAILOR AND HIGHWAY CRUISER BUS OPERATOR BEFORE BEING POSTED TO 17 WING WINNIPEG IN 2008.
IN WINNIPEG, SERGEANT FORTIN FACED A NUMBER OF CHALLENGES AND HELD VARIOUS POSITIONS INCLUDING DRIVER, BUS INSTRUCTOR, ROAD SAFETY CLERK, THEN 2IC SECTION COMMANDER IN THE GPV SECTION AND HEAVY EQUIPMENT SECTIONS. PROMOTED IN 2012 TO THE RANK OF MASTER CORPORAL, HE WAS ASSIGNED AS A ROAD AND VEHICLE SAFETY COLLISION INVESTIGATOR AND IC AT THE GPV SECTION. ONCE PROMOTED SERGEANT, HE WAS THEN POSTED TO THE CANADIAN FORCES RECRUITING CENTER AS A RECRUITER.
OF ALL THAT HE HAS ACCOMPLISHED DURING HIS CAREER, SERGEANT FORTIN IS PARTICULARLY PROUD OF HIS PARTICIPATION TO CAF NATIONAL VOLLEYBALL AND SLO-PITCH CHAMPIONSHIPS IN ADDITION TO HIS SERVICE DURING THE ICE STORM IN QUEBEC (1998), OP PALLADIUM IN BOSNIA-HERZEGOVINA (1999-2000), OP ATHENA IN AFGHANISTAN (2007-2008) AND OP CALUMET IN EGYPT (2011-2012).
JASON WOULD LIKE TO THANK EVERYONE WHO HAS CONTRIBUTED TO HIS MILITARY CAREER, ESPECIALLY THOSE WHOSE WORKING RELATIONSHIPS HAVE BECOME LASTING FRIENDSHIPS. HE ALSO WISHES TO THANK HIS WIFE AND CHILDREN FOR THEIR SUPPORT AND THEIR SACRIFICES.
SERGENT JASON FORTIN PRENDRA SA RETRAITE DES FORCES ARMÉES CANADIENNES LE 5 OCTOBRE 2020 APRÈS PLUS DE 23 ANS DE BONS ET LOYAUX SERVICES.
AYANT GRANDI EN BEAUCE, JASON S'EST ENRÔLÉ À QUÉBEC EN JUIN 1997 COMME FANTASSIN ET A ÉTÉ AFFECTÉ AU 1ER BATAILLON DU ROYAL 22E RÉGIMENT. PENDANT SES 9 ANS AU 1R22R, IL A TENU DIVERS RÔLES TELS QUE SOLDAT D'INFANTERIE, CHAUFFEUR VBL, ADMINISTRATEUR DE COURS, EMPLOYÉ AU QUARTIER-MAÎTRE AINSI QUE CHAUFFEUR AU TRANSPORT DU BATAILLON.
EN 2006, SERGENT FORTIN A CHANGÉ DE MÉTIER POUR DEVENIR CONDUCTEUR DE MATÉRIEL MOBILE DE SOUTIEN. PENDANT SON BREF SÉJOUR AU 5ÈME BATAILLON DES SERVICES DU CANADA, IL A OBTENU PLUSIEURS QUALIFICATIONS DONT CAMION-REMORQUE ET AUTOBUS VOYAGEUR AVANT D'ÊTRE MUTÉ À LA 17ÈME ESCADRE DE WINNIPEG EN 2008.
À WINNIPEG, SERGENT FORTIN A SU RELEVER DE NOMBREUX DÉFIS ET A OCCUPÉ DIVERS POSTES DONT CHAUFFEUR, INSTRUCTEUR D'AUTOBUS, COMMIS À LA SECTION DE LA SÉCURITÉ ROUTIÈRE PUIS COMMANDANT ADJOINT AUX SECTIONS DU GVP ET D'ÉQUIPEMENT DE VÉHICULES LOURDS. PROMU EN 2012 AU GRADE DE CAPORAL-CHEF, IL A ÉTÉ AFFECTÉ COMME INVESTIGATEUR DE COLLISIONS ROUTIÈRES ET PAR LA SUITE, COMMANDANT DE SECTION À LA SECTION DU TRANSPORT. IL A ÉTÉ MUTÉ AU CENTRE DE RECRUTEMENT DES FORCES CANADIENNES COMME RECRUTEUR UNE FOIS PROMU SERGENT.
DE TOUT CE QU'IL A ACCOMPLI AU COURS DE SA CARRIÈRE, SERGENT FORTIN EST PARTICULIÈREMENT FIER D'AVOIR PARTICIPÉ AUX TOURNOIS NATIONAUX DE VOLLEYBALL ET DE BALLE LENTE DES FAC AINSI QUE D'AVOIR EU LE PRIVILÈGE DE SERVIR DURANT LA CRISE DU VERGLAS AU QUÉBEC (1998), OP PALLADIUM EN BOSNIE-HERZÉGOVINE (1999-2000), OP ATHENA EN AFGHANISTAN (2007-2008) ET OP CALUMET EN ÉGYPTE (2011-2012).
JASON TIENT À REMERCIER TOUS CEUX ET CELLES QUI ONT CONTRIBUÉ À SA CARRIÈRE MILITAIRE, SPÉCIALEMENT CEUX DONT LES RELATIONS DE TRAVAIL SONT DEVENUES DES AMITIÉS DURABLES. IL TIENT ÉGALEMENT À REMERCIER SON ÉPOUSE ET SES ENFANTS POUR LEUR SOUTIEN ET LEURS SACRIFICES.
---