PO1 Jerry Parsons 00164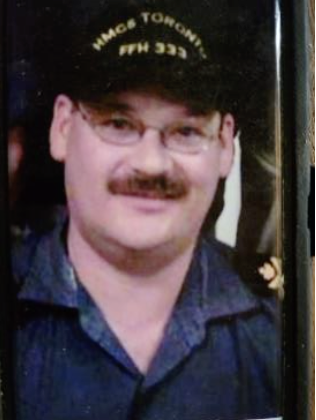 AFTER 37 YEARS OF FAITHFUL SERVICE TO THE CAF AND AN ASTOUNDING 1845 SEA DAYS, NOT INCLUDING TIME AWAY FROM HOME, PO1 PARSONS IS HANGING UP HIS SEA BAG FOR GOOD. JERRY WAS BORN 12 JUNE 1963 AND COMES FROM MAHONE BAY N.S. AFTER SIGNING ON THE DOTTED LINE, JERRY FIRST LACED UP THE BOOTS AT CFB CORNWALLIS 30 JUN 1984. AFTER GRADUATING BMQ, HE WAS LATER SENT TO CFB BORDEN 17 SEP 1984 FOR HIS QL3 COOK COURSE.
UPON COMPLETION OF HIS TRADES TRAINING, A YOUNG OS PARSONS WAS TO BEGIN HIS SAILING CAREER AND WAS POSTED TO HIS FIRST SHIP, HMCS ATHABASKAN 23 JUL 1985. HE WOULD LATER BE POSTED TO DRY LAND AT CFB GAGETOWN FROM 1988 TO 1996. UPON HIS RETURN TO THE FLEET, HE HAS SAILED ON MANY OF THE VESSELS THE RCN HAS LAID KEIL TO IN RELATIVELY RECENT TIMES. HE HAD SAILED BOTH COASTS ON, HMCS's FREDERICTON, TORONTO, ALGONQUIN, OTTAWA, MONTREAL, THEN BACK AROUND TO SOME OF THE SAME. NEEDLESS TO SAY, JERRY HAS BEEN AROUNJD THE BLOCK AND LIKES TO JOKE THAT HIS FIRST POSTING MESSAGE WAS CARVED IN STONE LIKE THE 10 COMMANDMENTS. ONE OF THE PINNACLES OF PO1 PARSONS CAREER WAS BEING CHIEF COOK FOR THE FIRST TIME ON HMCS CHARLOTTETOWN 10 MAR 2009, AN ACCOMPLISHMENT MANY ASPIRE TO REACH. ALSO DURING HIS CAREER, HE HAS DEPLOYED ON NUMEROUS MISSIONS, SUCH AS TO NAME A FEW;
– TASK FORCE CYPRUS (OP SNOWGOOSE) 18 SEP 1990 TO 20 MAR 1991. – TASK FORCE ARTEMIS 14 JAN 2004 TO 20 JUL 2004.
– OP SAIPH 20 NOV 2009 TO 20 APR 2010.
– OP LAMA SEP 2010.
– OP CARIBBE 29 OCT 2012 TO 11 DEC 2012.
IN JERRY'S OWN WORDS, "I WOULDN'T HAVE TRADED WHAT I'VE DONE FOR ANYTHING IN THE WORLD. HIS DEVOTED CONTRIBUTION TO CANADA, THE CAF AND RCN HAVE ALL BENIFITED BECAUSE OF THE LEGACY HE LEAVES BEHIND. HE HAS BEEN ONE OF THOSE GUY'S, THE ONES WHO HAVE PAVED THE ROAD FOR THE NEXT GENERATION. IT'S NO BIG SECERET THAT JERRY LOVES A GOOD MOVIE AND HIS FAVORITE SUPERHERO IS SUPERMAN. IF KINDNESS WAS MEASURED BY SUPER HUMAN STRENGTH, JERRY WOULD BE THE MIGHTIEST OF ALL COMIC BOOK CHARACTERS. JERRY IS A SIMPLE MAN, A GOOD OL' COUNTRY BOY, WHO ENJOYS THE LITTLE THINGS IN LIFE AND LOOKS FORWARD TO SPENDING TIME ON HIS LAND AND HOMESTEAD WITH HIS SON CHRISTOPHER, DAUGHTER KATERINA, STEP SON TYLER AND GRANDCHILDREN OLIVIA AND HAYDEN. HE ALSO REFLECTS ON FOND MEMORIES OF HIS BELOVED PARTNER SHELLY WHO LEFT THIS WORLD SUDDENLY, BUT NEVER HIS THOUGHTS AND HEART.
JERRY HAS REQUESTED A RELAXED DWD WITH A SELECT FEW, INVITE ONLY. ALSO DUE TO COVID 19 THIS WILL BE AN INFORMAL EVENT. HOWEVER IF YOU WOULD LIKE TO SEND CONGRATULATORY MESSAGES BY EMAIL, PLEASE FORWARD TO Philippe.Anderson@forces.gc.ca
FAIR WINDS AND CALMS SEAS TO YOU JERRY, PO1 PARSONS RETIRED.
APRÈS 37 ANS DE SERVICE FIDÈLE AUX FORCES ARMÉES CANADIENNE ET UN TOTAL ÉTONNANT DE 1845 JOURS EN MER,, SANS INCLUTS LE TEMPTS LOIN DE LA MAISON, MAITRE DE PREMIÈRE CLASSE PARSONS RACCROCHE SON SAC DE MER POUR TOUT LE TEMPS. JERRY EST NÉE LE 12 JUIN, 1963 ET PARVIENS DE MAHONE BAY, EN NOUVELLE ÉCOSSE. APRÈS AVOIR SIGNÉ SUR LA LIGNE POINTIER, JERRY A LASSÉ SES BOTTES A CFB CORNWALLIS, LE 30 JUIN,1984. APRÈS SA GRADUATION DE BMQ , IL ETAIS ENVOYÉ A CFB BORDEN, LE 17 SEPTEMBRE, 1984 POUR SON COURS DE CUISINIER QL3. APRES AVOIR COMPLETER SES COURS D'ENTRAINEMENT, UN JEUNE OS PARSONS DEBUTAIS SA CARRIÈRE DE MATELOT ET RECEVAIS SON PREMIER NAVIRE, HMCS ATHABASCAN, LE 23 JUILLET 1985. IL ETAIS PLUS TARD ENVOYER A CFB GAGETOWN DE 1988 A 1996. DE SON RETOUR A LA FLOTTE, IL A SERVIT SUR PLUSIEUR NAVIRE; HMCS FREDERICTON, TORONTO, ALGONQUIN, OTTAWA, MONTREAL ET DE NOUVEAU SUR DES NAVIRES OU IL AVAIS DEJA SERVIT. SANS AVOIR A DIRE, JERRY A ÉTÉ AUTOUR DU BLOC ET AIME PLAISANTER QUE SON PREMIER MESSAGE D'AFFICHAGE ETAIS ECRIT EN ROCHE COMME LES DIX COMMANDEMENTS. UN DES PINNACLES DE LA CARRIÈRE DE MAITRE PARSONS ETAIT D'ETRE CHEF CUISINIER POUR LA PREMIERE FOIS ABORD HMCS CHARLOTTETOWN, LE 10 MARS, 2009;UNE POSITION QUE PLUSIEURS ASPIRE ATTEINDRES. IL A ÉTÉ DEPLOYER A NOMBREUSES MISSIONS ET A NOMMER PLUSIEURS:
TASK FORCE CHYPRE (OP SNOWGOOSE) 18 SEP 1990 AU 20 MAR 1991. – TASK FORCE ARTEMIS 14 JAN 2004 AU 20 JUL 2004.
– OP SAIPH 20 NOV 2009 AU 20 AVR 2010.
– OP LAMA SEP 2010.
– OP CARIBBE 29 OCT 2012 AU 11 DEC, 2012.
DANS LES PROPRES MOTS DE JERRY, « JE N'AURAIS PAS ÉCHANGER CE QUE J'AI FAIT POUR RIEN AU MONDE. SA CONTRIBUTION DÉVOUÉE AU CANADA, LES FAC ET LA MRC ONT TOUT BÉNÉFICIÉ EN RAISON DE L'HÉRITAGE QU'IL LAISSE DERRIÈRE. IL FAIT PARTIE DE CES GARS, CEUX QUI ONT OUVERT LA ROUTE POUR LA PROCHAINE GÉNÉRATION. CE N'EST PAS UN GRAND SECRET QUE JERRY AIME UN BON FILM ET SON SUPER-HÉROS PRÉFÉRÉ EST SUPERMAN. SI LA BONTÉ ÉTAIT MESURÉE PAR UNE SUPER FORCE HUMAINE, JERRY SERAIT LE PLUS PUISSANT DE TOUS LES PERSONNAGES DE DES LIVRES.. JERRY EST UN HOMME SIMPLE, UN BON GARÇON DE CAMPAGNE, QUI APPRÉCIE LES PETITES CHOSES DE LA VIE ET EST HEUREUX DE PASSER DU TEMPS SUR SON TERRAIN ET SA FERME AVEC SON FILS CHRISTOPHER, SA FILLE KATERINA, SON FILS TYLER ET SES PETITS-ENFANTS OLIVIA ET HAYDEN. IL REFLÈTE AUSSI SUR LES SOUVENIRS DE SON PARTENAIRE BIEN-AIMÉ SHELLY QUI A QUITTÉ CE MONDE SOUDAIN, MAIS JAMAIS SES PENSÉES ET SON COEUR.
JERRY A DEMANDÉ UN DEPART DÉTENDU AVEC QUELQUES-UNS, INVITE UNIQUEMENT. AUSSI EN RAISON DE COVID 19 CE SERA UN ÉVÉNEMENT INFORMEL. CEPENDANT, SI VOUS SOUHAITEZ ENVOYER DES MESSAGES DE FÉLICITATIONS PAR COURRIEL, VEUILLEZ LES TRANSMETTRE À Philippe.Anderson@forces.gc.ca
BONS VENTS ET MER CALME A VOUS JERRY, MAITRE DE PREMIÈRE CLASSE PARSONS, A LA RETRAITE.
---