MWO, SHELLEY CROSBY, 00168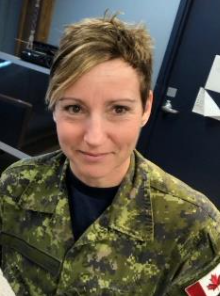 1. AFTER 24+ YEARS OF LOYAL AND DEDICATED SERVICE TO THE CANADIAN ARMED FORCES (CAF) AND TO THE LOGISTICS BRANCH, MWO SHELLEY LYNN CROSBY CD, MATERIAL TECHNICIAN 00168, WILL BE RETIRING, 22 APRIL 2021.
2. ORIGINALLY FROM NS, SHELLEY ENROLLED IN THE ROYAL CANADIAN AIR FORCE RESERVES AS A FIRE FIGHTER 27 MARCH 1997 IN COLD LAKE, AB. UPON COMPLETION OF BASIC TRAINING AT SAINT-JEAN, QC, AND OJT AS A FIRE FIGHTER IN COLD LAKE, AB SHE DECIDED TO GO TO THE LOGISTICS SIDE OF LIFE AS THE QL3 COURSES FOR THE FIRE TRADE WERE EXPERIENCING A BRIEF HIATUS IN THE LATE 90'S.
3. ONCE QL3 TRAINING AT CFSAL WAS COMPLETE SHE RETURNED TO COLD LAKE SUPPLY COMPANY WHERE SHE WORKED IN SPS2, POL, AND 441 SQN. SHE REALIZED SHE WAS GOING TO MAKE A CAREER IN THE CANADIAN ARMED FORCES (CAF) AND JOINED THE REGULAR FORCE IN 2000, IT WAS A SMOOTH TRANSITION AS SHE REMAINED IN COLD LAKE AND WENT ON TO WORK IN CUSTOMER SERVICE, SHE WAS DEPLOYED ON OP APOLLO TO WORK WITH TASK FORCE SOUTH WEST ASIA – NSE IN 2002. RETURNED TO COLD LAKE TO WORK IN 416 SQN FROM WHICH SHE WAS PROMOTED TO MCPL IN 2006, WORKED IN MDC UNTIL POSTED TO CFB/ASU WAINWRIGHT, LOG SUPPORT COMPANY. WHILE POSTED TO CFB/ASU WAINWRIGHT, AS A NEWLY PROMOTED MCPL SHE RAN THE MSA WAREHOUSE, THEN WENT ON TO BECOME IC LPO UNTIL HER PROMOTION TO SGT IN 2009 AFTER WHICH SHE WAS IC CLOTHING STORES SHE THEN DEPLOYED ON OP ATHENA TO KANDAHAR AFGHANISTAN. RETURNED TO WAINWRIGHT AS IC SPSS WHERE SHE WAS PROMOTED TO WO IN 2013 AND BECAME THE FIELDING SP WO. POSTED TO CFB WINNIPEG AS THE MATERIEL PRODUCTION OFFICER IN 2015 WHILE SIMULTANEOUSLY ACTED AS THE SUPPLY ADMINISTRATION OFFICER FOR 17 MSS SUPPLY. MANAGED
TO SQUEEZE A TOUR WITH TASK FORCE EL GORAH ON OP CALUMET IN EGYPT. UPON RETURN TO CANADA, SHE RECEIVED A PROMOTION TO HER CURRENT RANK OF MWO IN 2017, AND WAS POSTED TO 38 CANADIAN BRIGADE GROUP (CBG) HQ IN WINNIPEG WHERE SHE BECAME KNOWN AS G4 SUP 2. MWO CROSBY'S LAST YEAR IN UNIFORM WAS SPENT AT THE LANGUAGE TRAINING CENTRE IN WINNIPEG.
4. SHELLEY WOULD LIKE TO THANK HER FAMILY FOR THEIR UNWAVERING SUPPORT AND THE SIGNIFICANT SACRIFICES THEY'VE MADE THROUGHOUT HER CAREER. AN INFORMAL 'DEPART WITH DIGNITY' GATHERING TO CELEBRATE HER CAREER AND ITS MILESTONES WILL BE HELD AT A LATER DATE ONCE SOCIAL DISTANCING MEASURES ARE RELAXED AND ALL ARE ABLE TO ATTEND. IF YOU HAVE ANECDOTES OR
CONGRATULATORY MESSAGES, PLEASE FORWARD THEM TO CPO2 KEN LICHTY AT Kenneth.lichty@forces.gc.ca THE FRIENDSHIPS AND MEMORIES SHE MADE ALONG THE WAY WILL NEVER BE FORGOTTEN.
1. L ADJUM SHELLEY LYNN CROSBY CD, TECHNICIENNE EN MATERIEL 00168, PRENDRA SA RETRAITE LE 22 AVRIL 2021, APRES PLUS DE 24 ANS DE BONS ET LOYAUX SERVICES DANS LES FORCES ARMEES CANADIENNES (FAC) ET AU SERVICE DE LA LOGISTIQUE
2. ORIGINAIRE DE LA NOUVELLE-ECOSSE, L ADJUM CROSBY S ENROLE, LE
27 MARS 1997, DANS LA RESERVE DE L AVIATION ROYALE CANADIENNE, A COLD LAKE (ALBERTA), COMME POMPIERE. L ENTRAINEMENT DE BASE TERMINE A SAINT-JEAN (QUEBEC) ET APRES AVOIR SUIVI UNE FORMATION EN COURS D EMPLOI A COLD LAKE (ALBERTA) COMME POMPIERE, ELLE DECIDE DE SE TOURNER VERS LA LOGISTIQUE, CAR LES COURS DE NIVEAU 3 POUR LES POMPIERS SONT BRIEVEMENT INTERROMPUS A LA FIN DES ANNEES 1990
3. APRES AVOIR TERMINE SA FORMATION DE NIVEAU 3 AU CILFC, ELLE RETOURNEE A LA COMPAGNIE D APPROVISIONNEMENT DE COLD LAKE, OU ELLE TRAVAILLE AU SPS2, AU POL ET AU 441 ESC. ELLE SE REND COMPTE QU ELLE FERAIT CARRIERE DANS LES FORCES ARMEES CANADIENNES (FAC), PUIS S ENROLE DANS LA FORCE REGULIERE EN 2000. LA TRANSITION SE FAIT SANS HEURT, PUISQU ELLE DEMEURE A COLD LAKE ET CONTINUE DE TRAVAILLER AU SERVICE A LA CLIENTELE. ELLE EST AFFECTEE A LA FORCE OPERATIONNELLE INTERARMEES DE L ASIE DU SUD-OUEST – ESN EN 2002 DANS LE CADRE DE L OP APOLLO. ELLE RETOURNE A COLD LAKE POUR TRAVAILLER AU SEIN DU 416E ESCADRON, PUIS EST PROMUE CPLC EN 2006. ELLE TRAVAILLE AU CDM JUSQU A SON AFFECTATION A LA COMPAGNIE DE SOUTIEN LOGISTIQUE DE LA BFC/USS WAINWRIGHT. PENDANT CETTE AFFECTATION, ELLE DIRIGE L ENTREPOT DU CSM, PUIS DEVIENT OAP RESP JUSQU A SA PROMOTION AU GRADE DE SGT EN 2009. ELLE EST ALORS NOMMEE RESPONSABLE DU MAGASIN D HABILLEMENT, PUIS EST DEPLOYEE A KANDAHAR, EN AFGHANISTAN, DANS LE CADRE DE L OP ATHENA. ELLE RETOURNE A WAINWRIGHT EN TANT QUE RESP SAPR, PUIS EST PROMUE ADJUDANT EN 2013. ELLE ASSUME ALORS LES FONCTIONS D ADJ SOUT DE LA MISE EN SERVICE. ELLE EST AFFECTEE A LA BFC WINNIPEG COMME OFFICIER DE PRODUCTION DU MATERIEL EN 2015 ET ASSUME EN MEME TEMPS LES FONCTIONS D OFFICIER D ADMINISTRATION DE L APPROVISIONNEMENT DES SERVICES D APPROVISIONNEMENT DU 17 ESC SOUT MSN. ELLE PARVIENT A OBTENIR UNE AFFECTATION AUPRES DE LA FORCE OPERATIONNELLE EL GORAH DANS LE CADRE DE L OPERATION CALUMET, EN EGYPTE. A SON RETOUR AU CANADA, ELLE EST PROMUE A SON GRADE ACTUEL EN 2017, PUIS EST AFFECTEE AU QUARTIER GENERAL DU 38E GROUPE-BRIGADE DU CANADA (GBC), A WINNIPEG, OU ELLE EST
ASSUME LES FONCTIONS DE G4 APPRO 2. L ADJUM CROSBY PASSE SA DERNIERE ANNEE EN UNIFORME AU CENTRE DE FORMATION LINGUISTIQUE DE WINNIPEG
4. L ADJUM CROSBY TIENT A REMERCIER SA FAMILLE POUR SON SOUTIEN INDEFECTIBLE ET LES IMPORTANTS SACRIFICES CONSENTIS TOUT AU LONG DE SA CARRIERE. UNE RECEPTION INFORMELLE DE « DEPART DANS LA DIGNITE » POUR SOULIGNER SA CARRIERE ET SES ETAPES IMPORTANTES AURA LIEU A UNE DATE ULTERIEURE, LORSQUE LES MESURES DE DISTANCIATION PHYSIQUE AURONT ETE ASSOUPLIES ET QUE TOUT LE MONDE POURRA Y ASSISTER. VEUILLEZ TRANSMETTRE VOS ANECDOTES OU VOS MESSAGES DE FELICITATIONS AU
PM 2 KEN LICHTY A L ADRESSE KENNETH.LICHTY@FORCES.GC.CA. LES AMITIES QU ELLE A NOUEES ET LES SOUVENIRS QU ELLE A RECOLTES AU COURS DE SA CARRIERE NE SERONT JAMAIS OUBLIES.
---