MWO ROBICHAUD, 00171, MSE OP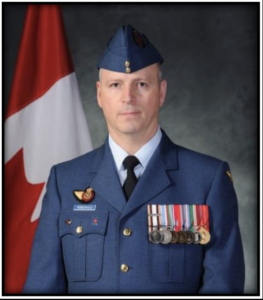 MWO David Robichaud will retire on July 17, 2018 after 28 years of loyal and dedicated service to the Canadian Armed Forces and the Logistics Service.
Originally from New Brunswick, MWO Robichaud enrolled in the CAF in Moncton, NB on 05 Sept 1988. Immediately thereafter, he completed his basic Training course from Sept to Dec1989 in St-Jean-de-Richelieu, QC. He then attended Artillery training at CFB Shilo from January 1989 to March 1989. After successful completion of his QL3 Artillery training, he saw the light and immediately submitted his release the day after his graduation and was released within six weeks where he returned to NB. Nine months later, he re-applied at CFRC Moncton and was accepted into the CAF on July 17, 1990 as an MSE Op.
Following the completion of his QL3 course in Borden ON, MWO Robichaud was posted to 2 Service Battalion Petawawa ON (1990 – 1996). He was deployed to Cambodia (Oct 92 – Apr 93) & Yugoslavia (Aug 94 – Feb 95). Posted to CFB Halifax NS (1996 – 2006). He was deployed to Goland Heights (May 1999 – Nov 1999) & TF Afghanistan TSE (Dec 2005 – Jun 2006). Then posted to CFB Winnipeg MB (2006 – 2010) and afterwards, he returned to CFB Halifax NS (2010 – 2014). Finally he was posted to the NCR in Ottawa with DT N/SJS J4 TN (2014 – 2016), and as the NPCC Manager for CMSG HQ (2016 – 2018).
MWO Robichaud will be residing in Halifax Nova Scotia with his lovely fiancée Nancy. They are looking forward to spending quality time with their family and friends. He is extremely excited to start his new career with the Public Service in the Department of National Defence.
MWO Robichaud expresses his appreciation for all the support over the years and it was with great pleasure he met and served with many great people throughout his career and will cherish the memories.
An informal Depart with Dignity (DWD) luncheon will be held Thursday, 14 Jun 2018 @ 11:30 hrs at the Hart and Crown Irish Pub, 67 Clarence St in Ottawa, ON. Attendance confirmation, congratulatory messages, best wishes and anecdotes may be sent to Sgt Berthiaume at benoit.berthiaume@forces.gc.ca prior to the 07 Jun 2018.
L'Adjum. David Robichaud prendra sa retraite le 17 juillet 2018 après plus de 28 années de bons et loyaux services aux seins des forces armées canadiennes ainsi que de la branche Logistique.
Originaire du Nouveau Brunswick, L'Adjum. Robichaud s'est enrôlé dans les FAC à Moncton NB, le 05 sept 1988. Il fut envoyé immédiatement à St-Jean sur Richelieu, QC afin de suivre le cours d'instruction élémentaire de sept à déc1988. Il a ensuite suivi le cours d'artillerie à la BFC Shilo de janvier 1989 à mars 1989. Après avoir compléter avec succès son formation d'artillerie NQ3, il a vu la lumière et a immédiatement présenté sa libération le lendemain de ca graduation. Il fut libéré après six semaines et retourna chez lui au Nouveau-Brunswick. Neuf mois plus tard, il fait à nouveau la demande de joindre les FAC, et fut acceptée le 17 juillet 1990 comme conducteur de Matériel Mobile et Soutient.
Une fois avoir complétée son cours de métier NQ3 à Borden ON, L'Adjum Robichaud est mutée au 2ème Bataillon des services Petawawa en Ontario de 1990 à1996. Il a participé à plusieurs opérations dont le Cambodge d'octobre 1992 à avril 1993 et la Yougoslavie d'août 1994 à février 1995. Muté à la BFC Halifax de 1996 à 2006, il est déployé au Goland Heights de mai 1999 à novembre 1999 et en Afghanistan de décembre 2005 à juin 2006. À son retour, il est envoyé à la BFC Winnipeg de 2006 à 2010. Par la suite, mutée de nouveau à la BFC Halifax de 2010 à 2014. Finalement muté dans la RCN Ottawa il occupe la position de D Trsp/J4 Strat Trsp 2014 a 2016 et comme gestionnaire du CNCCU pour le QG de GSMC de 2016 à 2018.
L'Adjum. Robichaud prendra sa retraite à Halifax NE avec sa complice de tous les jours et fiancée Nancy. Ils ont hâte de passer du bon temps avec leur famille et leurs amis. Il est extrêmement excité de commencer sa nouvelle carrière à la fonction publique dans le Département de Défense Nationale.
L'Adjum. Robichaud exprime son appréciation pour tout le soutien reçu au cours de ses années. Il gardera gravé dans sa mémoire, les nombreuses personnes de qualités avec qui il a eu la chance de travailler tout au long de sa belle carrière.
Un Départ dans la Dignité informel aura lieu jeudi, le 14 juin 2018 à 11:30 hrs au Hart and Crown Irish Pub, 67 Clarence St in Ottawa, ON. Confirmation de présence, messages de félicitations, meilleurs voeux et anecdotes peuvent être envoyé au Sgt Berthiaume à l'adresse suivant benoit.berthiaume@forces.gc.ca avant le 07 juin 2018.
---