MCPL MICHAEL PERRAS, CD, MSE OP 00171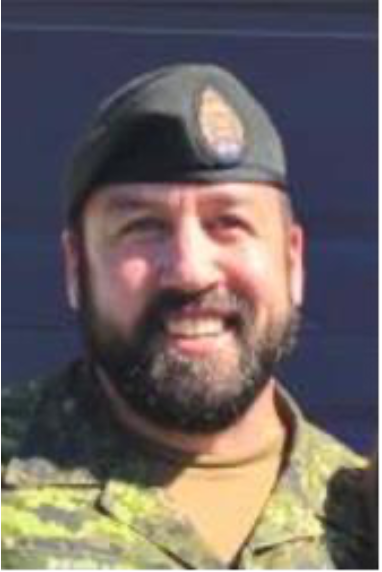 MCPL MICHAEL PERRAS WILL RETIRE FROM THE CANADIAN ARMED FORCES ON SEPTEMBER 3, 2020 AFTER 12 YEARS OF LOYAL AND DEDICATED SERVICE.
A NATIVE OF OSHAWA ONTARIO, MCPL MICHAEL PERRAS ENROLLED IN THE CANADIAN ARMED FORCES AUGUST 2007, AS A COMBAT ENGINEER. HIS FIRST POSTING WAS 2 COMBAT ENGINEER REGIMENT, CFB PETAWAWA. DURING HIS 5 YEARS AT 2 CER, HE HELD VARIOUS ROLES AND RECEIVED EXTENSIVE TRAINING TO NAME A FEW; HEAVY EQUIPMENT, BRIDGE DEMOLITION, ROBOT STRATEGIES, IED AND UXO SCENE SURVEY AND RESPONSE.
IN 2013, MCPL PERRAS OPTED FOR AN OCCUPATIONAL TRANSFER TO BECOME A MOBILE SUPPORT EQUIPMENT OPERATOR AND WAS POSTED TO CFB KINGSTON LSS WHERE HE SERVED AS DISPATCHER, GPV OPERATOR AND HEAVY EQUIPMENT OPERATOR. IN 2015, HE DEPLOYED TO OPERATION IMPACT AND UPON HIS RETURN HE WAS EMPLOYED AS HEAVY EQUIPMENT CREW CHIEF. IN 2017, MCPL PERRAS WAS POSTED TO 21 ELECTRONIC WARFARE REGIMENT, CFB KINGSTON WHERE SERVED UNTIL RETIREMENT.
MICHAEL WOULD LIKE TO THANK EVERYONE WHO HAS CONTRIBUTED TO HIS MILITARY CAREER, ESPECIALLY THOSE WHOSE WORKING RELATIONSHIPS THAT HAVE BECOME LASTING FRIENDSHIPS. HE ALSO WISHES TO THANK HIS CHILDREN AND SPOUSE FOR THEIR LOVE, SUPPORT AND SACRIFICES.
THERE WILL BE A SMALL GATHERING AT THE ANAF CLUB TO CELEBRATE MCPL PERRAS CAREER UNFORTUNATELY IT WILL BE LIMITED ATTENDANCE DUE TO COVID- 19 RESTRICTIONS. SHOULD YOU WISH TO ATTEND OR SEND A MSG, SEND TO DWD COORDINATOR, SGT CHARRON, CHRISTIAN.CHARRON@FORCES.GC.CA
LE CPLC MICHAEL PERRAS SE RETIRE DES FORCES ARMÉES CANADIENNES LE 3 SEPTEMBRE 2020 APRÈS 12 ANNÉES DE BONS ET LOYAUX SERVICE.
NATIF D'OSHAWA EN ONTARIO, LE CPLC MICHAEL PERRAS S'EST ENROLÉ DANS LES FORCES ARMÉES CANADIENNES EN AOÛT 2007 COMME INGÉNIEUR DE COMBAT. SA PREMIÈRE MUTATION FÛ AU 2e RÉGIMENT D'INGÉNIEUR DE COMBAT À LA BFC PETAWAWA. DURANT S'EST 5 ANNÉES AU 2e RIC, IL A ÉTÉ EMPLOYER DANS PLUSIEURS ROLES, A REÇU PLUSIEURS QUALIFICATIONS POUR EN NOMMÉ QUELQUES UNE; OPÉRATEUR D'ÉQUIPEMENT LOURDS, DÉMOLITION DE PONT, STRATÉGIE ROBOTIQUE, DEMINEUR SPECIALISTE EN IED/UXO.
EN 2013, LE CPLC PERRAS A OPTÉ POUR UN CHANGEMENT DE MÉTIER AFIN DE DEVENIR UN OPÉRATEUR DE MATERIEL MOBILE DE SOUTIEN ET A ÉTÉ MUTÉ A LA BFC KINGSTON AU ESCADRON SOUTIEN LOGISTIQUE (ESL) OU IL A SERVI COMME RÉPARTITEUR, OPÉRATEUR VTU ET OPÉRATEUR D'ÉQUIPMENTS LOURDS. EN 2015, IL A DÉPLOYÉ SUR OPÉRATION IMPACT ET A SON RETOUR A ÉTÉ EMPLOYÉ COMME CHEF D'ÉQUIPE POUR LA SECTION D'ÉQUIPMENTS LOURDS. EN 2017, CPLC PERRAS A ÉTÉ MUTÉ AU 21e RÉGIMENT DE GUERRE ELECTRONIQUE, A LA BFC KINGSTON OU IL SERT PRÉSENTEMENT JUSQU'À SA DATE DE RETRAITE.
MICHAEL AIMERAIT REMERCIÉ TOUS CEUX QUI ONT CONTRIBUÉ A SA CARRIÈRE MILITAIRE, SPECIALEMENT CEUX DONT LES RELATIONS DE TRAVAIL SONT DEVENU DES RELATIONS D'AMITIÉ. IL AIMERAIT AUSSI REMERCIÉ TOUT SA FAMILLE, SON ÉPOUSE ET SES ENFANTS POUR TOUT LEUR SACRIFICES ET SUPPORT PENDANT TOUTES SES ANNÉES DE SERVICES.
IL AURA UNE RÉCEPTION AU CLUB ANAF POUR CELEBRER LE DEPART DU CPLC PERRAS, DU A LA PANDEMIE, LE NOMBRE DE PLACE SERA LIMITÉ. SI VOUS DESIREZ Y PARTICPER OU MÊME LUI TRANSMETTRE UN MESSAGE, SVP ENVOYER AU COORDINATEUR (DEPART DANS LA DIGNITÉ), SGT CHARRON, CHRISTIAN.CHARRON@FORCES.GC.CA
---