MCPL JEREMY DOBSON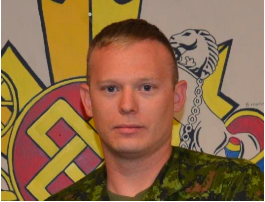 ON THE 2ND JULY 2020, MCPL JEREMY DOBSON WILL RETIRE WITH 15+ YEARS OF SERVICE FROM THE CANADIAN ARMED FORCES.
IN SEPT 2004, MCPL DOBSON ENROLLED INTO THE CANADIAN ARMED FORCES AS A VEHICLE TECH. AFTER COMPETING BASIC TRAINING IN ST. JEAN IN DEC 2004, MCPL DOBSON WAS POSTED TO CFB BORDEN FOR TRADES TRAINING. HE COMPLETED THE EME COMMON COURSE IN APRIL 2005 AND WENT ONTO HIS QL3 VEHICLE TECH COURSE, WHERE HE FOUND OUT THAT IT WAS NOT WHAT HE WANTED TO DO AS A CAREER. AFTER MUCH THINKING AND PAST COMMENTS FROM HIS INSTRUCTORS AT BASIC, MCPL DOBSON SWITCHED TRADES TO BECOME AN INFANTRYMAN WITH THE ROYAL CANADIAN REGIMENT, AND TOOK A POSTING TO DET MEAFORD TO START THIS PROCESS. WHILE IN MEAFORD MCPL DOBSON COMPLETED HIS SOLDIER QUALIFICATION AND DP1 INFANTRYMAN COURSE AND POSTED TO 2 RCR AT CFB GAGETOWN IN JUNE 2006.
ONCE MCPL DOBSON HIT THE GROUND AT 2 RCR, HE IMMEDIATELY BEGAN WORK-UP TRAINING FOR TASK FORCE 1-07 IN AFGHANISTAN, ENHANCING HIS SKILLS AS A RIFLEMAN, GRENADIER, AND MACHINE GUNNER WITH LIGHT (C-9), GENERAL PURPOSE (C-6) AND HEAVY (.50CAL) MACHINE GUNS. HE THEN PROCEEDED ON THE LAV 3 DRIVERS COURSE, SO THAT HE COULD BE EMPLOYED AS A BACKUP LAV 3 DRIVER FOR HIS SECTION.
ON DEPLOYMENT TO AFGHANISTAN FROM JAN- AUG 2007, MCPL DOBSON WAS EMPLOYED AS THE SECTION MACHINE GUNNER FOR HALF THE TOUR AND AS A LAV 3 DRIVER FOR THE OTHER HALF, REPLACING OTHER DRIVERS WHILE THEY WENT ON HLTA. DURING HIS TIME IN AFGHANISTAN HE WAS ONE OF THE RECOVERY PERSONNEL ATTACHED TO HIS COMPANY'S CSM AND ASSISTED WITH THE REPATRIATION OF THOSE MEMBERS LOST ON 8TH APRIL 2007 FROM C/S 22B, IN WHICH HE RECEIVED THE COMMANDER OF JOINT TASK FORCE AFGHANISTAN ROTO-3 COIN. MCPL DOBSON ALSO RECEIVED INJURIES FROM AN IED, AND 10FT FALL DURING A NIGHT PATROL. ONCE HE RETURNED TO CANADA, MCPL DOBSON WAS AWARDED THE GCS-SWA MEDAL, AND WORKED ON SMALL TASKS WHILE HEALING WHICH EVENTUALLY LEAD TO A POSTING TO THE JPSU IN MARCH 2009, WHERE HE RECEIVED HIS PROMOTION TO CPL.
DURING HIS TIME AT THE JPSU, MCPL DOBSON PARTICIPATED IN THE RETURN TO WORK PROGRAM, WHICH EVENTUALLY LED TO HIM WORKING DIRECTLY FOR THE JPSU DOING AMBULATORY CARE FOR OTHER ILL & INJURED MEMBERS, HE ALSO ADMINISTERED THE SOLDIER ON PROGRAM LOCALLY FOR NB&PEI. MCPL DOBSON WAS AWARDED THE SACRIFICE MEDAL (FOR INJURIES SUSTAINED IN AFGHANISTAN), THE COMMANDER OF THE CANADIAN ARMY'S COIN AND THE QUEEN'S DIAMOND JUBILEE MEDAL FOR HIS WORK AND EFFORT AT THE JPSU.
IN APRIL 2013, MCPL DOBSON RETURNED TO 2 RCR WHILE AWAITING HIS REMUSTER TO THE MSE OP TRADE, WHICH CAME THROUGH IN JULY 2013 AND HE WAS SUBSEQUENTLY POSTED TO THE BASE HOLDING LIST IN GAGETOWN, AND ATTACHED POSTED TO BASE TRANSPORT WHERE HE PRIMARILY WORKED IN FIELD SUPPORT. IN JAN 2014 MCPL DOBSON WENT ON HIS QL3 AND WAS POSTED TO 14 WING GREENWOOD UPON COMPLETION.
WHILE AT 14 WING GREENWOOD MCPL DOBSON WASKED IN GPV, CREW 2IC FOR DOMESTIC SNIC, AND REFUELLING. IN MAY 2016 HE COMPLETED HIS QL5 AND RETURNED TO REFUELLING SECTION, AND THEN AS 2IC FOR AIRFIELD SNIC OPERATIONS. HE ALSO WORKED AS DISPATCH AND FILLED IN AS THE GPV 2IC. HE RECEIVED HIS CD A YEAR LATE IN OCTOBER 2017. AT THIS TIME HE WENT TO WORK AS THE TRANSPORT TRANING NCO AND AN ASSISTANT TO THE ROAD AND VEHICLE SAFETY SECTION. MCPL DOBSON WAS PROMOTED TO HIS CURRENT ACTING RANK IN DEC 2018, BUT UNFORTUNATELY DUE TO OLD INJURIES DETERIORATING, HE CAREER IS BEING CUT SHORT. MCPL DOBSON IS PLANNING ON STAYING IN THE NOVA SCOTIA AREA, WITH HIS WIFE SHELBY, THEIR SON WESTON, AND HIS 2 STEP CHILDREN ELLIE AND CARTER HARRISON.
A DWD WILL BE HELD AT THE 8HGR CONFERENCE ROOM IN GREENWOOD ON THE 31ST JULY 2020 AT 1000 HRS.
IF YOU WISH TO SEND FAREWELL OR SHARE SOME MEMORIES FROM YOUR SHARED SERVICES WITH MCPL DOBSON, THEN PLEASE DO SO THROUGH SGT. TROY HIGGS AT TROY.HIGGS@FORCES.GC.CA
LE 2 JUILLET 2020, CPLC JEREMY DOBSON PRENDRA SA RETRAITE DES FORCES ARMÉE CANADIENNE APRÈS PLUS DE15 ANNÉES DE SERVICE.
EN SEPTEMBRE 2004, CPLC DOBSON A JOINT LES FORCES ARMÉE CANADIENNE COMME GÉNIE ÉLECTRIQUE ET MÉCANIQUE. APRÈS AVOIR COMPLÉTÉ SA FORMATION DE SOLDAT DE BASE À ST- JEAN-SUR-LE-RICHELIEU EN DÉCEMBRE 2004, CPLC DOBSON SERA TRANSFÉRÉ À LA BFC DE BORDEN POUR SES COURS DE MÉTIER. IL A COMPLÉTÉ LE GEM COURS EN AVRIL 2005 ET PAR LA SUITE IL COMMENCERA LE QL3 DE GÉNIE ÉLECTRIQUE ET MÉCANIQUE, ET AINSI RÉALISA QUE CE N'ÉTAIT PAS CE QU'IL SOUHAITAIT FAIRE COMME MÉTIER. APRÈS MURE RÉFLEXION ET OBSERVATION SUR LES COMMENTAIRES DE SES INSTRUCTEURS DE SA FORMATION DE BASE, CPLC DOBSON CHANGEA DE MÉTIER POUR DEVENIR FANTASSIN AU SEIN DU RÉGIMENT ROYALE DU CANADA. IL ACCEPTERA PAR LA SUITE, UN TRANSFERT AU DÉTACHEMENT DE MEAFORD. PENDANT SON TEMPS À MEAFORD, CPLC DOBSON COMPLÉTERA SA QUALIFICATION DE DP1 FANTASSIN EN JUIN 2006 ET SERA AFFECTÉ AU 2 RCR À LA BFC DE GAGETOWN.
AUSSITÔT ARRIVÉ AU 2IÈME RCR IL A IMMÉDIATEMENT COMMENCÉ L'ENTRAINEMENT DES FORCES OPÉRATIONNEL POUR L'AFGHANISTAN 1-07, AMÉLIORANT CES HABILITÉS ENTANT QUE TIREUR, GRENADIER, ET MITRAILLEUR DE MITRAILLEUSE POLYVALENTE (C-6) ET LOURDE (.50CAL). IL A ENSUITE POURSUIVI, AVEC LE COURS DE CONDUITE POUR LAV 3, DEVENANT AINSI UN ÉLÉMENT DE SOUTIEN POUR SA SECTION.
DURANT SON DÉPLOIEMENT EN AFGHANISTAN DE JANVIER À AOÛT 2007, CPLC DOBSON A ÉTÉ EMPLOYÉ PENDANT LA MOITIÉ DE LA DURÉE DE SON DÉPLOIEMENT DANS LA SECTION DES ARMES AUTOMATIQUES ET PAR LA SUITE ENTANT QUE CONDUCTEUR DE SOUTIEN POUR LAV3, PENDANT LA DURÉE DES ARDC DES AUTRES CONDUCTEURS. AU COURS DE SON SÉJOUR EN AFGHANISTAN, IL FERA PARTI DU PERSONNEL DE RECOUVREMENT ATTACHÉ AU CSM DE SA COMPAGNIE ET ASSISTERA AVEC LE RAPATRIEMENT DES MEMBRES PERDU DU C/S 22B LE 8 AVRIL 2007, ET POUR CETTE RAISON IL RECEVRA LE JETON DU COMMANDANT DE LA FORCE JOINTE POUR LA ROTO-3 EN AFGHANISTAN. CPLC DOBSON SERA ÉGALEMENT BLESSÉ PAR UN EEI QUI LE PROPULSERA À PLUS DE DIX (10) PIEDS DURANT UNE PATROUILLE DE NUIT. DE RETOUR AU CANADA, IL SERA DÉCORÉ DE LA MÉDAILLE DU GCS-SWA, ET EXÉCUTERA QUE DES TACHES LÉGÈRES DURANT TOUTE LA PÉRIODE DE SA CONVALESCENCE; CE QUI ÉVENTUELLEMENT LE MÈNERA À UNE AFFECTATION AU UISP EN MARS 2009 OÙ IL RECEVRA ÉGALEMENT SA PROMOTION DE CAPORAL. DURANT SON AFFECTATION À L'UISP CPLC DOBSON PARTICIPERA AU PROGRAMME DU RETOUR AU TRAVAIL, CE QUI LUI OBTIENDRA ÉVENTUELLEMENT UNE POSITION AU SEIN DE L'UISP TRAVAILLANT AINSI, À LA PRISE EN CHARGE AMBULATOIRE DES MEMBRES MILITAIRE MALADES ET BLESSÉS. IL A ÉGALEMENT ADMINISTRÉ LE PROGRAMME SANS LIMITE POUR LE NOUVEAU- BRUNSWICK ET L'ILE DU PRINCE EDWARD. CPLC DOBSON A ÉTÉ ATTRIBUÉ LA MÉDAILLE DU SACRIFICE (POUR SES BLESSURES SUBIES EN AFGHANISTAN), LE JETON DU COMMANDANT DE L'ARMÉE CANADIENNE AINSI QUE LA MÉDAILLE DU JUBILÉ DE DIAMANT DE LA REINE POUR SON TRAVAIL DÉVOUÉ AU UISP.
EN AVRIL 2013, CPLC DOBSON RETOURNERA AU 2IÈME RCR EN ATTENDANT SON CHANGEMENT DE MÉTIER POUR MMS OP QU'IL LUI SERA ATTRIBUÉ EN JUILLET 2013 ET IL A SERA ENSUITE AFFECTÉ À LA LISTE D'ATTENTE DE GAGETOWN, PUIS TRANSFÉRÉ ATTACHÉ À LA SECTION DU TRANSPORT OU IL TRAVAILLERA PRINCIPALEMENT À L'UNITÉ DE SUPPORT DE LA PREMIÈRE LIGNE. EN JANVIER
2014, CPLC DOBSON COMPLÉTERA SON QL3 ET SERA TRANSFÉRÉ À LA 14IÈME ESCADRE DE GREENWOOD.
PENDANT QU'IL SERA À LA 14IÈME ESCADRE DE GREENWOOD CPLC DOBSON SERA EMPLOYÉ AU GPV, PUIS, COMME ADJOINT D'ÉQUIPE DE DÉNEIGEMENT DOMESTIQUE POUR LE SNIC, ET AINSI QU'À LA SECTION DU RAVITAILLEMENT EN CARBURANTS. IL COMPLÉTERA SON QL5 DE MÉTIER EN MAI 2016 ET RETOURNERA À LA SECTION DU RAVITAILLEMENT EN CARBURANT, PUIS PAR LA SUITE, ENTANT QU'ADJOINT D'ÉQUIPE POUR LE DÉNEIGEMENT (SNIC) SUR L'AÉRODROME. ON L'EMPLOIERA ÉGALEMENT, AU GPV, COMME ADJOINT PUIS À LA RÉPARTITION DES VÉHICULES. IL RECEVRA SA CD, DÉCORATION DES FORCES CANADIENNE (INITIALES HONORIFIQUE ̈CD ̈), EN OCTOBRE 2017. À CE POINT, IL TRAVAILLERA COMME ADJOINT À L'ENTRAINEMENT ET ASSISTANT POUR LA SECTION DE LA SÉCURITÉ ROUTIÈRE DU TRANSPORT. CPLC DOBSON RECEVRA SA PROMOTION POUR SON GRADE ACTIF EN DÉCEMBRE 2018, MAIS MALHEUREUSEMENT, DUE À LA DÉTÉRIORATION D'ANCIENNES BLESSURES SA CARRIÈRE DEVRA S'ÉCOURTER.
CPLC DOBSON PLANIFIE DE RESTER EN NOUVELLE-ÉCOSSE, AVEC SA CONJOINTE SHELBY, LEUR FILS WESTON ET, CES DEUX (2) BEAUX ENFANTS ELLIE ET CARTER HARRISON.
UN DWD AURA LIEU DANS LA SALLE DE CONFÉRENCE DU 8HGR À GREENWOOD LE 31 JUILLET 2020 À 1000HRS.
SI VOUS SOUHAITEZ ENVOYER VOS SOUHAITS OU PARTAGER DES SOUVENIRS AVEC CPLC DOBSON, S'IL VOUS PLAIT FAÎTES LES PARVENIR AUX SGT. TROY HIGGS À TROY.HIGGS@FORCES.GC.CA
---