MASTER CORPORAL T.D. NAUGLER, CD, MSE OP 00171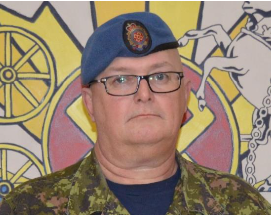 MASTER CORPORAL (MCPL) TROY NAUGLER WILL RETIRE FROM THE CANADIAN ARMED FORCES (CAF) AFTER 37 YEARS OF LOYAL AND DEDICATED SERVICE TO CANADA ON 15 OCTOBER 2020.
MCPL TROY NAUGLER ENROLLED IN THE CAF IN OCTOBER 1983 AS A NOVA SCOTIA HIGHLANDER. DURING HIS 25 YEARS WITH THE HIGHLANDERS HE WAS EMPLOYED IN MANY LOCATIONS AND PROVIDED SUPPORT IN MANY ROLES INCLUDING RIFLEMAN, STORESMAN AND PATROLMAN. MORE NOTABLY DURING HIS TIME WITH THE HIGHLANDERS, MCPL NAUGLER DEPLOYED TO MANY DOMESTIC OPERATIONS INCLUDING OP PERSISTENCE IN 1998, OP PARASOL IN 1999 AND OP ABACUS IN 2000. HAVING COMPLETED MORE THAN 25 YEARS IN THE RESERVES, MCPL NAUGLER JOINED THE REG FORCE IN 2008 AS AN MSE OP AND COMPLETED HIS MSE OP QL3. UPON COMPLETION OF HIS QL3 HE WAS POSTED TO 14 WG GREENWOOD. HE WAS EMPLOYED AS A GPV OPERATOR UP TILL HIS MSE OP QL5 IN 2011. RETURNING TO GREENWOOD HE WAS EMPLOYED AGAIN IN GPV AND SPV SECTIONS AS AN OPERATOR. IN 2014 HE DEPLOYED TO CFS ALERT AND IN 2015 HE COMPLETED THE AIRFIELD SPECIAL PURPOSE MOBILE SUPPORT EQUIPMENT COURSE (935.05). IN 2017 MCPL NAUGLER BECAME A CREW 2 I/C WITHIN SPV AND IN 2018 HE WAS PROMOTED TO HIS CURRENT RANK. HE SPENT HIS LAST YEARS IN UNIFORM LEADING HIS TROOPS INTO BATTLE AGAINST MOTHER NATURE AND THE ELEMENTS AS AN SPV AIRFIELD CREW CHIEF.
MCPL NAUGLER WILL BE RETIRING IN THE AREA WITH HIS 2 CHILDREN MALCOLM AND CHARLEIGH. HE WILL BE SPENDING HIS FREE TIME LISTENING TO HEAVY METAL MUSIC AND TOURING AROUND IN HIS NEW DODGE RAM.
AS PER TROY'S WISHES HE WILL NOT BE HAVING A FORMAL DWD, HOWEVER IF YOU WISH TO FORWARD CONGRATULATIONS OR ANECDOTES, PLEASE CONTACT SGT JEFF CLOUTIER BY EMAIL AT JEFFREY.CLOUTIER@FORCES.GC.CA BEFORE 01 OCTOBER 2020.
APRÈS 37 ANNÉES DE BONS ET LOYAUX SERVISES AUX SEINS DES FORCES ARMÉE CANADIENNE, CAPORAL-CHEF (CPLC) TROY NAUGLER PRENDRA ÇA RETRAITE LE 15 OCTOBRE, 2020.
CPLC TROY NAUGLER À JOINT LES FAC EN OCTOBRE 1983 ENTANT QUE HIGHLANDERS DE LA NOUVELLE-ÉCOSSE. DURANT SES 25 ANNÉES AVEC LES HIGHLANDERS IL A ÉTÉ EMPLOYÉ DANS DIFFÉRENTES LOCATIONS ET À DONNÉ DU SUPPORT DANS DIFFÉRENTES SECTIONS INCLUANT; TIREUR, MAGASINIER ET PATROUILLEUR. PLUS PARTICULIÈREMENT, DURANT SON SERVICE AVEC LES HIGHLANDERS, CPLC NAUGLER A ÉTÉ DÉPLOYÉ DANS PLUSIEURS OPÉRATION DOMESTIQUE INCLUANT; OP PERSISTANCE EN 1998, OP PARASOL EN 1999 ET DANS L'OP ABACUS EN 2000. AYANT COMPLÉTÉ PLUS DE 25 ANNÉES DANS LA RÉSERVE, CPLC NAUGLER A JOINT LA FORCE REGULIÈRE EN 2008 ENTANT QU'OP MMS ET A PAR LA MÊME OCCASION COMPLÉTÉ SON QL3 DE MÉTIER ET A ÉTÉ TRANSFÉRÉ À LA 14 ESCADRILLE DE GREENWOOD. IL A ÉTÉ EMPLOYÉ ENTANT QU'OPÉRATEUR DANS LA SECTION GPV JUSQU'À L'OPTENTION DE SON QL5 EN 2011. À SON RETOUR IL A ÉTÉ EMPLOYÉ DANS LES SECTIONS GPV ET SPV. EN 2014, IL EST DÉPLOYÉ À LA SFC ALERT ET EN 2015 IL COMPLÉTERA LE COURS D'USAGE SPÉCIALE DES MATÉRIELS MOBILES DE SOUTIEN DANS LES AÉRODRÔMES (935.05). EN 2017, CPLC NAUGLER DEVIENDRA COMMANDANT EN SECOND DE LA SECTION SPV ET EN 2018 IL RECEVRA SA PROMOTION POUR SON GRADE ACTUEL. IL A PASSÉ SA DERNIÈRE ANNÉES DANS LES FORCES CANADIENNE ENTANT QUE CHEF D'ÉQUIPE DIRIGERANT SON ÉQUIPE D'OPÉRATEUR DE SOUTIEN MOBILE DANS LEUR COMBAT CONTRE MÈRE NATURE ET SES ÉLÉMENTS SUR L'ARÉODRÔME.
CPLC NAUGLER PRENDRA SA RETRAITE DANS LA RÉGION AVEC SES 2 ENFANTS MALCOLM ET CHARLEIGH. IL CONSACRERA SON TEMPS PERSONNEL À ÉCOUTER DE LA MUSIQUE HEAVY METAL ET À VOYAGER AUTOUR DANS SON NOUVEAU DODGE RAM.
A LA DEMANDE DE TROY; IL N'Y AURA PAS DE FORMEL DEPART AVEC DIGNITÉ, MAIS SI VOUS VOULEZ ENVOYER VOS SOUHAITS FÉLICITATIONS OU DES ANECTOTES, S'IL VOUS PLAÎTS CONTACTEZ SGT JEFF CLOUTIER PAR EMAIL À JEFFREY.CLOUTIER@FORCES.GC.CA AVANT LE 1 OCTOBRE 2020.
---