MASTER CORPORAL (MCPL) MARC SLATER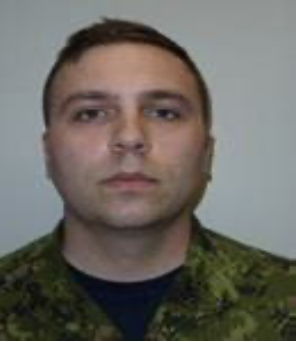 MASTER CORPORAL (MCPL) MARC SLATER WILL BE RETIRING FROM THE CANADIAN ARMED FORCES (CAF) AFTER 12 YEARS OF LOYAL AND DEDICATED SERVICE TO CANADA ON 25 OCT 2021.
MCPL MARC SLATER ENROLLED IN THE CANADIAN ARMED FORCES ON 16 JUNE, 2009 AND ENLISTED AS NAVAL STEWARD WHERE HE TRAINED IN COOKING AND BAR TENDING. WHEN HE COMPLETED HIS TRAINING MCPL SLATER WAS POSTED WITH THE HMCS TORONTO AT CFB HALIFAX
WHERE HE RECEIVED HIS FIRST TRIP AND MEDAL (OSM EXPEDITION) FOR OP CARIBE IN 2010. IN 2010 MCPL SLATER ALSO GOT EXTENSIVE TRAINING FOR FIREFIGHTING, SCUBA CONVERSION, CASUALTY CLEARING AND NAVAL SURVIVAL DURING HIS 4 MODS OF NETP (NAVAL ENVIRONMENTAL TRAINING PROGRAM). WHEN HE WASN'T SAILING, MCPL SLATER WAS TASKED WITH JUNO TOWERS TO ASSIST WITH HIGH PROFILE MESS DINNERS AND FUNCTIONS IN WHICH HE WAS TASKED WITH SERVING THE QUEEN, ROYAL FAMILY, PRIME MINISTER STEPHEN HARPER, AND GENERAL WALTER NATYNCZYK DURING THE NAVY'S 100 YEAR ANNIVERSARY, MCPL SLATER WAS ALSO A MEMBER OF THE QUEENS HONOUR GUARD DURING HER VISIT. MCPL SLATER SUFFERED FROM SEVERE SEA SICKNESS AND AFTER SEVERAL LONG TRIPS AND A LOT OF WEIGHT LOSS THE DOCTORS DECIDED IT WAS TIME TO TAKE HIM OUT OF THE NAVY. HE REMEMBERED HIS TIME WITH THE AIRFORCE PILOTS ON SHIP AND DECIDED THAT THE AIRFORCE WAS THE RIGHT CHOICE FOR HIM. THIS IS WHERE HE BECAME AN MSE OP, COMPLETING HIS QL3 AND BEING POSTED TO CFB GAGETOWN 05 FEB 2015 TO START HIS NEW CAREER. HE STARTED HIS MSE CAREER IN BUS AND FIELD SUPPORT ALTERNATING BETWEEN THE 2 AS NEEDED, AFTER A YEAR MCPL SLATER BECAME THE MP&L REP DUE TO HIS SKILLS WITH ADMIN/COMPUTER PROGRAMS. DURING THAT TIME MCPL SLATER WAS ABLE TO BRING THE FLEET FROM 30% SERVICEABILITY TO 90% AND OUTFITTED EVERY VEHICLE IN THE FLEET WITH THE PROPER EIS, MCPL SLATER EXCELLED QUICKLY THROUGH GPV AND WAS THEN SENT TO REFUELLING TO EXPAND HIS KNOWLEDGE. IN 2017 MCPL SLATER COMPLETED HIS QL5 WHERE HE OBTAINED THE AWARD FOR TOP CANDIDATE. WHEN HE RETURNED FROM HIS QL5 HIS NAME WAS PUT IN BY HIS COC TO TAKE OVER AS 2IC REFUELING AT 403 TACTICAL HELICOPTER SQN WHERE HE EXCELLED AND GOT PROMOTED TO MCPL IN 2020. MCPL WAS THEN POSTED TO CFB GREENWOOD JULY 2020 BUT UNFORTUNALY WASN'T ABLE TO CONTINUE HIS CAREER.
3. MCPL SLATER WILL BE RETIRING IN NOVA SCOTIA WITH HIS SPOUSE AMANDA. MARC WILL BE TAKING A COUPLE YEARS OFF TO CARE FOR HIS HEALTH AND TO DISCOVER HIS NEW PATH IN LIFE.
1. LE CAPORAL-CHEF (CPLC) MARC SLATER PRENDRA SA RETRAITE DES FORCES
ARMÉES CANADIENNES (FAC) APRÈS 12 ANS DE SERVICE LOYAL ET DÉDIÉ AU
2. Le MCPL MARC SLATER S'EST ENROLE DANS LES FORCES ARMÉES CANADIENNES
LE 16 JUIN 2009 ET S'EST ENGAGÉ COMME COMMISSAIRE DE LA MARINE OU IL S'EST
FORMÉ À LA CUISINE ET AU BAR. LORSQU'IL A TERMINÉ Sa FORMATION, CPLC
SLATER A ÉTÉ MUTE AVEC LE NCSM TORONTO À LA BFC HALIFAX
OU IL A REÇU SON PREMIER VOYAGE ET MÉDAILLE (EXPÉDITION OSM) POUR L'OP
CARIBE EN 2010. EN 2010, CPLC SLATER A ÉGALEMENT OBTENU UNE FORMATION
COMPLÈTE POUR LA LUTTE CONTRE L'INCENDIE, LA CONVERSION DE PLONGÉE,
L'ASSAINISSEMENT ET LA SURVIE NAVALE AU COURS DE SES 4 MODS DE NETP
(NAVEL ENVIRONNEMENT TRAINING PROGRAM). QUAND IL NE NAVIGUAIT PAS, LE
CPLC SLATER A ÉTÉ CHARGÉ AVEC DES TOURS JUNO POUR AIDER À DES DÎNERS ET
FONCTIONS DE MESS DE HAUT NIVEAU DANS LEQUEL IL A ÉTÉ CHARGÉ DE SERVIR
LA REINE, LA FAMILLE ROYALE, HARPER ET LE GÉNÉRAL NATYNCZYK PENDANT
L'ANNIVERSAIRE DES 100 ANS DE LA MARINE, A ÉGALEMENT ÉTÉ MEMBRE DE LA
GARDE D'HONNEUR DE LA REINE PENDANT SA VISITE. CPLC SLATER A SOUFFAIRE
D'UN GRAVE MAL DE MER ET APRÈS PLUSIEURS LONGS VOYAGES ET BEAUCOUP DE
POIDS PERDU, LES MÉDECINS ONT DÉCIDÉ QU'IL ÉTAIT TEMPS DE LE SORTIR DE LA
MARINE. IL S'EST SOUVENU DE SON TEMPS AVEC LES PILOTES DE L'AIRFORCE SUR
LE NAVIRE ET A DÉCIDÉ QUE L'AIRFORCE ÉTAIT LE BON CHOIX POUR LUI.
C'EST LÀ OU IL EST DEVENU CONDUCTEUR MMS, COMPLETER SON QL3 ET SES FAIT
MUTÉ À LA BFC GAGETOWN LE 05 FÉV 2015 POUR COMMENCER SA NOUVELLE
CARRIÈRE. IL A COMMENCÉ SA CARRIÈRE MMS DANS LE BUE ET LE SOUTIEN SUR LE
TERRAIN EN ALTERNANT ENTRE LES 2 AU BESOIN, APRES UN AN, CPLC SLATER A
PRIT POSITION COMME MP&L GRÂCE À SA COMPÉTENCE AVEC LES PROGRAMMES
ADMINITRATIVE ET INFORMATIQUE. PENDANT CE TEMPS, CPLC SLATER A ÉTÉ
CAPABLE DE PORTER LA FLOTTE DE 30 % D'ENTRETIEN À 90 % ET A ÉQUIPÉ CHAQUE
VÉHICULE DE LA FLOTTE AVEC L'EQUIPEMENT APPROPRIÉ, CPLC SLATER A EXCELLÉ
RAPIDEMENT GRÂCE À GPV ET A ENSUITE A ÉTÉ ENVOYÉ AU RAVITAILLEMENT POUR
ÉLARGIR SES CONNAISSANCES. EN 2017, CPLC SLATER A COMPLÉTÉ SON QL5, IL A
OBTENU LE PRIX DU MEILLEUR CANDIDAT. LORSQU'IL EST RETOURNÉ DE SON QL5,
SON NOM A ÉTÉ INSCRIT PAR SA CHAINE DE COMMANDEMENT POUR PRENDRE LA
POSITION DU 2IC RAVITAILLEMENT AU 403 ESQUADRON D'HÉLICOPTÈRES TACTIQUES
OU IL A EXCELLÉ ET A ÉTÉ PROMU À CPLC EN 2020.
A ENSUITE ÉTÉ AFFECTÉ À LA BFC GREENWOOD EN JUILLET 2020, MAIS
MALHEUREUSEMENT N'A PAS ÉTÉ EN MESURE DE POURSUIVRE SA CARRIÈRE.
3. CPLC SLATER PRENDRA SA RETRAITE EN NOUVELLE-ÉCOSSE AVEC SA CONJOINTE
AMANDA. MARC PRENDRA QUELQUE ANNÉES POUR PRENDRE SOIN DE SA SANTÉ ET
DÉCOUVRIR SON NOUVEAU CHEMIN DE VIE.
---