MAJOR MATHIEU ARSENEAULT MSM, CD, LOG-LAND, CANADIAN ARMY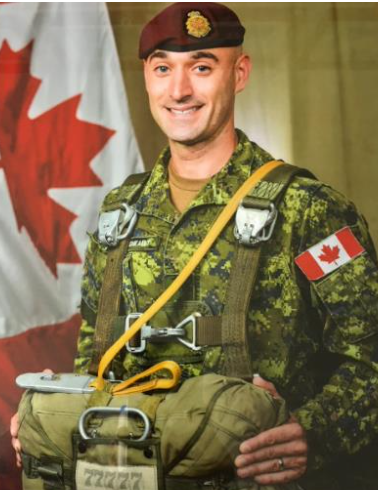 1. MAJOR MATHIEU ARSENEAULT WILL RETIRE ON 16 JULY 2021 AFTER SERVING IN THE CANADIAN ARMED FORCES FOR 21 YEARS.
2. MAJOR ARSENEAULT'S JOURNEY IN THE CAF STARTED IN 1999 WITH THE FUSILIERS DE SHERBROOKE REGIMENT IN THE ARMY PRIMARY RESERVE. WHAT STARTED AS A PART TIME JOB WHILE HE WAS COMPLETING HIS BACHELOR'S DEGREE AT SHERBROOKE'S UNIVERSITY QUICKLY BECAME A CAREER. HE TRANSFERRED IN THE REGULAR FORCE AS A LOGISTICS OFFICER IN 2009 AND WAS POSTED AT CFB VALCARTIER WHERE HE SERVED FOR 5 SERVICE BATTALION AND 3RD BATTALION ROYAL 22E RÉGIMENT. HE WORKED AT THE OPERATIONAL LEVEL AT THE CANADIAN JOINT OPERATIONAL SUPPORT GROUP FOR A BRIEF BUT INTENSE MOMENT. HE COMMANDED THE INTERMEDIATE STAGING TEMINAL IN SUPPORT TO OP PRESENCE MISSION OPENING. TO THIS DAY, HE CONTINUES TO AFFIRM THAT THIS WAS THE MOST REWARDING MOMENT OF HIS CAREER AND HE OFTEN MENTIONES TO ANYONE WILLING TO LISTEN THAT HE HAD THE BEST TEAM ANYONE COULD WISH FOR DURING THAT MISSION. HE ALSO HAD THE IMMENSE PRIVILEGE OF BEING THE OFFICER COMMANDING OF THE SUPPORT COMPANY AT THE CANADIAN ARMY ADVANCED WARFARE CENTRE. HE WAS ABLE TO WITNESS FIRSTHAND THE UTMOST DEDICATION AND MINUTIA OF THE PARACHUTE RIGGERS. HE FEELS UTTERLY PRIVILEGED TO HAVE SERVED ALONG THE MOST PROFESSIONAL SAILORS, SOLDIER AND AVIATORS, SUPPORTING CAF'S OPERATIONS. THROUGHOUT HIS CAREER, MAJOR ARSENEAULT WAS DEPLOYED IN BOSNIA (2002), AFGHANISTAN (2010) AND BURKINA FASO (2018).
3. ALTHOUGH HE IS RETIRING FROM CAF, MAJ ARESENEAULT WILL CONTINUE TO SERVE CANADIAN SOCIETY AS A TEACHER. HE IS STARTING THIS NEW JOURNEY KNOWING HIS WIFE ANNE AND THE KIDS, AUBE, LILI AND CHARLES WILL CONTINUE TO SUPPORT HIM.
4. DUE TO EXCEPTIONAL MEASURES SURROUNDING THE COVID-19 PADEMIC, IT WILL NOT BE POSSIBLE TO HOLD A DWD WITH GUESTS. PERSONS INTERESTED IN SENDING A FAREWELL MESSAGE OR ANECDOTES ARE FREE TO DO SO TO LCOL BELLEMARE AT REGIS.BELLEMARE@FORCES.GC.CA
1. LE MAJOR MATHIEU ARSENEAULT PRENDRA SA RETRAITE LE 16 JUILLET 2021 APRÈS AVOIR SERVI LES FORCES ARMÉES CANADIENNES PENDANT 21 ANNÉES.
2. SON AVENTURE DANS LES FAC A DÉBUTÉ EN 1999 DANS LA FORCE DE RÉSERVE PRIMAIRE DE L'ARMÉE AVEC LE RÉGIMENT DES FUSILIERS DE SHERBROOKE. CE QUI DEVAIT N'ÊTRE QU'UN TRAVAIL À TEMPS PARTIEL PENDANT QU'IL COMPLÉTAIT SON BACCALAURÉAT À L'UNIVERSITÉ DE SHERBOOKE, S'EST RAPIDEMENT TRANSFORMÉ EN CARRIÈRE. IL A TRANSFÉRÉ DANS LA FORCE RÉGULIÈRE EN TANT QU'OFFICIER LOGISITIQUE EN 2009 ET FUT AFFECTÉ À LA BFC VALCARTIER OÙ IL SERVI AU 5E BATAILLON DES SERVICES ET AU 3E BATAILLON ROYAL 22E RÉGIMENT. IL A TRAVAILLÉ AU NIVEAU OPÉRATIONNEL POUR LE GROUPE DE SOUTIEN OPÉRATIONNEL INTERARMÉES DES FORCES CANADIENNES POUR UNE PÉRIODE BRÈVE, MAIS INTENSE. IL A COMMANDÉ LE TERMINAL DE TRANSIT INTERMÉDIAIRE EN SUPPORT À L'OUVERTURE DE LA MISSION DANS LE CADRE D'OP PRESENCE. À CE JOUR, IL CONTINUE D'AFFIRMER QUE CE FUT LE TRAVAIL LE PLUS GRATIFIANT DE SA CARRIÈRE ET MENTIONNE À QUI VEUT L'ENTENDRE QU'IL AVAIT LA MEILLEURE ÉQUIPE QUE N'IMPORTE QUI PUISSE SOUHAITER AVOIR. IL A ÉGALEMENT EU L'IMMENSE PRIVILÈGE D'ÊTRE LE COMMANDANT DE LA COMPAGNIE DES SERVICES DU CENTRE D'INSTRUCTION SUPÉRIEURE EN GUERRE TERRESTRE DE L'ARMÉE CANADIENNE. IL Y FUT UN ÉMOIN DE PREMIER PLAN DE L'INCROYABLE DÉVOUEMENT ET DE LA MINUTIE DES ARRIMEURS DE PARACHUTES. IL SE SENT EXTRÊMEMENT PRIVILÉGIÉ D'AVOIR SERVI AVEC LES MARINS, LES SOLDATS ET LES AVIATEURS LES PLUS PROFESSIONNELS SUPPORTANT LES OPÉRATIONS DES FAC. AU COURS DE SA CARRIÈRE, LE MAJOR ARSENEAULT S'EST DÉPLOYÉ EN BOSNIE (2002), EN AFGHANISTAN (2010) ET AU BURKINA FASO (2018).
3. BIEN QU'IL PRENNE SA RETRAITE DES FAC, LE MAJOR ARSENEAULT CONTINUERA DE SERVIR LA SOCIÉTÉ CANADIENNE EN TANT QU'ENSEIGNANT. IL DÉBUTE SA NOUVELLE AVENTURE SACHANT QUE SON ÉPOUSE ANNE ET LES ENFANTS, AUBE, LILI ET CHARLES, CONTINUERONT DE LE SUPPORTER.
4. EN RAISON DES MESURES EXCEPTIONNELLES ENTOURANT LA PANDÉMIE DE LA COVID-19, IL NE SERA PAS POSSIBLE DE SE RASSEMBLER POUR UN ÉVÉNEMENT DE DÉPART DANS LA DIGNITÉ. LES PERSONNES INTÉRESSÉES À ENVOYER UN
MESSAGE D'AU REVOIR OU DES ANECDOTES SONT LIBRES DE LES ACHEMINER AU LCOL BELLEMARE AU REGIS.BELLEMARE@FORCES.GC.CA.
---