LIEUTENANT-COLONEL PAUL ANDERSON, CD, LOG-LAND, CANADIAN ARMY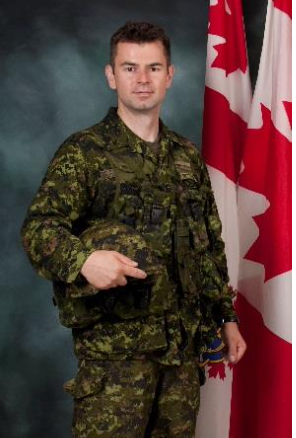 AFTER 30 YEARS OF SERVICE IN THE CAF, AND 21 AS A REGULAR FORCE LOGISTICIAN, LIEUTENANT-COLONEL PAUL ANDERSON WILL RETIRE FROM THE CAF ON 7 SEPT 2021.
LIEUTENANT-COLONEL ANDERSON ENROLLED IN THE PRIMARY RESERVES IN 1991 AS A NON-COMMISSIONED MEMBER, WHERE HE PARTICIPATED IN A NUMBER OF DOMESTIC OPERATIONS INCLUDING THE CAF RESPONSE TO THE CRASH OF SWISS AIR FLIGHT 111 IN 1998 AND THE CAF SUPPORT TO THE RECEPTION OF REFUGEES FROM KOSOVO IN 1999.
IN 2000, LIEUTENANT-COLONEL ANDERSON TRANSFERRED TO THE REGULAR FORCE AS A LOGISTICS OFFICER, AND WAS POSTED TO 5 SERVICE BATTALION IN VALCARTIER. HIS CAREER AS A JUNIOR OFFICER SAW POSTINGS ACROSS THE TACTICAL AND OPERATIONAL LEVEL, TO INCLUDE QUARTERMASTER AT 5 COMBAT ENGINEER REGIMENT, OPERATIONS OFFICER AT 3 CANADIAN SUPPORT UNIT, AND DEPLOYMENTS TO BOSNIA, KANDAHAR, CAMP MIRAGE, AND GERMANY.
PROMOTED TO MAJOR IN 2009, LIEUTENANT-COLONEL ANDERSON WORKED IN A WIDE VARIETY OF CHALLENGING AND ENGAGING COMMAND AND STAFF POSITIONS TO INCLUDE LOGISTICS ADVISOR AT DIRECTOR LAND EQUIPMENT PROGRAM STAFF, OFFICER COMMANDING SUPPORT DIVISION AT THE CANADIAN FORCES LEADERSHIP AND RECRUIT SCHOOL, DEPUTY COMMANDING OFFICER OF 25 CANADIAN FORCES SUPPLY DEPOT, AND G4 OPS AT BOTH 2ND AND 4TH CANADIAN DIVISION HEADQUARTERS.
IN 2017, WHILE POSTED TO THE CANADIAN FORCES COLLEGE, LIEUTENANT-COLONEL ANDERSON DEPLOYED TO KUWAIT AS THE CHIEF OF SUSTAINMENT OPERATIONS FOR THE COMBINED JOINT TASK FORCE – OPERATION INHERANT RESOLVE, THE US LED MULTINATIONAL HQ LEADING THE FIGHT AGAINST ISIS IN THE MIDDLE EAST. ON HIS RETURN FROM KUWAIT, LIEUTENANT-COLONEL ANDERSON HAS BEEN EMPLOYED AS THE G4 AT THE 4TH CANADIAN DIVISION HEADQUARTERS IN TORONTO.
LIEUTENANT-COLONEL ANDERSON WILL TRANSITION TO A POSITION WITH A PRIVATE SECTOR CONSULTING ORGANIZATION AND WILL REMAIN IN THE TORONTO AREA
WITH HIS WIFE MILA AND DAUGHTERS SOPHIA AND KATHERINE.
7. DUE TO COVID-19 MEASURES, A SMALL DWD ACTIVITY WILL BE HELD DURING THE WEEK OF AUGUST 23RD BUT WILL BE LIMITED TO LOCAL PERSONNEL. RETIREMENT MESSAGES AND ANECDOTES CAN BE SENT TO MAJOR CHANDLER ZEDIC AT CHANDLER.ZEDIC@FORCES.GC.CA.
APRÈS 30 ANS DE SERVICE DANS LES FAC ET 21 COMME OFFICIER LOGISTIQUE AU SEIN DE LA FORCE REGULIÈRE, LE LIEUTENANT COLONEL PAUL ANDERSON PRENDRA SA RETRAÎTE LE 7 SEPT 2021.
LIEUTENANT COLONEL ANDERSON S'EST ENROLLÉ DANS LES RÉSERVES PRIMAIRES EN 1991 COMME SOUS-OFFICIER. IL A PARTICIPÉ DANS LES OPÉRATIONS DOMESTIQUE NOTAMMANT LA RÉPONSE DES FAC À L'ÉCRASEMENT D'AVION SWISS AIR 111 EN 1998 ET LE SOUTIEN DES FAC AUX RÉCEPTION DES REFUGÉES DU KOSOVO EN 1999.
EN 2000, LIEUTENANT COLONEL ANDERSON A TRANSFÉRÉ À LA FORCE REGULIÈRE COMME OFFICIER LOGISTIQUE ET A ÉTÉ MUTÉ AU 5IÈME BATAILLON DES SERVICES À VALCARTIER. PENDANT SA CARRIÊRE COMME OFFICIER SUBALTERNE IL A ÉTÉ MUTÉ DANS LES POSTES À TRAVERS LES NIVEUAX TACTIQUE ET OPÉRATIONELLE, INCLUANT UN MUTATION COMME QUARTIER MAÎTRE AU 5IÊME RÉGIMENT DU GENIE DE COMBAT, OFFICIER DES OPÉRATIONS AU 3IÊME UNITÉ DE SOUTIEN DU CANADA, ET DES DÉPLOIEMENTS EN BOSNIE, À KANDAHAR, AU CAMP MIRAGE, ET EN ALLEMAGNE.
PROMU AU GRADE DE MAJOR EN 2009, LIEUTENANT COLONEL ANDERSON A OCCUPÉ DES NOMBREUX POSITIONS DE COMMANDEMENT ET D'ÉTAT MAJOR COMPLEXES ET ENGAGANTS INCLUANT CONSEILLER LOGISITIQUE AU SEIN DU DIRECTEUR ÉTAT- MAJOR DU PROGRAMME D'ÉQUIPEMENT TERRESTRE, COMMANDANT DE DIVISION DE SOUTIEN À L'ÉCOLE DE LEADERSHIP ET RECRUES DES FC, COMMANDANT ADJOINT DU 25IÊME DÉPÔT D'APPROVISIONNEMENT DES FC, ET G4 OPS AU QUARTIER- GÉNERALE DE LA 2IÊME ET 4IÊME DIVISIONS DE L'ARMÉE CANADIENNE.
EN 2017, LORSQU'IL A ÉTÉ MUTÉ AU COLLÊGE DES FORCES CANADIENNES, LIEUTENANT COLONEL ANDERSON S'EST DÉPLOYÉ AU KOWEIT EN TANT QUE CHEF DES OPÉRATIONS DE SOUTIEN DE LA FORCE OPÉRATIONELLE INTERARMÉES MULTINATIONALE – OPERATION INHERANT RESOLVE, L'OPÉRATION SOUS LE COMMANDEMENT DES ÉTATS-UNIS POUR COMBATTRE ISIS DANS LE MOYEN ORIENT. À SON RETOUR DU KOWEIT, LIEUTENANT COLONEL ANDERSON A ÉTÉ EMPLOYÉ COMME G4 AU QUARTIER-GÉNÉRALE DE LA 4IÊME DIVISION DE L'ARMÉE CANADIENNE À TORONTO.
LIEUTENANT COLONEL ANDERSON FERA SA TRANSITION VERS UNE POSITION DANS LE SECTEUR PRIVÉ AVEC UN ORGANISATION DE CONSULTATION ET RESTERA DANS LA RÉGION DE TORONTO AVEC SA FEMME MILE ET CES ENFANTS SOPHIA ET KATHERINE.
À CAUSE DES MESURES DE PRÉVENTAION DE LA COVID-19, UN PETIT ACTIVITÉ DE DÉPART DANS LA DIGNITÉ AURA LIEU DURANT LA SEMAINE DU 23 AOÛT MAIS SERA LIMITÉ AU PERSONNEL DANS LA RÉGION LOCALE. LES ANECDOTES OU MESSAGES DE RETRAÎTE PEUVENT ÊTRE ENVOYÉ À MAJOR CHANDLER ZEDIC À CHANDLER.ZEDIC@FORCES.GC.CA.
---