Lieutenant-Colonel Diane Barry, CD1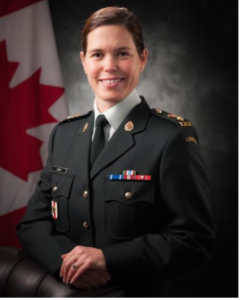 Diane was born in St-Jean-sur-Richelieu, Québec. Anxious of being home sick, she decided to go to University in her home town at the 'Collège Militaire Royal de St-Jean' and joined the Canadian Armed Forces in 1992. Little did she know that the next three years would be the last ones she would spend in Québec for a very long time! Upon CMR St-Jean closure, which was devastating for her fellow citizens, she completed her studies at RMC Kingston in 1997 where she graduated with a Bachelor in Business Administration.
As a junior logistics/ finance Officer, Diane was posted to CFB Petawawa, where she felt totally outside of her comfort zone, learned to enjoy the outdoors and to run away from bears! Petawawa ended up being a great posting where she built lifelong friendships. Diane was employed as the Base Financial Services Officer and the Base Pay Accounting Officer. In 2001, she deployed as the National Support Element Finance Officer to Velika-Kladusa, in Former Yugoslavia as part of a NATO mission where she oversaw the financial operations of the Canadian Contingent, which represented over 1,000 military personnel. This mission shaped her outlook of the Canadian Armed Forces and its members as she saw firsthand, the positive influence their presence brought to the local population. She will always remember the civilian employees working as part of her team and their phenomenal resilience. Upon return from Bosnia- Herzegovina, she was employed as the Base Management Services Officer.
In 2002, she was posted to Land Forces Central Area in Toronto; which was a culture shock from beautiful Petawawa! As the Financial Operations and Training Officer, she was part of the planning team for the first Brigade Training Event in Wainwright. She also developed and taught a financial management course for military managers.
Without question, one of the highlights of her career was her service with Joint Task Force Two as their Finance Officer, Comptroller and Garrison Squadron Second in Command. In 2003, she had the honour to serve with this elite group where she learned
so much about dedication, perseverance and the utmost importance of financial support in no fail operations.
She was posted to the Canadian Expeditionary Forces Command in 2006 and was the Financial Planning and Costing Officer, managing the deployed operations account for missions outside Canada. She was promoted Major in 2007 and became the Team Leader for the Command Comptroller inspections for overseas' operations, which involved lots of traveling to Afghanistan, United Arab Emirates, Israel, Egypt, Syria and Haïti as well as meeting amazing military colleagues around the world.
In 2008, she decided it was time to go back to school and went to the extreme. She earned her MBA from Ottawa University in 2009, her Certified Management Accounting (CMA) designation in 2011 and graduated from the Command and Staff College Education Program with the Marine Corps University, Quantico, USA in 2012.
While undergoing her studies, she was posted to the Canadian Operation Support Command in 2009 as the Financial Management Officer. She was promoted to her current rank in 2012 and posted to Chief of Military Personnel as the Deputy Comptroller. Her and her team were responsible for the management of an envelope of $5.5 billion dollars. In 2016, she was posted to Director General Financial Management in the Costing Directorate, where she was the equipment and parametric costing senior manager.
Since 2017, Diane has had the opportunity to work on her next life's passion; developing and facilitating leadership workshops.
Lieutenant-Colonel Diane Barry has had the distinct pleasure of serving alongside talented and professional military and civilian specialists in all of her postings and has met amazing people who have become great friends. When looking back at the young civilian girl she was a few decades ago, she has traveled, learned and accomplished much more than she could have ever dreamed of, thanks to the incredible opportunities her career offered her.
After over 26 years of loyal and dedicated service to Canada and the Canadian Armed Forces, the time has come for Diane to say her farewell. For this next chapter of her life, Diane is looking forward to spending more time with the love of her life, Louis David and their wonderful five year old daughter, Emma.
An intimate farewell reception will be given in the HMCS BYTOWN wardroom on 10 May 2019, invitations sent by separate correspondence.
Anecdotes or wishes can be sent by email to LCdr stanislas.jacques@forces.gc.ca
Diane est née à St-Jean-sur-Richelieu, au Québec. Anxieuse d'avoir le mal du pays, elle a décidé d'aller à l'université dans sa ville natale au « Collège militaire royal de Saint-Jean » et a joint les Forces armées canadiennes en 1992. Elle ne savait pas que les trois prochaines années seraient les dernières qu'elle passerait au Québec pour un long moment! Après la fermeture du CMR St-Jean, qui a eu des effets dévastateurs sur ses concitoyens, elle a terminé ses études au RMC Kingston en 1997, année où elle a obtenu un baccalauréat en administration des affaires.
En tant qu'officier subalterne de la logistique et des finances, Diane a été affectée à la BFC Petawawa, où elle s'est sentie totalement en dehors de sa zone de confort, a appris à profiter du plein air et à fuir les ours! Petawawa s'est avéré être une excellente mutation où elle a noué des amitiés perpétuelles. Diane a occupé les postes d'officier des services financiers et officier comptable de la solde. En 2001, elle a été déployée en tant qu'officier des finances au sein de l'élément de soutien national à Velika-Kladusa, en ex- Yougoslavie, dans le cadre d'une mission de l'OTAN où elle a supervisé les opérations financières du contingent canadien, qui représentait plus de 1 000 militaires. Cette mission a changé sa vision des Forces armées canadiennes et de ses membres puisqu'elle a pu constater d'elle-même l'influence positive que leur présence apportait à la population locale. Elle se souviendra toujours des employés civils travaillant au sein de son équipe et de leur résilience phénoménale. À son retour de Bosnie- Herzégovine, elle a été employée en tant qu'officier de la gestion financière de la base.
En 2002, elle a été affectée au secteur du centre de la Force terrestre à Toronto; ce qui fût un choc culturel de Petawawa! En tant qu'officier des opérations financières et de l'instruction, elle faisait partie de l'équipe de planification du premier événement d'entraînement de brigade à Wainwright. Elle a également développé et enseigné un cours de gestion financière pour les gestionnaires militaires.
Sans aucun doute, l'un des points forts de sa carrière a été son service au sein de la Deuxième Force opérationnelle interarmées en tant qu'officier des finances, contrôleur et commandant- adjoint de l'escadron de Garnison. En 2003, elle a eu l'honneur de servir avec ce groupe d'élite
où elle a tant appris sur le dévouement, la persévérance et la plus grande importance du soutien financier dans des opérations « sans échec ».
Elle a été affectée au Commandement de la Force expéditionnaire du Canada en 2006 et était l'officier de la planification financière et des coûts, gérant le compte d'opérations déployées pour les missions à l'extérieur du Canada. Elle a été promue au grade de Major en 2007 et est devenue chef d'équipe des inspections du contrôleur de commandement pour les opérations à l'étranger, ce qui a impliqué de nombreux déplacements en Afghanistan, aux Émirats arabes unis, en Israël, en Égypte, en Syrie et en Haïti, ainsi que des rencontres avec des collègues militaires extraordinaires du monde entier.
En 2008, elle a décidé qu'il était temps de retourner aux études en n'y allant pas de main morte. Elle a obtenu son MBA de l'Université d'Ottawa en 2009, son titre de comptable en management accrédité (CMA) en 2011 et son diplôme du programme de formation du Collège d'état-major et du commandement à la Marine Corps Université de Quantico (États-Unis) en 2012.
Au cours de ses études, elle a été affectée au Commandement des opérations de soutien en 2009 en tant qu'officier de la gestion financière. Elle a été promue à son grade actuel en 2012 et affectée au poste de contrôleur-adjoint au chef du personnel militaire. Elle et son équipe étaient responsables de la gestion d'un budget de 5,5 milliards de dollars. En 2016, elle a été affectée à la Direction générale de la gestion financière, plus spécifiquement à la Direction des coûts, où elle occupait le poste de responsable principal des coûts de l'équipement.
Depuis 2017, Diane a eu l'occasion de travailler sur la prochaine passion de sa vie; soit le développement et l'animation d'ateliers de leadership.
La lieutenant-colonel Diane Barry a eu le plaisir de servir aux côtés de spécialistes militaires et civils talentueux et professionnels lors de ses mutations et a rencontré des personnes formidables qui sont devenus de grands amis. En regardant la jeune fille civile qu'elle était il y a de cela quelques décennies, elle a voyagé, appris et accompli bien plus que tout ce dont elle aurait pu rêver, grâce aux possibilités incroyables que sa carrière lui a offertes.
Après plus de 26 ans de services loyaux et dévoués au Canada et aux Forces armées canadiennes, le moment est venu pour Diane de faire ses adieux. Pour le prochain chapitre de sa vie, Diane a hâte de passer plus de temps avec l'amour de sa vie, Louis David et leur merveilleuse fille âgée de cinq ans, Emma.
Une réception de départ aura lieu au carré des officiers du NCSM BYTOWN le 10 mai 2019. Les invitations seront envoyées séparément.
Les anecdotes et vœux peuvent être envoyés par courriel au Capc
stanislas.jacques@forces.gc.ca
---