CPL MAILLOUX DESBIENS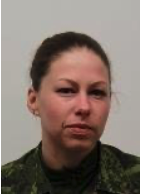 CPL MAILLOUX DESBIENS WAS BORN ON 17 JUNE 1978 IN LA MALBAIE, QUEBEC. SHE GRADUATED FROM POLYVALENTE DU PLATEAU HIGH SCHOOL, IN 1996. AFTER HER HIGH SCHOOL GRADUATION SHE WENT TO COLLEGE NOTRE DAME DE FOY QUEBEC FOR THE GENERAL ARTS PROGRAM. FROM SEPTEMBER 1999 TO 2009, CPL MAILLOUX DESBIENS WORKED AT MDJ CLERMONT QUEBEC AS A YOUTH SOCIAL WORKER, HELPING TEENAGERS OVERCOME THEIR ADDICTIONS.
SHE ENROLLED IN THE CAF ON 12 APRIL 2012. AFTER COMPLETING HER BASIC TRAINING IN OCTOBER 2012 SHE MADE THE MOVE TO CFB BORDEN TO TACKLE HER MSE OP QL3. CPL MAILLOUX DESBIENS COMPLETED HER QL3 IN JANUARY OF 2013 AND WAS POSTED TO CFB GREENWOOD 31 JANUARY 2013.
DURING HER CAREER CPL MAILLOUX DESBIENS GAINED A MULTITUDE OF VEHICLE QUALIFICATIONS INCLUDING SMPS, FORKLIFT, PLOW TRUCK, RUNWAY SWEEPER, FRONT END LOADER, 5 TON, DUMP TRUCK, AND AIRCRAFT REFUELER JUST TO NAME A FEW. HAVING ROTATED THROUGH ALL TEME SECTIONS DURING HER TIME IN CFB GREENWOOD, CPL MAILLOUX DESBIENS SOLIDIFIED HER POSITION AS AN EXTREMELY MATURE AND KNOWLEDGEABLE MSE OP. CPL MAILLOUX DESBIENS HAS SPENT HER LAST FEW YEARS IN ROAD AND VEHICLE SAFETY LIAISING WITH OUTSIDE UNITS TO COURSE LOAD PERSONNEL ON COURSES SUCH AS AIR BRAKES, DRIVER INSTRUCTOR/EXAMINER AND TDG. SHE HAS BEEN RESPONSIBLE FOR PRODUCING A PLETHORA OF DND 404S AND ADMINISTERING TESTING REQUIREMENTS FOR THE SECTION. SHE HAS BECOME A WEALTH OF KNOWLEDGE IN RVSS THAT WILL BE SORELY MISSED WHEN SHE LEAVES FOR BIGGER AND BETTER.
ON 1 SEPTEMBER 2020 CPL MAILLOUX DESBIENS WILL BE RETIRING FROM THE CAF WITH 8 YEARS OF LOYAL AND DEDICATED SERVICE TO THE QUEEN. UPON RETIREMENT SHE WILL BE MOVING BACK TO QUEBEC WITH HER BOYFRIEND CPL KEVIN FLEURANT AND HER TWO DAUGHTERS, MAUDE AND JOELLE. CPL MAILLOUX DESBIENS IS MAKING PLANS TO RETURN TO SCHOOL BUT IN THE MEANTIME SHE WILL PICK UP WHERE SHE LEFT OFF, HELPING TROUBLED TEENS OVERCOME THEIR ADDICTIONS AT MDJ CLERMONT QUEBEC.
AT THE REQUEST OF CPL MAILLOUX DESBIENS THERE WILL NOT BE A FORMAL DWD HOWEVER IF YOU WISH TO SEND ANY STORIES, WELL WISHES OR ANECDOTES PLEASE FORWARD THEM TO SGT JEFF CLOUTIER (JEFFREY.CLOUTIER@FORCES.GC.CA ) AT 14 MSS TEME, NLT 15 AUGUST 2020.
CPL MAILLOUX DESBIENS EST NÉ LE 17 JUIN 1978, À LA MALBAIE, QUÉBEC. ELLE GRADUERA EN 1996 DE L'ÉCOLE SECONDAIRE DU PLATEAU, QUÉBEC. APRÈS SA GRADUATION, ELLE ÉTUDIERA AU COLLÈGE NOTRE DAME DE FOY EN ART GENERAL. DE SEPTEMBRE 1999 À 2009, CPL MAILLOUX DESBIENS TRAVAILLERA POUR LA MDJ DE CLERMONT QUÉBEC, AUPRÈS DES ADOLESCENTS AYANT UNE DÉPENDANCE ENTANT QU'INTERVENANTE EN DÉLINQUANCE.
ELLE JOINT LES FORCES ARMÉE CANADIENNE LE 12 AVRIL 2012. APRÈS AVOIR COMPLÉTÉ SON ENTRAINEMENT DE BASE EN AOÛT 2012, ELLE SE RENDRA COMPLÉTERA SON QL-3 LE 31 JANVIER 2013 ET SERA TRANSFÉRÉ À LA 14E ESCADRE GREENWOOD.
DURANT SA CARRIÈRE CPL MAILLOUX DESBIENS A ACQUIS UN GRAND NOMBRE DE QUALIFICATIONS INCLUANT SMPS, CHARGEUSE FRONTALE, CHASSE NEIGE, BALLET BROSSE D'AÉRODROME, CHARIOT ÉLÉVATEUR, CAMION DE 5 TONNES, CAMION A BENNE, ET CAMION RAVITAILLEUR JUSTE POUR EN NOMMER QUELQUES UN. DURANT SON TEMPS PASSÉ À LA 14E ESCADRE DE GREENWOOD, ELLE A FAIT LE TOUR DE TOUTES LES SECTIONS DU TEME TRANSPORT. CPL MAILLOUX DESBIENS RENFORCERA SA POSITION ENTANT QU'MSS OP, PAR SES CONNAISSANCES ET SA GRANDE MATURITÉ. CPL MAILLOUX DESBIENS A PASSÉ SES DERNIÈRES ANNÉES DANS LA SECTION DE LA SÉCURITÉ ROUTIÈRE FAISANT LA LIAISON AVEC LE PERSONNEL DES DIFFÉRENTES UNITÉS POUR LES COURS DE FREINS À AIR, DE RDDC, DE CONDUCTEUR INSTRUCTEUR/ EXAMINATEUR ET DE CONDUCTEUR DE MATIÈRES DANGEREUSES. ELLE A ÉTÉ AUSSI LA RESPONSABLE POUR LES MULTIPLES PRODUCTIONS DES 404 DU MDN ET POUR L'ADMINISTRATION DES EXAMENS REQUIS POUR CHAQUE SECTION. ELLE EST DEVENUE UNE PERSONNE RICHE EN CONNAISSANCE POUR LA SECTION DE LA SÉCURITÉ ROUTIÈRE ET SERA TRÈS REGRETTÉ LORSQU'ELLE NOUS QUITTERA.
LE 1ER SEPTEMBRE 2020 CPL MAILLOUX DESBIENS PRENDRA SA RETRAITE DES FORCES ARMÉE CANADIENNE APRÈS 8 ANNÉES DE FIDÈLES ET DÉVOUÉS SERVICE À LA COURONNE. ELLE RETOURNERA PAR LA SUITE, AU QUÉBEC AVEC SON COMPAGNON DE VIE CPL FLEURANT ET SES DEUX FILLES, MAUDE ET JOELLE. CPL MAILLOUX DESBIENS FAIT DES PLANS POUR RETOURNER À L'ÉCOLE ET REPRENDRE SON EMPLOI AUPRÈS DES ADOLESCENTS A LA MDJ DE CLERMONT QUÉBEC.
A LA DEMANDE DU CPL MAILLOUX DESBIENS IL N'Y AURA PAS DE FORMELLE DWD, MAIS SI VOUS SOUHAITEZ ENVOYER VOS SOUHAITS, PETITES HISTOIRES OU DES ANECDOTES S'IL VOUS PLAÎT FAITES LES PARVENIR AU SGT CLOUTIER À : JEFFREY.CLOUTIER@FORCES.GC.CA 14 MSS TEME, AVANT LE 15 AOÛT 2020.
---