Capt JA Adrien Lemieux, CD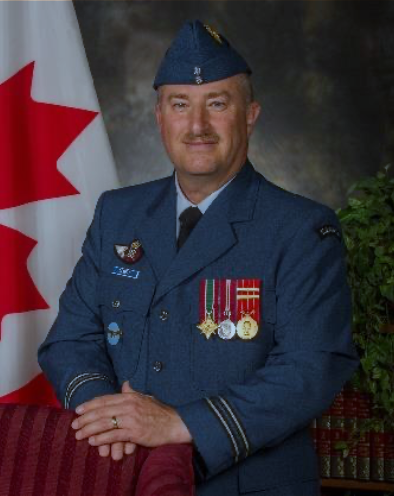 Capt Lemieux will retire on 10 Jan 2021 after more than 35 years of loyal and dedicated service to the Canadian Armed Forces.
Capt Adrien Lemieux was born and raised in Val-Alain, Québec. In June 1985, he enrolled in the Canadian Armed Forces as a Mobile Support Equipment Operator. After basic training in St-Jean-sur- Richelieu, Adrien completed his second language training in St-Jean and Borden.
In 1986, he completed his professional qualification level 3 and was posted to CFB Greenwood. Being a newly minted soldier, he quickly had the opportunity to further develop his skills by qualifying on many vehicle types and worked in various sections such as the Pax/Bus, Cargo, Refuelling section and Heavy Equipment section where he also qualified on aerodrome vehicles. (935.05)
In 1991, he was posted to CFB Cornwallis and had the opportunity to get qualify on the MCI, doing the IBBS run driving numerous recruits from the start of their training until they graduated. Thereafter, he also worked in the despatch and heavy equipment section until the base closed.
He then went across the Bay of Fundy to CFB Gagetown in 1994, where he was promoted to MCpl. He was employed in various positions such as CE Despatch and as supervisor for Pax/Cargo/Refueling. As well, he was also involved with the "Warrior" program, completed both the Air Brake Instructor and the Safety Supervisor Courses. He also got the opportunity to work with maintenance planning and liaison and taught many air brake courses on the base.
Posted to the school of excellent (CFSAL) in 2000 in Borden, he was promoted to Sgt and employed in various teams as an instructor on the BDT, QL3, and QL5 courses and thereafter worked with Standards at the school HQ.
In 2005, he was promoted to WO and proudly joined 2 Service Battalion in Petawawa where upon arrival, he started his training and deployed on Roto 2 in Afghanistan. Upon his return, he spent a short time with Tn Coy as the Alfa Plt WO and thereafter was pull to fill the Bn Ops/Trg WO at the Bn HQ. He made good use of the occasion to complete the first Master Driver course done in Canada. Promoted to MWO in 2009, he went back Tn Coy as the CSM.
In 2011 he was posted as the MSE Controller until he was promoted again this time to CWO in 2013. This resulted in a new assignment in Comox as the first Log Br CWO, a RCAF position and therefore required him to change element from Army to RCAF.
Back in Ontario in 2015, he was posted to 8 Wing Trenton, as the 8 Wing Operations CWO at a time when the organisation was going through the transition of seeing WTISS joint the unit which was renamed 8 Operations Support Squadron (8 OSS). In 2017, he decided to try something new and applied for the SRCP but couldn't stay in Trenton as no position were available and therefore proceed to Ottawa on IR. Working with CMSG as the Materiel Distribution Ops O, he was involved with NPCC/NFR and played by moving armoured vehicles around the country.
After a year on IR, he return to Trenton but joined the CF Postal Service becoming the Adjutant of the Canadian Forces Postal Unit. Adrien will remain with CFPU and transition over as a Public Servant taking over the administrative assistant for the unit on the 11 Jan 2021.
Adrien has been married to Lise Caron for over 35 years, they have 3 daughters, Audrey/spouse Adam, Lucy/spouse Waymon and Aline, and they have 3 grandchildren, Addison, Kendal and Caleb.
Adrien would like to take this opportunity to pass on his thanks and best wishes to all those who he had the pleasure to meet and work with throughout his career.
Due to the new normal, the official DWD was cancelled and a small family gathering will be done over the holidays, as well as the unit level on the 8 Jan 21. If you wish to relay best wishes/anecdotes, please send your info to Capt François Julien, François.Julien@forces.gc.ca
Le Capt Lemieux prendra sa retraite le 10 janvier 2021 après plus de 35 ans de loyaux et dévoués services au sein des Forces armées canadiennes.
Le Capt Adrien Lemieux est né et a grandi à Val-Alain, au Québec. En juin 1985, il s'est enrôlé dans les Forces armées canadiennes en tant que conducteur de matériel mobile de soutien. Après sa formation de base à St-Jean-sur-Richelieu, Adrien compléta son apprentissage de langue seconde à St-Jean et Borden.
En 1986, il termine sa formation professionnelle (NQ3) et fut muté à la BFC Greenwood. Étant un tout nouveau soldat, il a vite la chance de parfaire son apprentissage en se qualifiant sur plusieurs véhicules, travaillant au sein des sections des passagers/autobus, du cargo, du ravitaillement et des équipements lourds où il a compléta les qualifications pour les véhicules d'Aérodrome. (935.05)
En 1991, il est muté à la BFC Cornwallis et obtient la chance de se qualifier sur les autobus de croisières et est assigné au service d'autobus inter-base transportant de nombreuses recrues dès leur débuts jusqu'à leur graduation. Ensuite, il travailla comme répartiteur et aussi dans la section d'équipements lourds jusqu'à la fermeture de la base.
Il traversa la baie de Fundy en 1994 pour se rendre à la BFC Gagetown où il fut promu Cplc. Il y occupa divers postes tels que répartiteur avec les ingénieurs de construction, responsable de la section de passager/autobus, Cargo et Ravitaillement. Il fut aussi impliqué dans le programme d'entrainement « Guerrier », compléta le cours d'instructeur à freins à air et aussi celui de superviseur de la sécurité routière. Il a aussi eu la chance de travailler à la planification de maintenance et liaison tout en enseignant plusieurs cours de freins à air pour la base.
Muté à l'école d'excellence (CFSAL) de Borden en 2000, il est promu au grade de Sgt et employé comme instructeur sur les cours de formation de base de conduite ainsi que ceux de niveaux de qualification 3 et 5, pour ensuite travailler au sein des normes au quartier général.
En 2005, il est promu adjudant et se joint avec entrain au 2e Bataillon de services à Petawawa et dès son arrivé débute l'entrainement pour ensuite être déployé sur la Roto 2 en Afghanistan. A son retour, il a passé un court moment avec Cie de transport dans le rôle d'adjudant du peloton Alpha et par la suite devient l'adjudant d'entrainement et des opérations au QG du Bataillon. Il profite aussi de l'occasion pour compléter le tout premier cours de maitre conducteur au Canada. Promu adjudant maitre en 2009, il retourne à la Cie de Transport comme sergent-major de la Cie.
Muté à Ottawa en 2011dans la position de contrôleur de flotte de matériel mobile de soutient (MMS), il est de nouveau promu cette fois comme adjudant-chef en 2013. Ce faisant, sa nouvelle assignation à Comox dans le rôle d'adjudant-chef de la branche logistique requiert un changement d'élément soit d'Armée à Air puisque cet endroit est sous l'autorité de l'Aviation Royale Canadienne.
De retour en Ontario en 2015, il se retrouve au sein de la 8e Escadre à Trenton à titre d'adjudant-chef des opérations alors que l'escadrille de communication s'apprête à joindre l'organisation qui est renommée la 8ieme escadron de soutien des opérations. En 2017, décidant d'essayer quelque chose de nouveau, il fait une application pour devenir officier (PNSCO) mais ne peut demeurer à Trenton faute de position disponible et procède alors en restriction imposée à Ottawa. Alors avec GSMC, comme officier des opérations au matériel de distribution, il est impliqué avec le CNCCU et le RNF et se plait à déménager des véhicules blindés de part et d'autre à la grandeur du pays.
Après un an en Restriction imposées, il revient à Trenton mais se joint au Service Postale des Forces canadiennes devenant le capitaine-adjudant le Unité du Service postale des Forces canadiennes. A sa retraite, Adrien demeurera au sein et fera la transition en tant que fonctionnaire prenant le poste de l'adjoint administratif et débutant le 11 janvier 2021.
Adrien est marié avec Lise Caron, ils ont célébrés leurs 35ieme anniversaire de mariage en juillet 20, ils ont 3 filles, Audrey/époux Adam, Lucy/époux Waymon et Aline, ainsi que 3 petits enfants, Addison, Kendal et Caleb.
Adrien aimerait prendre cette opportunité pour remercier et saluer tous ceux et celles avec lesquels il a eu la chance de travailler et de côtoyer durant sa carrière.
Avec la nouvelle normalité, il n'y aura pas de départ dans la dignité, mais une réunion familiale pendant les fêtes et une petite cérémonie à l'unité le 8 janvier 2021. Les personnes qui désirent partager des messages ou des anecdotes peuvent le faire en envoyant un courriel au Capt François Julien, François.Julien@forces.gc.ca
---