Ride For Dad – Fighting Prostate Cancer in Challenging Times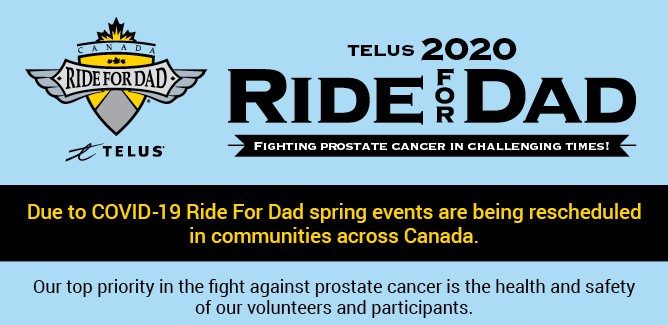 Prostate cancer doesn't stop for the global pandemic and neither can we!
For 20 years the TELUS Ride for Dad fight against prostate cancer has been helping to save men's lives through early detection and supporting innovative medical research to improve the quality of life for men and their families. Your continued support is greatly appreciated and is needed now more than ever!
Ride For Dad funded-research is making a significant difference both in the communities where the funds are raised and right across Canada. Today we want to highlight one such life-changing research project, SABR (Stereotactic Ablative Body Radiotherapy) that reduces the number of radiation treatments from 39 to just 5 for specific types of prostate cancer. Ride For Dad has been the major sponsor of the Canadian portion of this international trial therapy.
SABR prostate cancer trials supported by the TELUS Ride for Dad set out to show that 5 treatments can now accomplish what previously required 39!
Less radiation exposure. More time with family. Fewer trips to the hospital. Significant cost savings for Canada's health care system…this is what TELUS Ride for Dad is fighting so hard to achieve and is only possible with your continued support.
Ride For Dad's success to date is due to the efforts of our committed Chapter volunteers, fundraisers, generous donors, sponsors, and a committed team of medical researchers. During these uncertain times, social distancing measures are threatening the viability of Ride For Dad's large public events, our major source of our annual fundraising.
If you have the means, please donate to TELUS Ride for Dad today. Your contribution will help ensure ground-breaking research such as the SABR project receive the scarce funding required to continue.
If you have already pledged your support of a friend or family member fundraising for Ride For Dad or are planning to do so we thank you and implore you to continue to do so. This request is for additional support to help the fight against prostate cancer during these challenging times.
Click here to view an informative video on the SABR initiative.
Please Donate Today
Sincerely,
Garry Janz
Co-founder and President
Ride For Dad
www.ridefordad.ca
---