Invitation – RCLS Senior Leadership Engagement – CFB Borden, 23 November
Team RCLS,
I wanted to invite you and those who can attend (WO and above from your region/base) for an evening of RCLS leadership engagements and social activities at CFB Borden on 23 Nov.
Why?
· The RCLS GO/FOs and Cols will be present for a brief town hall and make themselves available for small table discussions
· RCLS documentary initial release – "Hidden Heroes"
o This is a production that one would see on the History Channel
· An opportunity to have a touch point with your mbrs that are on crse:
o ALOC, LOCC, Log HRM, Fin O, Tn, Sup O, and Mov O
o MM QL6A, RQ Sgt Ammo, MSE OP QL5 and QL6B
This will be the first post COVID RCLS gathering opportunity where we can come together as a community, and the RCLS Fund has generously sponsored the social – your monthly funds contribution at work.
Please distribute to those that are in the area (Kingston, Trenton, Toronto, Ottawa, etc…) for widest distribution.
Evening details below:
Free admission to all. $10.00 ticket for wine sampling option. eTransfers may be sent to 1559-BOROMPMTS@CFMWS.COM. Please include your SN in the message, do not set a password.
Entrée gratuite pour tous. Billet de 10,00 $ sont requis pour l'option de dégustation de vin. Les virement électronique peuvent être envoyés à 1559-BOROMPMTS@CFMWS.COM. Veuillez inclure votre NM dans le message, ne définissez pas de mot de passe.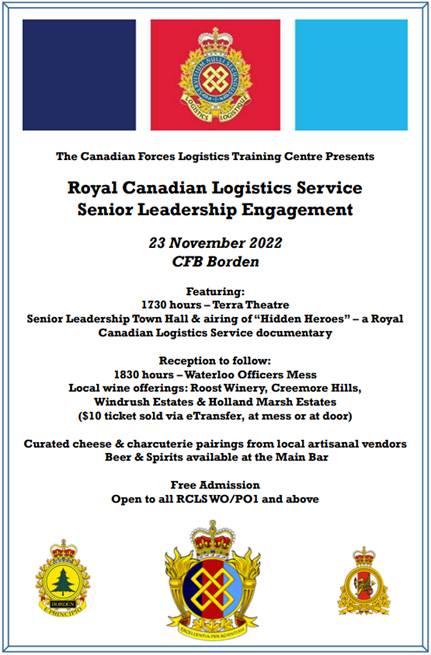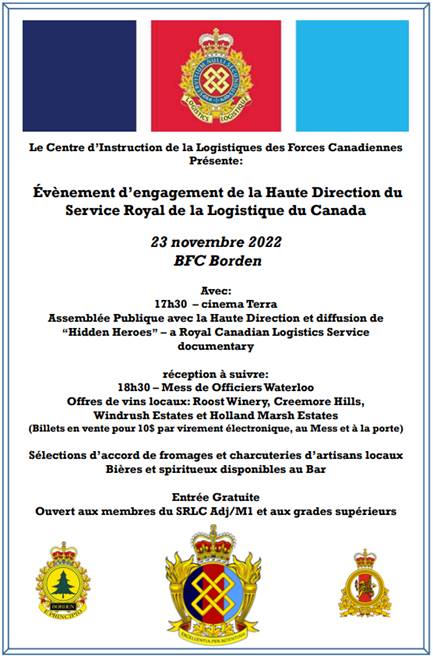 ---