Inaugural Victory March – May 2021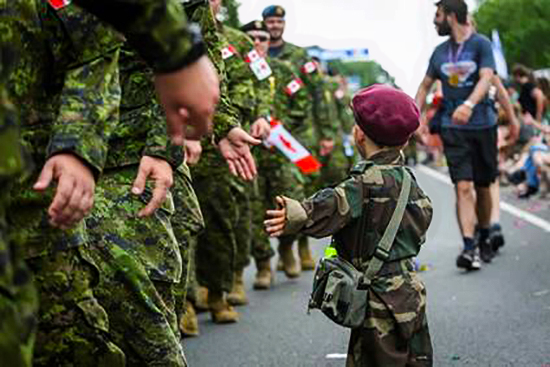 This year would have been Canada's 69th year of providing a marching contingent in the annual International Four Days Marches Nijmegen (4DAAGSE). However, as our Canadian Armed Forces (CAF) Joint Task Force (JTF) Nijmegen members were preparing to participate in the 104th edition of this historic march in the Netherlands, the ongoing COVID-19 pandemic led to its cancellation for the second year in a row.
To ensure the continued spirit of CAF participation in the 4DAAGSE, Military Personnel Command / Chief of Military Personnel (MILPERSCOM/CMP) is formally announcing the creation of the Victory March, as an official CAF-led event. We are personally inviting and encouraging you, with your families, all Defence Team members, Veterans, and Canadians, to participate in this event, in your own community, or to join along with JTF Nijmegen marchers for a two-day march.
Aside from its excellent training value for our professional force, this Victory March is symbolic of our long-lasting relationship with the Netherlands, dating back to the Second World War, where many Canadians gallantly found their final resting place in the cities and towns surrounding the immediate area of Nijmegen.
Regardless of the cold weather, our military women and men across the country are "rucking" up this month as part of their required training, and will be completing a 2 x 20 km weighted (10kg) ruck-march, in their own towns and cities on May 4 and 5.
The Victory March will also be open to all other participants from May 1 to 9, with the opportunity to complete a march of their choice: 2 x 5km, 2 x 10km, 2 x 20km or 2 x 20km with weight.
To the Canadian public—in joining the Victory March, you will be sharing in and encouraging your CAF members as you complete a physical and mental challenge, while commemorating our shared past.
You can register for the Victory March here  (You are now leaving the Government of Canada website)!
Cette année, le Canada aurait fourni, pour la 69e année, un contingent de marche en vue de la Marche internationale annuelle de quatre jours de Nimègue (4DAAGSE). Cependant, alors que nos membres de la Force opérationnelle interarmées (FOI) des Forces armées canadiennes (FAC) se préparaient à participer à la 104e édition de cette marche historique aux Pays-Bas, l'actuelle pandémie de COVID-19 a mené à l'annulation de l'événement pour la seconde année consécutive.
Pour assurer le maintien de l'esprit de participation des FAC à la 4DAAGSE, le Commandement du personnel militaire/Chef du personnel militaire (COMPERSMIL /CPM) annonce officiellement la création de la marche de la Victoire, en qualité d'événement officiel dirigé par les FAC. Nous vous invitons, vos familles, les membres de l'équipe de la Défense, les anciens combattants et les Canadiennes et Canadiens, et nous vous encourageons à joindre les marcheurs de la FOI Nimègue pour une marche de deux jours.
Outre son excellente valeur de formation de notre force professionnelle, cette marche de la Victoire est symbolique de notre relation de longue date avec les Pays-Bas, qui remonte à la Seconde Guerre mondiale au cours de laquelle de nombreux Canadiens ont galamment trouvé leur ultime place de repos dans les villes et villages environnants de la région immédiate de Nimègue.
En dépit du temps froid, nos femmes et hommes en uniforme de partout au pays « se déchaînent » ce mois-ci dans le cadre de leur formation obligatoire et exécuteront une marche pondérée de 2 x 20 km avec sac à dos (10 kg) dans leurs propres villages et villes les 4 et 5 mai.
La marche de la Victoire sera également ouverte à tout autre participant, donnant à chacun la possibilité d'entreprendre une marche pondérée de son choix : 2 x 5 km, 2 x 10 km, 2 x 20 km ou 2 x 20 km avec poids, du 1er au 9 mai.
Au public canadien – en vous joignant à la marche de la Victoire, vous en partagerez l'expérience et encouragerez vos membres des FAC alors même que vous relevez un défi physique et mental, tout en commémorant notre passé commun.
Vous pouvez vous inscrire à la Marche de la Victoire ici (Vous quittez le site Web du Gouvernement du Canada)!
---