WOYCHUK, Wilfred (Wilf) F, CPO2 (Ret'd), CD, RCN, RCLS – Sup Tech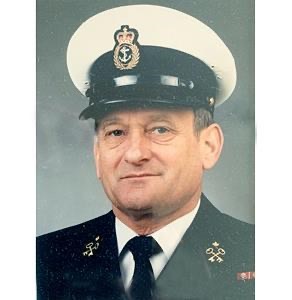 It is with great sadness that we announce the sudden passing of Wilf on 11 March 2021, age 87.  Wilf was a man of intelligence, wit and energy with a sense of humour that never dimmed. He grew up in northern Alberta, near Lac La Biche on the family homestead.
Realizing that farming was not for him Wilf joined the Canadian Armed Forces at 18 years of age.  Having sailed the seas, including a posting on HMCS Saskatchewan, it was during his time at the stone frigate HMCS Chippawa that he met and married the love of his life, Terry in 1960.  Wilf proudly served in the Royal Canadian Navy for 35 years and retired as Chief Petty Officer 2nd Class (CD).
Among Wilf's many skills and passions he was a Mr. Fix-it extraordinaire (no task was too big or small) and a master gardener.  He was a long-standing volunteer with the Lions Club and a regular member and active usher at the Holy Cross Catholic church.  A true people person, Wilf loved socializing and always had a cheerful greeting and kind word, often accompanied by a joke or a "salty dip".  An avid reader and a lifelong learner, Wilf adapted with the times, teaching himself to text, email and become adept at using a variety of digital gadgets (with a little help from his grandchildren).  The word scramble, Wednesday golf gatherings with the guys, Sunday family dinners and the bountiful production of Kelsey onions and garlic are some of the enduring memories we will fondly remember him by.  Above all else, Wilf was a loyal and dedicated family man. He was a loving and devoted husband to his wife and dancing partner Terry for over 60 years.  A helpful, caring father and an amazing Rockstar grandfather.  His regular joy filled smile was even bigger, if that is possible, when he was in the presence of his grandchildren.  Husband, dad and grandpa – words fail to describe just how much we miss him.  The void created by his absence is tangible, but the love and joy he showered upon us for all these years helps to ease the pain.  Wilf leaves behind his loving wife, Terry, daughter Wendy & Greg Walker and son Dr Wes & Lauren Woychuk and his beloved five grandchildren Graeme, Michaela, Lucas, Samuel, and Sebastian.  You have "Crossed the Bar", rest now in peace.
There will be a memorial mass later this summer at Holy Cross Catholic church when COVID restrictions permit.
---