WAY, Doreen Way, Maj (Ret'd), CD, Log-Food Svcs, RCLS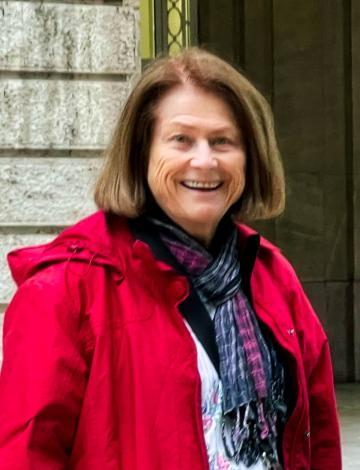 Doreen passed away quietly on Thursday, August 24, 2023, surrounded by loved ones. She is predeceased by partner and soul mate of 33 years Bernard (Bernie) Wright (Lieutenant Colonel, retired) and leaves behind much-loved family: sister Margaret (Ron Sandelli) and her family Sherry (Kevin Tisdelle), Sheila Sandelli and their children and grandchildren. From Bernie's side she leaves behind stepchildren Kevin, Deborah, and Neil Wright (Sandra); grandchildren Katie (Keiran), Emily, Meghan and Caitlin Wright. The love and affection of all made life an entertaining journey and a solace in the last months.
Doreen attended public and high schools in Toronto then studied at University of Guelph where she graduated in 1970 with a B.Sc. (Hons.). After internship in Edmonton, she qualified as a dietitian and almost immediately joined the Canadian Forces as a Food Services Officer.
For 25 years Doreen enjoyed military life and the associated travel. Overseas postings, once to Germany and twice to Egypt, hatched a travel bug that never died. Along the way she met Bernie and together they fed each other's passion for music, cuisine, wine and more travel. Often travel destinations were chosen for how well the other interests could be indulged in. Every trip was an adventure with plenty of chances to face down old fears and meet new challenges, ready or not.
After their military careers Doreen accompanied Bernie on his longer UN tours and volunteered with UNICEF in Jordan and Medecins Sans Frontieres in Kenya.
Doreen took up bridge later in life and enjoyed a wonderful relationship with the three ladies in her group. Their friendship and twice weekly card games helped her through the toughest times of her life, right to the end.
She volunteered for more than 20 years at the Carefor Day Program at the Perley Hospital where she helped seniors with dementia enjoy their day away from home.
Doreen felt she had a fortunate and interesting life, without many hardships and blessed by strong friendships and loving family.
Instead of flowers please donate to a charity of your choice.
There will be a Celebration of Life at the Beechwood Cemetery on Friday, September 1, 2023. Private interment will be at the National Military Cemetery (Beechwood) immediately following for family and close friends.
---