WADDELL George Graham "Gray", COL (Ret), CD, Air Force Logistics – Supply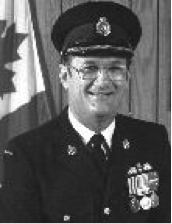 George Graham (Gray) Waddell, 86, of Sechelt, BC passed away peacefully on July 14, 2015. Gray was born in Montreal, Quebec on March 21, 1929 to Ellen and Jim Waddell.
Gray had a 35 year career with the Royal Canadian Air Force and Canadian Forces retiring as a Colonel. One highlight of his career was piloting the North Star transport airplane during the Korean War.  On completion of his flying career he went on to serve in Materiel Command in Rockliffe, Ottawa. He was later posted to CFB Downsview as a Colonel. He went on to serve as the Commandant of CFSAL, CFB Borden and is fondly remembered by his Chief Instructor, RCLSA NCR Chapter member, CAPT(N) Bob Mitchell,
After retirement, Gray actively volunteered in his community. Gray is deeply missed by his wife of 55 years Heather and his three children Cleo, Wendy (Paul), Bradley (Karen) and four grandchildren – Alexander, Deidra, Stuart and Pierce.
---