VERMETTE, Jamie, Ryan, Christopher, Major, Logistics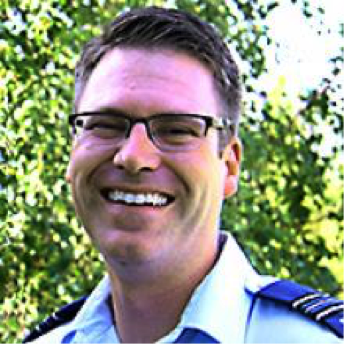 Jamie passed away unexpectedly on Sunday, August 14th, 2016 in his home at Canadian Forces Base Moose Jaw, Saskatchewan, at the age of 35 years. Jamie was born in Winnipeg on October 10th, 1980. He grew up and attended school in Charleswood, graduating from Shaftesbury High School in 1998. He attended the University of Winnipeg and graduated with an Honours BA in Philosophy. He married his high-school sweetheart, Lindsay Cleland, in 2003. Lindsay and Jamie immediately applied, and were accepted, into the Japan Exchange and Teaching Programme. They spent three years in Sapporo, Japan, and welcomed their first child, Isaac Kai, in 2006 just before returning to Canada. Their second child, Maya Jane was born in Winnipeg in 2008.
In August of 2007, Jamie accepted a commission into the Royal Canadian Air Force as a Logistics Officer. Lieutenant Vermette's first tour of duty was with Wing Operations at 17 Wing, Winnipeg. In 2010, he was promoted to Captain and transferred to 1 Canadian Air Division Headquarters as an Administration Officer. In 2011, Jamie volunteered to serve six months with Operation Attention in Afghanistan as the G1 Policy Advisor for the Afghan Border Police. He was awarded the General Campaign Star (Southwest Asia) and the Canadian Joint Operations Command's highest commendation for his exceptional dedication to the multi-national mission in Kabul before returning to Winnipeg in 2012. In 2014, Jamie was posted to 440 Squadron in Yellowknife, Northwest Territories, as the Squadron Adjutant. After a highly successful tour and early promotion to Major, he was posted to 15 Wing, Moose Jaw, as the Wing Administration Officer. At the time of his passing, he was also working on a Masters of Business Administration degree.
Jamie was first and foremost a loving husband, a devoted father, and a passionate and caring family man. Jamie loved the arts. He was a gifted actor, a visionary director and he loved every aspect of Community Theater. He was an exceptional writer, both creatively and professionally. Jamie brought his unique perspective and compassionate nature to both his professional and personal life, inspiring the lives of every person he met. He inspired his children from a very early age, reading them great works of literature every night before bed. He shared his joy of artistic expression, showing them how to paint, and create amazing Halloween costumes and projects using only cardboard, hot glue, plaster, and paint. In the Vermette household, Halloween was a month long extravaganza. Nothing made Jamie happier than spending summers at Falcon Lake, Manitoba, filling Bay 4 completely full of Vermettes. Waterskiing and evenings around the fire were important family traditions for him. Jamie cared deeply for his community and the world, volunteering with Scouts Canada and Canadian Crossroads International. He filled his garage full of popcorn and raised thousands of dollars for the Yellowknife cub scouts. He was a hopeless romantic and loved to surprise his wife with decorated cars, treasure hunts, and beautifully written poetry.
Jamie was predeceased by his maternal grandmother, Cleo Grande, with whom he shared a special relationship. He is survived by his wife, Lindsay; his son, Isaac; his daughter, Maya, his parents, George and Sally Vermette (Winnipeg); his brothers, Greg (Jen), Jeff (Ashley) and Mike (Becki), numerous nieces and nephews, his extended family, and friends and colleagues who were very special to him. He was, simply put, a great man, gone too soon, and sorely missed by all those who had the privilege of knowing him. A formal military funeral for Major Vermette was held at 17 Wing, Winnipeg, on Monday, August 22nd.
In living memory of Jamie, a memorial planting will be made by W. J. Jones & Son Funeral Home. Please sign the memorial register at website: www.wjjonesandson.com (Obituaries). "We do not need magic to transform our world. We carry all the power we need inside ourselves already. We have the power to imagine better." J.K. Rowling.
From the Logistic Branch Secretariat
It is with great sadness that 15 Wing confirms the unexpected death of Major Jamie Vermette, the 15 Wing Administration Officer. His death is tragic and felt deeply by all of us, especially those who knew him well. We have extended our deepest condolences to his family at this terrible time and are doing everything in our power to support them in their time of need.
Although new to his post at 15 Wing, Major Vermette had already shown his enthusiasm to make positive changes to the wing and support staff under his guidance. To those that knew him, this will come as no surprise. According to 440 Squadron where he only recently left, Major Vermette was a consummate professional whose inherent respect for those around him made him approachable and the perfect mentor for those junior to him. He also was held in great respect by his superiors who trusted in him completely to carry out his duties which were always performed to the very best of his ability.
Major Vermette will be sorely missed by everyone who had the pleasure of working with him. As put best by 440 Squadron, "The news of his passing has impacted us like a freight train, but his life has unequivocally made us better people and we will honour his memory by living out his optimism, love for life and dedication to the good."
Major Vermette's family has asked that donations be made to the Canadian Hero Fund (Charitable Registration # 831221221RR0001).
---