VERGE, Ralph, William, (Ret'd), MMM, CD, The RCR, RCOC, RCASC, RCLS-Admin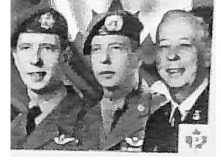 Ralph, age 87, passed away 11 March 2021 at Camp Hill Veterans Memorial Building, Halifax.  He was predeceased by his two great loves, Betty (Parnell) in 1994 after 43 years together, and Shirley (Porter) in 2019 after 20 years together, and his youngest son, Timothy, in 2019. He is survived by four of his five sons, Michael (Wendy), Hong Kong: Bruce (Dawn), Hamilton; Tony (Lise), Ottawa; Gary (Kevin), Halifax; six grandkids, Bradley and Matthew (Karen), Ryan and John Michael (Peggy), Kyle (Debbie), Kimberly and Alexander (Wendy); great-grandkids, Tyler and Brianna (Brad), Aiden and Mattie-Shea (Matt/Shaila), Brady, Wyatt, Harper Elizabeth (Ryan), Lincoln (John Michael); stepdaughter, Darlene Richardson; step granddaughters, Renee Cornyn and Kirsten Richardson; step great-grandson, Joshua Richardson and step great-granddaughters, Abagail and Madeleine Cornyn.
He joined the Canadian Forces at the age of 16 years 4 months and served from 1950 to 1986 and then in the Supplementary Reserve and the Supplementary Ready Reserve until 1995.
Ralph was a twice wounded Infantry Veteran of the Korean War after which he transferred from the Infantry to the Royal Canadian Ordnance Corps and then to the Royal Canadian Army Service Corps but in his heart, he was, and always will be, a proud member of The Royal Canadian Regiment (The RCR).
Upon retirement he went to work, as a Commissionaire, for the Nova Scotia Division of the Canadian Corps of Commissionaires, where he worked for 12 years. He worked his way up to the appointment of Deputy Commandant and retired there as a Commissionaire (CMRE) LCol
In addition to all his military medals and para wings, he was also awarded the Canadian Forces Europe Commendation, the United States Army Sgt. Major of the Army Medallion (believed to be the only non-US soldier so honoured), a Letter of Acknowledgement from the Korean Army signed by Major General Tae-Wan Chang for his "dedicated contributions", a Certificate "In Honour of Ralph W. Verge" from the Canadian House of Commons, signed by Geoff Regan MP.  Ralph was the first non-US serviceman to become President of the Heidelberg Sgts. Major Association.  He was President of Korea Veterans Association of Canada Inc Nova Scotia Unit 45, a Life Member of KVA (Atlantic), President of the RCASC Association (Atlantic), a member of the Canadian Airborne Forces Association, and President of the N.S. Unit of the RCR Association.
He was a member of the Royal Canadian Legion Calais Branch 162 and a long-time Retired Life Member of the CFB Halifax Chiefs', POs', WOs' AND SGTs' Mess, the spot he loved most of all and supported beyond belief.
---