VEDOVA (nee LARKE), Karen A., Captain (Ret'd), Logistics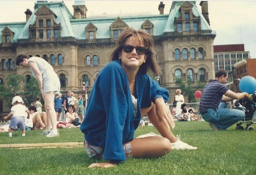 Karen A. Vedova (nee Larke), age 49, a resident of Streamwood, IL, formerly of Naperville, IL, passed away unexpectedly on Monday, July 10, 2017. She was born November 21, 1967 in Berwick, Nova Scotia, Canada.
She was the beloved mother of Matthew and Jonathan Vedova, and former spouse of Philip Vedova.
Karen grew up in a military family. Her father proudly served as a fighter pilot in the Royal Canadian Air Force, and the family lived at various bases in Canada and Germany. She attended The American High School in Baden-Württemberg and received a BS in Biology from University of Western Ontario, London, Ontario, and an MBA from Queen's University, Kingston, Ontario. Karen served with the Royal Canadian Air Force from 1986-1998, first as a logistics officer and later with the Department of National Defence (DND) in Ottawa, retiring as a captain. After her honourable discharge, Karen was employed in information technology with EDS, Vancouver, British Columbia, as well as Sofbang, LLC of Burr Ridge, IL and was most recently Vice President of Operations for the past six years with Core Associates, LLC, Jupiter, FL.
Karen was a brilliant businesswoman and passionate advocate for women in leadership, who worked through the Women's Leadership Foundation in Vancouver, B.C. She believed in and exemplified women's empowerment and holistic wellness through yoga. Karen was a beloved and respected yoga instructor at Life Time Fitness in Warrenville and Schaumburg, IL and Hot Yoga Naperville. Karen was a conscientious vegetarian, talented yoga teacher and committed yogi, cultured music aficionado, world traveller, and an expert skier who also enjoyed photography, gardening and learning languages.
Karen's zeal for life, boundless energy and discipline inspired everyone she met. Her time may have been shorter than some, but she filled her years with decades more of life. We will always remember her warm smile, beautiful flowing chestnut hair, impeccable form and grace, and loving embrace.
---