VANCE, Liliane Sauve, MWO, CD, Sup Tech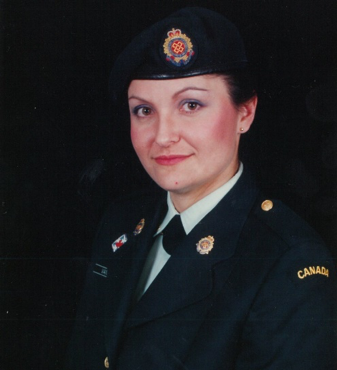 It is with heavy hearts that we announce the passing of Liliane at the age of 55 at Kingston Health Sciences Centre with her family by her side on Friday May 18th. She will be missed by her husband Dan Vance of Amherstview, daughter Rhonda and son Nick.
Lilliane was a Master Warrant Officer at the time of her passing, with a long career in the armed forces. She began her journey with the Armed Forces at the age of 18 as a supply tech and continued on completing 37 years of service. During her long career Liliane was posted to field and base units in Canada and as well as Germany, which included completing a tour to Afghanistan in 2005. Liliane was a selfless, courageous woman who was very dedicated to her work and the people around her. Liliane always found time to support her troops, yearly United Way campaign and compete in running events each year. Liliane will leave a lasting impression on all who knew her friends and family.
There will be a visitation held at the James Reid Funeral Home at 1900 John Counter Blvd. on Thursday May 24th, 2018 from 2-4 and 7-9pm, and again on Friday May 25th, 2018 from 2-4 and 7-9pm. The funeral mass will be held at Holy Family Catholic Church (25 Lundy's Lane) CFB Kingston at 2pm on Saturday May 26th, 2018. There will be a reception to follow from 3-6pm at the Junior Ranks Mess.
In lieu of flowers, donations would be greatly appreciated to the Canadian Cancer Society in Liliane's name.
---