TURCOTTE, William Clifford "Bill", P2 (Ret'd), CD, Sup Tech, RCN, RCLS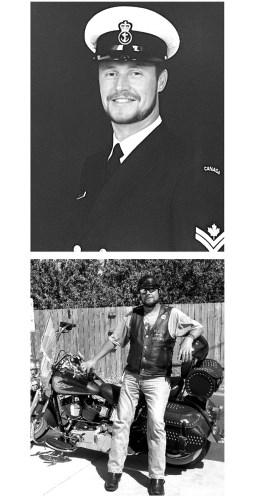 Bill passed away on Friday, October 6, 2023 surrounded by family at the age of 63.  Bill was born in Dartmouth, Nova Scotia.   He leaves behind his wife of 38 years, Ilda Turcotte (Gomes), his sons Bill, Brian, and Michael; and his grandson Will.
Bill did 21 years in the Navy (Logistics Branch) where he enjoyed working as a Supply Tech and a ship's diver. He spent his whole career sailing on the West Coast, where he was proud to serve and represent the Canadian Navy during various deployments on the Pacific Ocean. 
Upon his retirement he decided to be a stay-at-home dad (Mr. Mom) and spend some quality time with his family.  He eventually went back to his warehousing profession and took a job with BC Transit. Bill enjoyed working with the mechanics and everyone in the warehouse. The last few years at BC Transit were the best…. being a part time casual worker suited his lifestyle really well, where he was able to do some golfing and ride his Harley Davidson Softail on his days off.
Bill always spoke fondly of his childhood friends from the Shannon Heights community in Dartmouth and maintained his ties with them throughout his life. His memories of life on the rink playing hockey with his buddies always left a smile on his lips. Bill was a good friend, always ready to help when needed. He was very proud of his sons and his grandson and will be very missed by his family and friends.
A Celebration of Life will be held at Sands Funeral Chapel – Colwood (317 Goldstream Ave, Victoria, BC), at 12:00pm on Friday, October 27th, 2023. In lieu of flowers, please consider a donation to a charity of your choice.
---