SWAIN, Harold (Hal) Francis Edward, LCol (Ret'd), RCASC, Pilot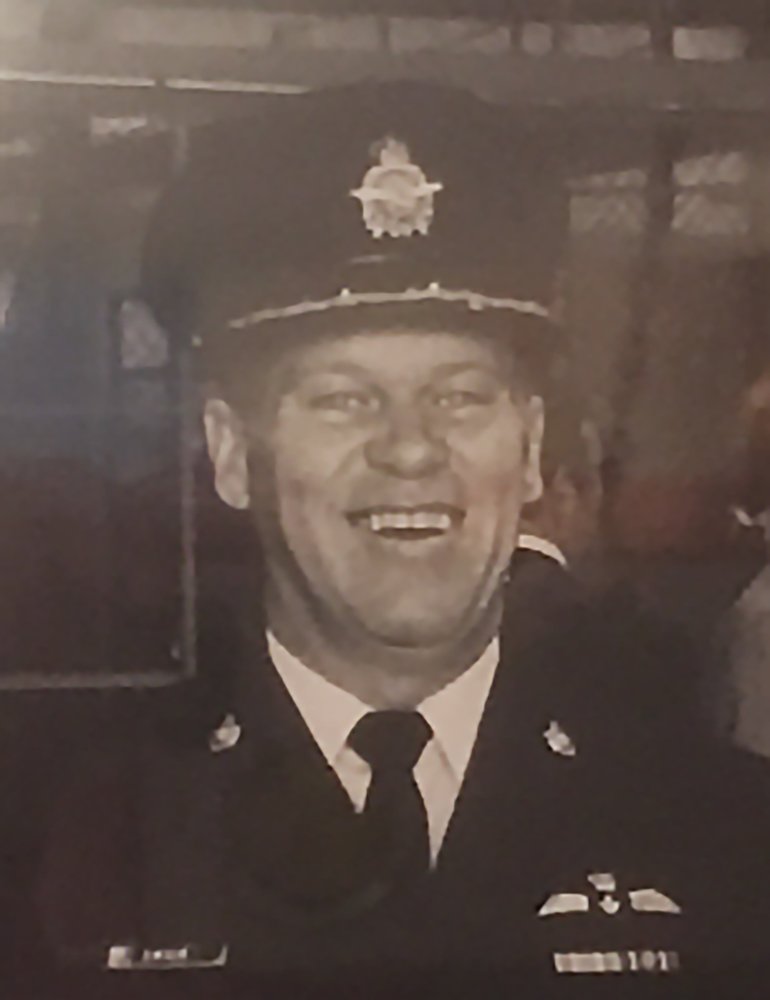 Hal passed away peacefully at home on Thursday 12 November 2020 at age 84.   He was predeceased by his loving wife of 59 years, Alma in 2015.  He leaves to mourn his son Timothy (Kathy); daughters Cindy (Wayne) and Kim(Tony);  seven grandchildren, Shalynn (Kelsey), Stephen (Eryn), Erin (Trevor), Greg (Kassy), Kris, Katlyn (Kelby), Nicolas (Lauren); nineteen great-grandchildren, Conner, Scotia, Jackson, Hazen, Becca, Aspen, Kayla, Carter, Braxton, Lexi, Kolby, Kayden, Kohen, Kyler, Milo, Alma, Saidie, Ryker and Constance; Sister Marilyn (Alan); sister-in-law Daphne; many nieces, nephews and numerous friends; and his beloved loyal companion Moses.
Hal was born in Yorkton, Saskatchewan to Margaret and Wingate Swain.  He resided in Springside until joining the Soldier Apprentice program with the Canadian Armed Forces at the age of 16 and was the first Boy Soldier assigned to the RCASC in Camp Borden.  
After graduating from the Soldier Apprentice Program and after his first posting Hal applied for commissioning and the pilot program.  The Canadian Armed Forces did not have helicopters in those years so Hal was transferred to helicopter pilot training in Fort Rucker, Alabama.  Hal went on to fly seven different models of helicopters during a military career that spanned 33 years.  His career took him all over the world.  Hal was instrumental in the RCASC and Apprentice Association.  As CO 450 Sqn he brought a load of members from the NCR to Borden for one of the big reunions on a Chinook as a training flight.  Hal retired as a Lieutenant Colonel from the Military in Regina, Saskatchewan.
He then embarking on a second career with Emergency Preparedness Canada. Hal reported directly to the Prime Minister, who challenged him with developing a plan for the year 2000.  Hal finally retired from public service at the age of 67 when he joined the Commissionaire's and served on the Board of Governors.
In his retirement years, Hal spent time at the cottage on Good Spirit Lake with family and friends dropping by to visit and stay awhile.  Hal loved all of his grandchildren and great-grandchildren, taking them bear hunting (haha), fishing and eventually having the little ones drive the boat to the sand dunes.  Hal and Alma went on 27 winter cruises and spent the rest of the winters in Texas.  He loved golfing, fishing, hunting, wine making, reading and spending time with Moses.
There will be no Memorial Service at this time, an Interment will be in Springside Cemetery at a later date.  In Lieu of flowers, donations may be made to the Legion Poppy Fund, 1820 Cornwall St, Regina, SK S4P 2K2.
---