STRINGER, John (Jack) Joseph Robert, CWO (Ret'd), RCASC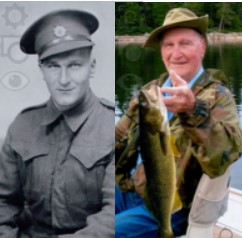 With family at his side, John passed away peacefully from natural causes at Royal Victoria Hospital in Barrie on Saturday, October 24, 2020 in his 101st year.
John was the epitome of what we call "the strong silent type".  He was a true gentleman who lived by a code that he never abandoned.  That code included patience and compassion; sensitivity and humility; an ability to listen and be attentive to others.  Friends and family will miss his support, wisdom and gentle counsel but are all better people from having known him.
John was born in Egham, England and emigrated to Canada with his parents Esther and Joseph Stringer in 1921.  He spent his childhood in Eganville, Ontario where he developed a love of the outdoors.   He was an avid hunter and fisherman.
John married Regina Marie Alischer in 1948. They had three children Stuart (Carol) of Angus, Bruce (predeceased; he was the loadmaster on the UN Buffalo aircraft shot down by Syria in 1974, killing all 9 Canadians abord) and Karen (Bruce) of Cobourg. Grandchildren Steven (predeceased), Tammie (Leonard), Alison (Brad) and Graeme and great grandchildren Kirstin and Curtis will miss the positive memories and times shared with their Papa.
John, a legend of the RCASC, had a distinguished 35-year military career.  After joining the Canadian Armed Forces in 1940, he was promptly shipped overseas.  During World War II, he proudly served in Britain, Algeria, Belgium, Netherlands, Germany and Canada. He also served in 1952 during the Korean Conflict.  He had service across the Corps and particularly as an instructor with the RCASC School and CFSAL, CFB Borden and as a mentor at CFLTC.  He retired as Chief Warrant Officer from CFB Borden in 1975.  A relationship with the military continued for the next ten years as John managed the CANEX service stations on the Base.
In 2017, at the age of 97, John travelled with the Department of Veterans' Affairs to France to mark the 75th anniversary of Dieppe.  This was an emotional and meaningful experience for him.
Cremation has taken place and a Celebration of Life will be held in the Spring.  If desired, donations may be made to the Canadian Legion Poppy Fund (Barrie), Woods Park Care Centre (Barrie) or Royal Victoria Hospital.  Messages of condolence may be forwarded to the family through adamsfuneralhome.ca
From Ken Pierce, RCASC National Association President:
I had the pleasure of working for Jack for 7 years.  He was a soldier, a leader and a teacher.  I had so much respect for him and he never forgot those who worked for him.
From Fern Taillefer, Veterans Service Officer with the Barrie, Ontario Legion reflecting on Jack's 100th birthday celebration in August:
He will be sadly missed.  It is incredible that we lost such a warrior.  Mind you he lived a good life a hundred years old, and so having been able to do what we did for him for his birthday, it made me proud, made me so proud that we were able to do that for a veteran like that.  Stringer was a military man, retiring as a Regimental Sergeant Major; the highest rank for a non-commissioned officer.
---