STIPKALA, Anthony P, LCdr (Ret'd), CD, RCN-Log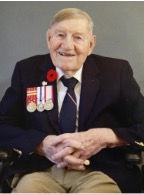 It is with great sadness our family announces the passing of our dear husband, father, grandfather & great-grandfather, at age 94 on 22 February 2022. Tony is survived by his wife of 71 years Donalda.
He leaves behind son Tony (Cheryl) of Victoria and daughter Nancy Thompson (Stan) of White Rock. Proud to have 12 grandchildren and 19 great-grandchildren. Also predeceased by eldest son Randy, and brothers Don and Bernie who were also in the Navy. Tony was born in Trochu, Alberta, and later moved to S. Burnaby and S. Vancouver area.
Tony joined the Navy Feb. 14, 1946 as a cook and spent many years in Naden when he wasn't on the ship touring areas of the Pacific. Military postings took him to Trenton, Cornwallis and Camp Borden where his expertise in Food Services kept him busy until his retirement in 1979.
Always happy to return to his home in Cordova Bay, he pursued many new ventures, which included Catering, Property Management and Asbestos Removal. Tuesday mornings were always dedicated to "playing trains" and golfing with his two good friends – Bill and Fred. Tony was an avid stamp collector and long time Philatelic Society Member. He was a kind and gentle person and will always be remembered for his corny jokes that brought smiles to everyone's faces. He passed away peacefully at Broadmead Veterans Lodge.
There will be no service by request.
---