SIEMENS, Valerie Anne, Maj (Ret'd), CD, Air Log, RCLS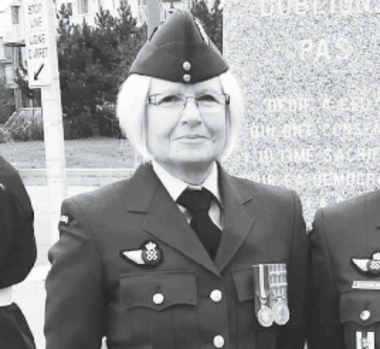 The family announces with great sorrow Valerie's passing on Friday December 24, 2021 at the age of 61 years.  Loving wife of Nolan Dalman.  Cherished mother of Heather (and Brandon) Rutledge, Meagan (and Wes) Stewart and Kevin (and Lindsay) Beauchesne. Adoring grandmother of Colton, Wesley, Cassandra and Isabella.
Valerie obtained a Bachelors Degree in commerce from Concordia University (1981), the first person in the family to do so.  While going to school, Valerie joined the reserves for a summer job, and stayed in the Military for 42 years working in Logistics, until she retired at the age of 60.
Val was an avid runner, and ran in many races, including marathons and half marathons. She also enjoyed yoga and softball.  She was a wonderful pianist and a dedicated piano teacher.  For a number of years, she was the pianist at Orleans St. Joseph's Parish Church.  She loved to read and was especially fond of fantasy fiction and Louise Penney mysteries.  In her last years she seriously took up crocheting and you will see her creations in every one of her family's households.  Val loved to travel, had been across Canada and had seen much of Europe.  Antigua was a favourite destination of Val and Nolan where they went many times and were planning for many return trips.  Valerie had a rough go the last ten months, but she fought hard and wanted to live, and enjoy her life with Nolan and the family.
She will be sadly missed by everyone who knew her.
Family and friends may pay respects at Kelly Funeral Home-Kanata Chapel 580 Eagleson Road, Kanata, ON K2M 1H4 613-591-6580.
Visitation on Friday, January 14, 2022 from 2 to 4 p.m. and 7 to 9 p.m. Memorial Service will be held in the Chapel on Saturday January 15, 2022 at 11:00 a.m. For those who are unable to attend the Memorial Service, you may view the service via livestream at : https://foveo.stream/arbormemorial-kelly-kanatachapel/valerie-anne-siemens
Pursuant to vaccinated attendance regulations, at the request of the family, attendance will be restricted to fully vaccinated guests only. Advanced registration is required at the following links:
Visitation:
https://www.eventbrite.ca/e/visitation-for-the-late-valerie-anne-siemens-tickets-241873519207
Memorial Service:
https://www.eventbrite.ca/e/memorial-service-for-the-late-valerie-anne-siemens-tickets-241893860047
All guests must supply proof of double vaccination and a mask to enter the facility.
For those wishing, In Memoriam donations may be made to Ottawa Humane Society. Sharing memories and online condolences at www.kellyfh.ca
---