SANFORD, Kenneth, CWO (Ret'd), CD, MMM, Order of St. John, RCASC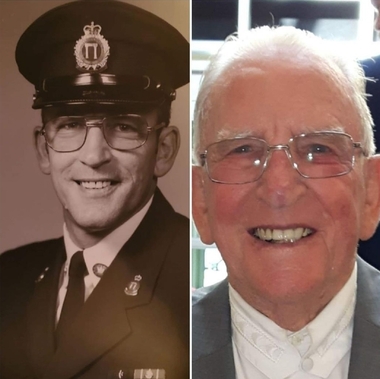 Ken slipped away peacefully on Sunday, February 27th, leaving his large family and his friends with a heavy heart.
Ken lived a full 86 years, living large and loving larger.  Loving husband and best friend to his devoted wife Jacqueline of 66 years; awesome father to his daughters, Winnifred and Christine, his sons Marc, Michael, and Brian; father-in-law to Brock, Wullie, Petra, Francine, and Suzanne; devoted grandfather to Johnathan, Talia, Shawna, Jordan, Cory, Kassandra, Lee, Vicky, Julian, Ashley, Patrick, and Mathieu and to his great-grandchildren Isla, Riley, Hailey, Scout, Stanley, Makayla, Emma, Paris, Marley, Isaac, Zachary, and Audrey, and uncle to many nieces and nephews.
Ken, born in Halifax, Nova Scotia, joined the Royal Canadian Army Service Corps in 1953 and was shipped over to Antwerp, Belgium where he met his wife Jacqueline – and so it began.  Married in 1955, he brought his new wife to Halifax to start his family and then to Ottawa where he retired as a Chief Warrant Officer after 37 years of service; looked after the personnel newsletter and then worked as a civilian running SISIP (the military insurance services).
Ken was the heartbeat of his family and of his community.  Ken assisted in the creation of the Gloucester Swim Club, volunteered with the Ottawa Boys and Girls Club, was Director of CNIB Choir, hockey coach to many young men who grew up in our neighbourhood ("Diggy, Diggy, Diggy!"), holder of the cold-water hose over the frozen skating rinks, seller of Christmas trees at DQ, earned 4th Degree Knights of Columbus, and sat on Board of Directors of Prostate Cancer Canada Network. Throughout his life, Ken always wanted to make a difference.
Ken would not have you mourn him but have you celebrate his good life; practice good citizenship, make good friends, support and be kind to one another, and always lend a hand to those in need.
Visitation will be held on March 10th at Beechwood Cemetery from 2 to 4 pm and from 7 to 9 pm., located at 280 Beechwood Avenue, Ottawa, ON K1L 8A6
Funeral service is on March 11th at 1pm at Annunciation of the Lord (Catholic Church), located at 2414 Ogilvie Road, Ottawa, ON K1J 7N5, followed by a gathering in the church hall, to await the family's return from private burial service.
The family asks that in lieu of flowers, please make a donation in Ken's memory to a charity of your choice.
---