RYLES, Bertram Gerard, Francis. Cpl, CD, Sup Tech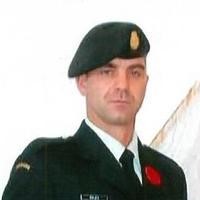 It is with great sorrow that the family of Cpl. Bertram Gerard Francis Ryles CD announces his passing on Monday, June 12, 2017 at Dr. Everrett Chalmers Hospital in Fredericton, N.B. at the age of 47 years. He leaves to mourn with fond and loving memories his wife of 13 years, Angela Smardon; daughters Danika Ryles (Brandon), Dana Ryles and Autumn Smardon; and son Christopher Cooke-Smardon.
Cpl Ryles began his military career in 2003 with 3 Area Support Group Technical Services Branch and was subsequently posted to 2nd Royal Canadian Regiment in 2005. In 2007, he completed a tour of duty in Afghanistan with Joint Task Force Afghanistan National Support Element (JTFA – NSE). In 2010, Cpl Ryles was a member of OP PODIUM for the 2010 Olympics. Upon return from his assignment, he was posted to 5th Canadian Division Support Technical Services Branch. He will be fondly remembered by his friends, colleagues and co-workers as an excellent mentor with an infectious sense of humor. He will be sorely missed by all whose lives he touched.
As expressions of sympathy in lieu of flowers, donations may be made to the Cerebral Palsy Foundation. Funeral arrangements have been entrusted to Country Haven Funeral Home, Corner Brook. The guest book may be signed by visiting www.country-haven.ca .
---