RÉGIMBAL, Léonel Jean, Maj (Ret'd), CD, KStJ, SMV, RCAC, Logistics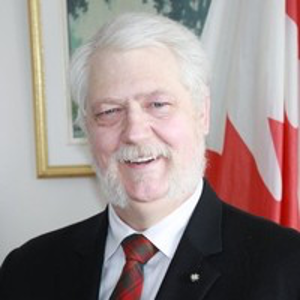 Léonel passed away Wednesday, 7 October 2020.  His wife, Marianne who was in a residence, after being informed of his death, passed away herself the following Friday.
A graduate of McGill University, Léonel had nearly 40 years of service in the Canadian Forces and the Primary Reserve.  His last position was as the Deputy Command Senior Radiation and Operational Safety Officer at Canadian Army Headquarters.  He also served as project manager and deputy of the TBG project.  He was responsible for all Service Support liaison and organisation within the Canadian Forces Primary Reserve component of the Territorial Brigade Group project, as well as the lead in the Ministerial study related to Canadian Sovereignty operations in the Far North in the "Canada First" program.
As an independent entrepreneur, he established Regimbal Services/Regimbal Solutions a multi-disciplinary consulting organisation, specializing in Translation Services for government and private enterprise in various fields.
Léonel's community service included over fifty years of work with St. John Ambulance Canada culminating in his promotion to Deputy Quebec Provincial Commissioner in 1992.  He also served as the Chief Financial Officer for the Conservative Party of Ontario Ottawa-Vanier Electoral District Association.  In 2016 he served as President of the Ottawa-Gatineau Branch of the Association of the Royal 22e Régiment.
Léonel Jean will be buried Thursday, November 19 at 1:15 p.m. in the same land as his father at the Notre-Dame-des-Neiges veterans cemetery in Montreal.  A military plaque will be installed next to that of his father.  Due to the circumstances, the ceremony will be very short.  The family counts on your prayers on this day.
---