RANGEL, Julian Roland James "Jay", LCdr (Ret'd), CD, Sea Log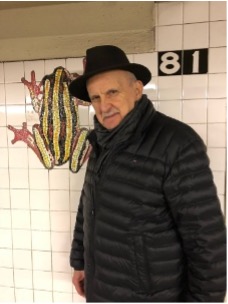 With profound sadness, the family announces the death of their beloved father and grandfather, age 87, who went to his reward on February 17th, 2022.
He is survived by his 3 children, Greg (Nicci), Christopher (Beth) and Julianne, together with his 5 treasured grandchildren Kennedy, Presley, Payton, Alexis and Ashton, his cat Casey, his first wife Suzanne, extended family members, Norman, Pam, Mark, Minette, Sarah and Dana and many friends and accomplices.
Jay was born in Yokohama, Japan in 1934 . Pre-WW2, the Rangels lived in Yokohama where Jay attended school at St. Joseph's College and where he made many lifelong friends.
Post-war, Jay emigrated to North America to live and finish his schooling in Santa Barbara, California.  After graduation, he moved to Victoria where he worked at The Bank of Montreal and on the weather ships.
Jay was accepted into the first class (September 1954) at "HMCS Venture" Junior Officer Training Establishment.  At Venture he acquired friendships that lasted his lifetime.
Following a long and fascinating career as a Naval Officer, Jay became involved in his passion for BC politics.  He was an active participant in many civic activities – not the least of which was serving as Councillor (1979-81) and Mayor (1981-83) of North Saanich.  Among his many accomplishments, he was proud of having established an Environmental Advisory Commission.  In 2000, he received an Honorary Citizen Award from the City of Victoria for having developed and maintained Victoria's Twin City relationship with Morioka, Suzhou and Khabarovsk.  Jay loved to travel – particularly to the Far East – and with "Jay's Journeys", he delighted in leading tours to Japan, China, India and Nepal.  Listeners to CFAX used to enjoy his many reports and travel discussions with his friend Terry Spence.
Jay's love of all animals big and small was a very important part of his life.  With the heart of a true animal lover, Jay contributed and supported to any animal charity or cause.
Exceptionally wise, intelligent, eccentric, well-read, travelled & informed, Jay was a man of strong views, who never failed to express them.  With a great sense of humour and a quick wit, Jay could laugh and be positive in even the most difficult situations.  His positive outlook on everything in life was a source of light for everyone he knew.  To the end, Jay loved staying in touch with his "Venture brothers", his political allies and cohorts, dear friends and family members.  He had a great life, and lived it on his own terms.  He will be sorely missed by so many!
---