PYKE, Blaise Clifford, P1ST (Ret'd), CD, RCN-SupTech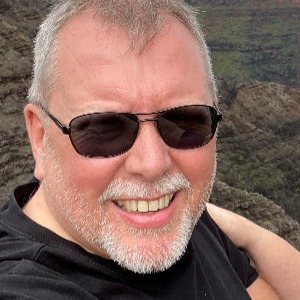 Blaise was a caring husband, dad, step-dad, papa, brother, nephew, cousin, uncle, and friend. He left this world suddenly on April 27th, 2022, at the age of 56.
He was born in Sydney, Nova Scotia, on March 23, 1966.  After graduation he joined the Royal Canadian Navy and enjoyed a successful career as a Supply Technician.   His service included postings to HMCS Assiniboine, HMCS Halifax, and HMCS Vancouver, CFB Shearwater, CFB Esquimalt and 7 CFSD.  He met many friends along the way who he remained close with until his passing.  He was thankful for those that took the opportunity to mentor him, and he carried on that tradition at work, and with the kids.
Blaise was so proud of the beautiful blended family that he shared with Sue.  He was the happiest when the house was filled with their kids, their partners, and the grandchildren. He would sit back and marvel at how much everyone loved and supported one another through the highest of highs, and lowest of lows.  Last names never mattered within the family, and that created the unconditional love everyone felt.
Whether he was enjoying the newly renovated home, cruising across Canada or the States in the motor home, or flying off on some adventure, Blaise did everything he could to live life to the fullest.  He knew each day was a gift. He was a planner through and through, and always took care of the details quietly in the background; not because he wanted any attention or thanks, but because he cared deeply. He will be deeply missed by those who loved him.
A celebration of his life is scheduled for 1pm on May 15th at the Chief and Petty Officer's Mess at CFB Esquimalt.  In keeping with the base policies, Vaccine Passports must be shown. Friends and family are welcome to attend.
In lieu of flowers, if you want to celebrate Blaise please feel free to make a donation in his name to the charity of your choice.  His favourites were Victoria on Stage Musical Theatre Society (he always supporting Sue's passion for theatre), and the Heart and Stroke Foundation.
From Hal Pottle
In loving memory of Blaise Clifford Pyke, with deepest sympathies.  He has left us too early.  He was a dedicated and highly respected professional, with a tireless work ethic and genuine concern for his team and the job at hand.
---