POWER, Sharon Anne, MWO (Ret'd), CD, RCLS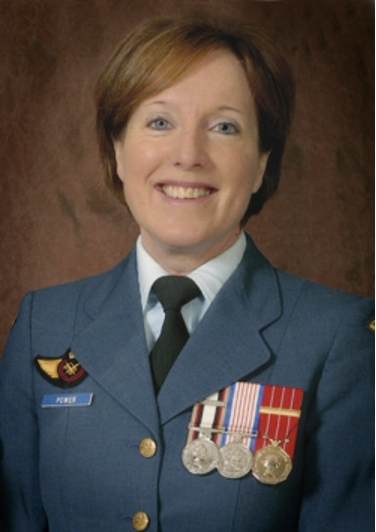 It is with heavy hearts we share the passing of Sharon Anne Power, after a courageous battle with cancer, on September 6, 2022. She passed peacefully surrounded by her loving family. Born on December 29, 1961, in Alberton, PEI. Sharon is the daughter of Earl and Teresa O'Rourke. She is the beloved wife of Randy Power, the cherished mother to Matthew (Lindsay), and Ronnie (Ashley), and the loving grandmother to Matheson and Ellie (Matthew).
Sharon lived her life across the world, but her home was always PEI. Sharon was a proud member of the Canadian Armed Forces, which she joined on September 12, 1980. Sharon served on all three elements with the Canadian Armed Forces, Air Force, Army, and Navy, in her 34 years of service. Sharon was proud of her military career, and served on several naval ships (HMCS), including an 8-month tour in the Persian Gulf, following the 9/11 tragedy. She finished her career in Naples, Italy with NATO, achieving the rank of Master Warrant Officer (MWO).
During her service, Sharon met the love of her life, Randy Power, in Barrington, Nova Scotia. They married in 1983, and together raised two amazing boys, Matthew, and Ronnie. She retired with her husband to Tignish, Prince Edward Island. Sharon and Randy were blessed with two grandchildren, Matheson, and Ellie (Matthew), who were the shining light of her life over the past several years.
Sharon will be missed by every life she touched. Sharon's resiliency, positivity, love for life and kind-heartedness will be remembered by all who had the gift of knowing her. She will be deeply missed.
In lieu of flowers, donations can be made to Cystic Fibrosis Foundation.
---