PHILLIPS, Barry John, LCol, CD, (Ret'd), RCASC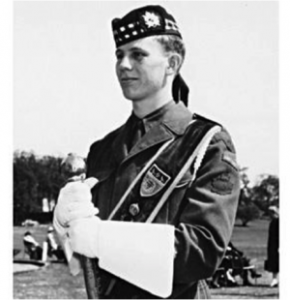 Honorary Lieutenant Colonel Barry John Phillips, a very devoted & loving military man has passed. Born on Mackenzie Island, ON, 1942 he then moving to Winnipeg at an early age. He attended St. John's-Ravenscourt School while enduring many floods. With the death of his father, John Alfred, the remaining family left Winnipeg for his beloved island paradise of Victoria. Raised by his mother Joan Mary Phillips and grandmother Mary Seely he attended University school. A keen athlete playing hard at rugby, cricket and running, but his main love was that of being a drum major in the University School Cadet Corps. Joining the Canadian Scottish Regiment began a devout military career. While attending camp Borden he married his beloved Elinor Hunter. His many postings included Germany, Golan Heights, Ottawa, Victoria, Edmonton, Kingston, Toronto, England, London, Croatia, & Haiti. Once retired from the military he continued to work in the field of Emergency Preparedness. A soldier to the end, his most recent position, as Honorary Lieutenant Colonel at the 39 Service Battalion was a source of great pride. A sharp and interesting man who loved sail racing who had many stories to tell. December 30th, 2015 was a cold day to draw his last breath at sea. He is survived by his wife Elinor, son Mark, daughter Kimberly MacLaurin, son-in-law Jason MacLaurin, grandchildren Toria and Brooke. Condolences may be offered to the family at pacificcoastcremation.com .
From John Stuart, Member, RCLSA NCR Chapter:
My fondest memory of Barry was when he was CO of the NSE (1992-93) in the Balkans and I was DMov 3 (J4 Mov Plans). The first ship load that I was responsible for arrived at Ploce, Croatia in October. There were some very large ATCO 60'x12′ trailers on the load that I was not aware of. Barry (and I) knew that those trailers were not going to make it around the switchbacks on the road to B-H and the port manager was on his case to get the trailers out of the port holding area.  I suggested to him that they could be cut in half and mounted on a low bed, but not to do anything until if found out where to make the cuts.  While one of my guys was checking on the origins of the trailers, I contacted ATCO in Calgary to ask where we could cut the trailers and how we could reconnect the systems after the cut was made. I was directed to Don Chenoweth who gave me the exact place to cut the trailers and he told me that he would courier the connection gear to either a military airfield in Canada or directly to Zagreb or Sarajevo. Turned out that then DND  Minister Bill McKnight was offered the trailers by ATCO free and the Ministers staff had shipped the trailers to the ship loading point and had paid for the shipping without telling us.
I phoned Barry back and told him where to make the cuts with chain saws and that the material to make connections including drawings etc would be couriered to him where ever he wanted them. He had to find a tech who could weld aluminum and needed to locate the proper welding equipment. Barry thought about it for a minute or two and then said send the stuff to Zagreb and finished our conversation by saying "Amazing" and hung up. We had many a laugh over that and Barry always brought the matter up when we met again. After I retired and went to work for ATCO on the first Balkan CF contractor assisted support contract in B-H, Don Chenoweth was my boss.
---