PARSONS, Jim, CPO1 (Ret'd), CD, Sup Tech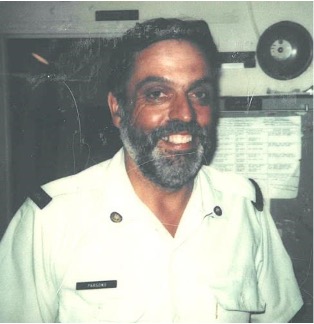 It is with sadness and a profound sense of loss that we announce the passing of our beloved father, grandfather, great grandfather and friend; Jim Parsons, on 17 January 2023. He is predeceased by his wife of 61 years, Delores, his eldest son William, and brothers Herb (Smokey), Harvey and Bob. Survived by his sister Kathleen. Jim leaves behind to mourn his loving children: sons Terry and Rob, as well as daughters Candice and Carla. He has many grandchildren and great grandchildren who will sorely miss their grandfather. He will be sadly missed by daughter-in-law Kelsey and his surrogate daughter Stephanie. Jim was loved by his family and friends and will be greatly missed.
Jim was born in North Battleford, Saskatchewan, August 8, 1932. He joined the Canadian Army in 1949 and stayed until he was transferred to the Royal Canadian Navy in 1972; which brought him to Victoria, BC. He went on many deployments to the southern seas. Later in his career he was brought ashore and put on the Admiral's staff as Chief Petty Officer 1st Class.
After retiring from the Canadian Forces, Jim worked for Designated Drivers and eventually bought the company. Jim was fine guitar player and played in bands in his younger years. He loved jamming with his brothers when they all get together. He loved his golf and spent many days on the course where he was most content. No matter how good or poor he was playing he would always say to his playing partners, "At least we are on the right side of the grass."
A private graveside service to be held. In lieu of flowers please consider donations to the Heart & Stroke Foundation.
---