OUELLET, Yvon, Robert Ret'd, CD, RCASC, MSE Op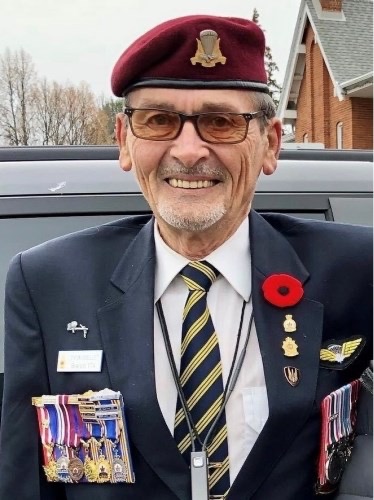 With sadness the Ouellet Family announces that Yvon passed away peacefully at home Saturday evening, February 6, 2021 at the age of 73. Treasured husband and best friend of Sandy (nee Redpath) for almost 50 years.  Cherished dad of Ray (Dawn) and Renelle Simmons (Brett), and grand-père of Andrea Simmons, Thomas Simmons, Jessica Currie and Taylar Robinson.
Yvon was always an active member of the local community as a Scout Leader with Scouts Canada, trainer for St. John's Ambulance and the Sergeant at Arms of the Royal Canadian Legion Arnprior Branch 174, as well as an associate member of the Oblates.  He was also a member of the Knights of Columbus and the St. John Chrysostom Church Choir.
Yvon's final care and arrangements have been entrusted to the Pilon Family Funeral Home and Chapel Ltd., 50 John Street North, Arnprior.  Extended family and friends are invited to join us on their electronic devices for a Live Webcast Funeral Service on Thursday morning, February 11 at 11 o'clock.  A Funeral Mass for Yvon will be held in St, John Chrysostom Church in the Spring. Interment Malloch Road Cemetery.
In memory of Yvon, please consider a donation to the Arnprior and District Food Bank or L'Arch Arnprior.
Condolences/Memories/Donations pilonfamily.ca
---