MWO JEAN-FRANCOIS BOUTIN, CD – ADJUM JEAN-FRANCOIS BOUTIN, CD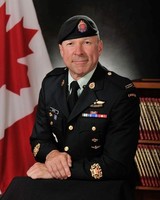 It is with deep sorrow that we announce the passing of Jean Francois Boutin, stricken by illness at the Hotel Dieu in Quebec City on Feb 20th, at age 52. He was the spouse of Mrs. Andrée Anne Dionne and the son of Mr. Gustave Boutin and Mrs. Liliane Gagnon. He was residing in Quebec City.
He is survived by his children, Gabrielle and William, their mother Michelle Menguy, his brother and sisters as well as many uncles, aunts, nieces, cousins, friends and military colleagues.
The family would like to thank the hospital staff and the Palliative care for the constant care and devotion in Jean Francois last moments.
The family will be greeting friends and family at: 301 Rang St-Anne, Quebec
Visiting hours, Sunday, March 11th 13:00 to 15:00
If you wish to, your condolence can be in the form of a donation to the Palliative care in the Hotel Dieu in Quebec city, 10 rue de l'Espinay, Quebec (QC) G1L 3L5, tél: 418-525-4385
Funeral services will be on March 11th at 15h at the Chapelle Commemorative La Souvenance, 301 Rg St Anne Quebec.
https://www.lepinecloutier.com/necrologie-avis-de-deces/49995-jean-francois-boutin
C'est avec une profonde tristesse que nous annonçons le décès prématuré de Jean-François Boutin, foudroyé par la maladie, à l'Hôtel-Dieu de Québec le 20 février 2018, à l'âge de 52 ans. Il était le conjoint de dame Andrée-Anne Dionne et le fils de monsieur Gustave Boutin et de madame Liliane Gagnon. Il demeurait à Québec.
Il laisse dans le deuil, outre sa conjointe et ses parents; ses enfants : Gabrielle, William et leur mère Rachel Menguy; ses frères et sœurs. Il laisse également dans le deuil plusieurs oncles, tantes, neveux, nièces, cousins, cousines, parents, ami(e)s et collègues militaires.
La famille tient à remercier tout le personnel des soins palliatifs de l'Hôtel-Dieu de Québec pour leur dévouement et les bons soins prodigués.
Vos témoignages de sympathie peuvent se traduire par un don à la Fondation du CHU de Québec (Hôtel-Dieu de Québec – soins palliatifs), 10, rue de l'Espinay, Québec (QC), G1L 3L5, tél. : 418-525-4385.
La famille accueillera parents et amis au : 301 Rang Sainte-Anne, Québec
Heures des visites, dimanche
le 11 mars 2018
13:00 à 15:00
Service funéraire
Les funérailles auront lieu le 11 mars 2018 15:00 à l'adresse suivante: En la chapelle du Parc Commémoratif La Souvenance, 301, rang Ste-Anne, Québec
https://www.lepinecloutier.com/necrologie-avis-de-deces/49995-jean-francois-boutin
---