MORGAN, David Irwin, LCol (Ret'), RCIC, RCAPC, RCOC, Logistics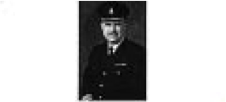 David, age 88 of Halifax and Malagash, died Saturday, January 31 2015 in Camp Hill Veterans' Memorial Building., Halifax. He was born in Ottawa in 1926, and attended the Normal Model School, and Glebe Collegiate, both in Ottawa; and was a graduate of Mount Allison University, Sackville NB, and Dalhousie University, Halifax NS, where he was a member of Sigma Chi Fraternity.
He is survived by his wife, the former Jean Carol Bowers, daughter Brenda (John) Wallace, grandson Craig Morgan Wallace, granddaughter Elizabeth (Liz) Xian Wallace, and daughter-in-law, the Rev. Carolyn J. Nicholson, all of Halifax.
As a military officer, he attended the first two-year nuclear battlefield course at the Canadian Army Staff College, Kingston, ON, and later the NATO Defence College, Rome, Italy. During WW II, he served in the Infantry Corps and following university education, he joined the Royal Canadian Army Pay Corps and later transferred to the Royal Canadian Ordnance Corps. With integration of the Canadian Forces, he joined the Logistics Service. During his military career, he served in numerous places throughout Canada, the United States, and overseas. As a proud Canadian, he was a member of the International Commission for Supervision and Control (1963-64) in Vietnam, and was the last Base Commander, Canadian Forces Base Soest, West Germany. During this time, 4 Mechanized Brigade Group, along with their Dependents, were moved to Southern Germany and the Base at Soest was closed (1971).
Throughout his life, he was a sports enthusiast, having played with a number of championship high school and university football teams. He played many sports including hockey, basketball, and, with military teams, he was a track and field runner and a downhill ski racer. On many occasions, he and his family enjoyed skiing in Canada, the United States and in the European Alps. During retirement years, he and Jean were fortunate to be able to experience 41 enjoyable summers at Malagash NS, and many winters in Florida, along with numerous trips and cruises to interesting parts of the globe.
---