MOQUIN, Robert (Bob) Eric, LCol (Ret'd), OMM, CD, MA, Logistics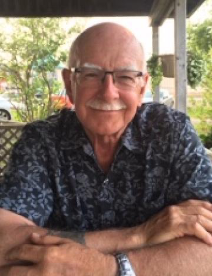 It is with such deep sorrow that we announce the death of our "Old Soldier", Bob, on April 27th, 2020 in Ottawa, Ontario. Bob died peacefully at his wife Karrie's side at the Ruddy Shenkman Hospice in Kanata, Ontario.
Bob was predeceased by his first wife Ann. He will be especially missed by his family who adored him: his wife Karrie, his children Bruce (Holly) and Heather (Kurt), his little granddaughter Avery, and his stepson Jeremy (Sarah). He also leaves an empty space in the hearts of his many dear friends.
Bob was born on April 7th, 1948 in Altona, Manitoba. A prairie boy, he joined the Royal Canadian Navy in December, 1965 at the tender age of 17 years, and never looked back. He was selected for the Canadian Forces' University Training Plan for Men, graduated at the head of his class in 1979, and commissioned as an Army Logistics Officer. Bob's field tours included six years of continuous service with Army combat units, Paymaster with 2PPCLI, Quartermaster with 2RCHA and one year as the Deputy Commanding Officer of the Canadian Airborne Service Commando. This was followed by several staff tours in NDHQ.
From NDHQ, Bob served a one-year tour in 1993 as a military observer with the UN Protection Force in the Former Yugoslavia (Bosnia).
Returning to NDHQ employment, Bob served with J4 Logistics, a tour that included two years as OIC of the NDHQ Logistics Coordination Centre that coordinated national logistics support to all of Canada's operations deployed overseas. This was followed by a two-year tour as Deputy Military Advisor with Canada's Permanent Mission to the UN in New York. During his tour with PRMNY, Bob was invested as an Officer in Canada's Order of Military Merit.
After returning to Canada, Bob took his release from the Canadian Forces, and was employed with the Government of Nunavut, based in Cape Dorset. After four years in the North, Bob returned to Ottawa and undertook a two-year post-grad program at Carleton University leading to an MA in Public Policy.
Bob's career next took him to Canada's Department of Foreign (now Global) and International Affairs (DFAIT) where he was responsible for organizing and delivering more than $236 billion in programming support for stabilization and reconstruction projects in conflict countries such as Darfur and Afghanistan. His tour of duty with DFAIT included a one-year secondment to a small, multi-lateral organization (Justice Rapid Response) in Geneva, Switzerland that trains international socio-medical-legal professionals in how to obtain, document and preserve evidence of war crimes/ other crimes against humanity, for future prosecution.
Throughout his military and service careers, Bob enjoyed tremendous support, both at work and at home. He married Ann Smith in 1973 and they spent the next 38 years together, crisscrossing the country, raising a family, traveling and having many adventures until Ann's death in 2011. In 2013, Bob married Karrie Griffin, an RN and former colleague and friend of Ann's. Bob would often joke that a man who marries two nurses in one lifetime is a wise man!
But Bob was so much more than what he accomplished in his careers. He brought the same passion and drive to his leisure activities. A man who jumped out of airplanes for fun, ran marathons and half marathons, who loved to read, travel, bike, kayak, garden, create projects in his workshop, hunt doggedly for sea glass, and most of all- enjoy time with family and friends. It was impossible to know Bob and not respect him. His generosity was legendary and his honesty unflinching. The last six years of his life were happily spent dividing his time equally between bringing his passion, energy and talents to his work at Global Affairs in Ottawa, and fully immersing himself in the friendships, beauty and peace of Rice Point, PEI.
Not entirely unexpectedly, Bob outlived his prognosis by many months. His one wish was to spend as much of that time as he could at home, with Karrie and their four legged "pack", Buddy and Isla. He did just that, in no small part to his fierce determination.
As an expression of sympathy, donations to Hospice Care Ottawa would be greatly appreciated.
---