MIMEE, Thomas "Tom" Milburn, Capt (Ret'd), CD, RCOC, RCEME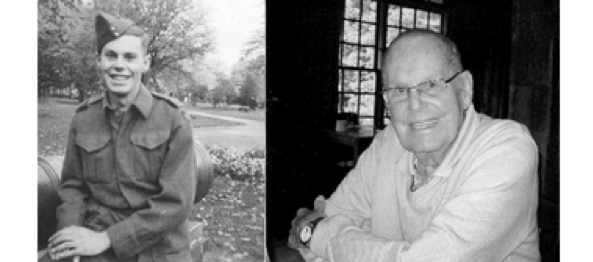 Tom passed peacefully on August 1, 2019 at 101 years of age at Perley and Rideau Veterans' Health Centre, Ottawa.   Born June 7, 1918 in Montreal, Quebec he was predeceased by his first wife Isabel Wood (1989).  Tom will be dearly missed by his second wife Anne, who he married in November of 1990, his daughter Marg Rae (Vancouver) and Anne's children, Edward and Ame (Carl) and the grandchildren, Jasper (Edward), Helen-Ann and Alice (Ame and Carl).
Tom served with distinction for many years in the Canadian Armed Forces.  His postings included Canada, the United Kingdom, Northeast Europe, Korea and the Gaza Strip.  Tom joined RCCS in Montreal September 1939, and re-mustered to RCOC December 1939 from where he was posted to London, Ontario as a member of the #1 Army Field Workshop, RCOC.  The unit landed at Greenock, Scotland, on December 24, 1940.  Upon re-organization he became a member of the 2nd Division Infantry Workshop RCOC.  In May of 1945 he was posted to #1 Tank Troop Workshop, RCEME, situated in Holland from which he returned to Montreal in September of 1945.  He continued his service in Montreal with 202 Base Workshop, then on to Vancouver where he was posted to Korea in May of 1954.  Upon return in September of 1955 he was posted to Valcartier, P.Q.  Then on to the RCEME School, Kingston, Ontario. They weren't satisfied with Tom remaining in Canada for so long so D Pers, Ottawa, decided he was a ripe candidate to visit UNEF in Gaza Strip.  Finally, in September 1965 he got a Canadian posting to Lakeview, Ontario, from which he landed a civvie job with the Electronic Industries Association of Canada.  He truly retired in September of 1983.
Family will receive friends on Tuesday, August 13, at the Pinecrest Visitation Centre (2500 Baseline Road, Ottawa) from 1 p.m. until the time of Tom's celebration of life, to be held in the Pinecrest Chapel at 2 p.m.  Burial following the service.  If you wish, In Memoriam donations may be made to the Perley and Rideau Veterans' Health Centre or a charity of your choice. Online condolences may be made at www.colefuneralservices.com
---