MILES. Eric, RCASC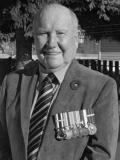 Eric Miles 1930-2017 passed away Saturday, December 30th, 2017 at Chinook Centre Hospice surrounded by family.
Eric leaves as his legacy his love Elisabeth (Betty), children Eric (Karen Ann) and Donna (Ernest), grandchildren Mary Ann, Erica, and Sheridan Miles, and Brittany and Erin Young, and great-grandchildren Clea and Dylan.
Cremation has taken place.  In lieu of a formal service, the family asks that donations be made in memory of Eric to The Southern Alberta Myeloma Patient Society, PO Box 8165 Station A, Calgary, AB T2H 0H7 or https://www.canadahelps.org/en/dn/12818.
From the RCASC (Western Region):
"It is with regret that I've learned that Corps member Eric Miles has passed away last Saturday in his sleep.  He has been fighting cancer for sometime.  We will send his family a card of remembrance.
I thank Gord Kube for bringing this to my attention.
Nil Sine Labore
Bill Donaldson, President of the RCASC Association (Western Region)"
---