MIHALJEVIC, Johnny, MWO (Ret'd), CD, RCLS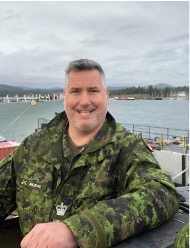 It is with heavy hearts that we announce the passing of our friend and fellow logistician, Master Warrant Officer Johnny Mihaljevic, CD who passed suddenly and unexpectedly on 17 April 2023 at the age of 50.   Johnny is survived by his spouse Nathalie Dubois, and sons James and Yanko.
Johnny completed 30 years of dedicated service in the Canadian Armed Forces.
The funeral will be held at the Sacred Space Chapel at the Beechwood Cemetery (280 Beechwood Ave, Ottawa, ON) on Monday 24 April 2023 at 1400hrs with public visitation on Sunday 23 April 2023 from 1400-1600hrs and Monday 24 April 2023 from 1200-1400hrs.  A reception will follow the ceremony.
CAF colleagues and friends are welcome to attend.  However, it will not be a military funeral and the family prefers that attendees arrive in civilian attire (no uniforms).
Sympathy to the family may be translated by a donation to the Canadian Mental Health Association.
---