MCROBB, Albert (Robby), CD, RCASC(A), Cook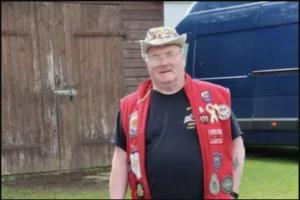 Robby, age 74, passed away 6 September 2018 in Banchory, Scotland following a stroke.  He is survived by a son and a daughter.
Born in Aberdeen, Robby's family emigrated to Canada when he was five.  He grew up in Toronto.
Robby joined the Canadian Army as an apprentice soldier at the age of 16.  He had a long career as a military chef and personal chef to two Canadian Prime Ministers during which time he came in contact with royalty and world leaders.
Robby was sharing his time in retirement between the United Kingdom, primarily Scotland, and Canada.  He was a prolific writer and published a regular article/blog.  See for example the moving tribute he posted 26 February 2018 in The Invisible Army on the passing of Major EMS (Denny) Deneumoustier.  He published two books.  One, a History of the Apprentice Program, with emphasis on the RCASC Apprentices at Camp Borden and the RCASC School from the mid '50's until its closure in 1967/68.  In 2013 he completed his second book in retirement: "Canada Has Been Good to this Immigrant".
His civilian life and career took him all over the world employed as a catering manager for numerous companies before settling down in the UK as a house/pet sitter with his beloved canine companion Sasha.  Robby and Sasha moved to Banchory in 2015 where he soon became involved with the Banchory Legion and was a founding member of the Deeside Veterans Breakfast Club.
His love of dogs and enthusiasm to help others got him involved with Therapets and he was a regular visitor to hospitals, care homes, universities and local schools. His community spirit took him to Number One in Banchory where he was eager to pass on his wealth of cookery skills to others and became a valued member of their staff.
Robby's other love in life was music and his vast knowledge led to him producing regular shows on River Dee Radio.  He had his own "Robby's Hour" and a joint production "Robby and Dave".  Fellow presenter Mike Gill said: "His own show was loved by many people all around the world.  He played all kinds of music and was a very popular show presenter.  He was a good friend to the rest of the presenters.  Although he only came to top Banchory three years ago, he was so involved in the community."
As noted earlier by Col RT Baxter, OMM, CD, in Wayne Wannamaker's obituary: "It all has been said so very well by Cappler the writer.  It has been a sad week for all of us with Robby and Wayne going on the Advance Party.
From the RCLSA Lest We Forget Co-ordinator:
The majority of this obituary and the image was taken from an article: "Tributes to a special community champion" published 21 September 2018 in the Deeside Piper & Herald.
---